Mogli Takes a Big Bite out of the Big Apple
Dreamforce to You came to New York City. It was a great event, and a great test of in-person events in what might be called our "new normal." Just like with Dreamforce in San Francisco, Salesforce had the event well organized with clearly defined Covid-19 protocols, including the requirement for an onsite test the day of the event. I wonder what technology they used for processing all the data and notifying both event personnel and attendees that they were cleared to attend? (Salesforce Vaccine Cloud...c'mon people.)
Just Like Old Times
This event was, in some ways much like the Dreamforce we have come to know and love over the past decade - with its abundance of mascots like Einstein and Cody, and even a surprise visit from Saasy - perhaps coming out of retirement!?! Marc Benioff, Chairman, and Co-CEO of Salesforce talked about core values and doing good. And how business is the greatest platform for change. He welcomed Co-CEO Bret Taylor to the stage. Bret talked about how different the world is today, and how we are all reimagining safety, the concept of a company headquarters, and so much more.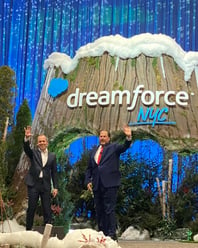 Nothing Like Old Times
And yet, in other ways, this event was nothing at all like Dreamforce-past, and not really much like the World Tours of yesteryear. The crowd was good-sized, large by today's Covid-19 standards…by my guess around 2,000 people, a small crowd from the pre-Covid-19 World Tours of 10,000, and certainly a very small event compared to Dreamforce 2019, with over 150,000 people. Bret Taylor proudly announced Dreampass, the technology used to make sure Dreamforce New York City was held as a safe event, and discussed how the same technology is available to companies all over the world to help them host safe events, or return to an in-office workforce if they desire. Salesforce released its new Event Health and Safety Playbook as a guide to help others. The 5 key learning points from the playbook include:
Assemble the right team of experts;
Lead with vaccines and testing;
Embrace safe onsite protocols and practices;
Create an easy, tech-enabled experience;
Invest in proactive communication.
Taylor also talked about the new Net Zero Cloud and how Salesforce is already a net-zero company. He shared a moving short film about the ecopreneur narrated by Jane Gooddall.
Looking to the Future by Celebrating the Past
Salesforce welcomed Lars Ulrich, Drummer and co-Founder of Metallica to the stage. Lars started by surprising a fan in the audience with an autographed Black Album boxed set and a trip to San Francisco for an upcoming Metallica concert. (Shoutout to my friend & long-time Salesforce MVP, Garry Polmeteer for winning that great prize - and checkout the Mogli cameo appearance on the live stream at the 1:08:56 mark!) Metallica is celebrating 40 years of music history, 40 years of delighting music fans all over the world. Lars described to Benioff how the band has been thriving during Covid due to all the digital engagement from its fans (powered by Salesforce, of course.) And now they are looking forward to many more years of connecting with fans in a whole new way through Salesforce Customer 360, or what Lars called Fan 360.
Mogli celebrates the past by remembering where we got started. MogliSMS was originally developed in conjunction with Nuru International as a means to communicate much needed information to rural Kenyan farmers about how to protect crops from disease. The goal was to alleviate extreme poverty and world hunger, and while these farmers were living in mud huts with limited access to modern conveniences, they did have a flip phone and were able to receive SMS messages. From these humble beginnings, MogliSMS has grown into the robust app it is today, featuring 1 to 1 conversations; bulk messaging, surveys, and more.
Curious what text messaging can do for your organization? Contact us for a demo today!