Dreamin', Dreamin', Dreamin'...what's all the Dreamin' About? - Part 1
If you read my earlier post, Southeast Dreamin' - Three Must See Sessions, you saw me discussing four (not three) sessions covering Flow; Documentation; Personal Branding; Mental Illness and a new version of CRM. Since then, I've been doing a lot of Dreamin', and by that I mean attending a few more Salesforce Community Conferences, known as "Dreamin' Events" by many in the ecosystem. In this article, Part 1, I'll dive into why "Dreamin' Events" are such a big deal, and recap my learnings from Southeast Dreamin'. In Part 2, I'll recap Dreamin' in Color, and share learnings from both Midwest Dreamin' & WITness Success. And finally, come back to the Mogli blog for Part 3 where I'll recap learnings from Big Sky Dreamin', and Tahoe Dreamin', as well as get you prepped for Dreamforce.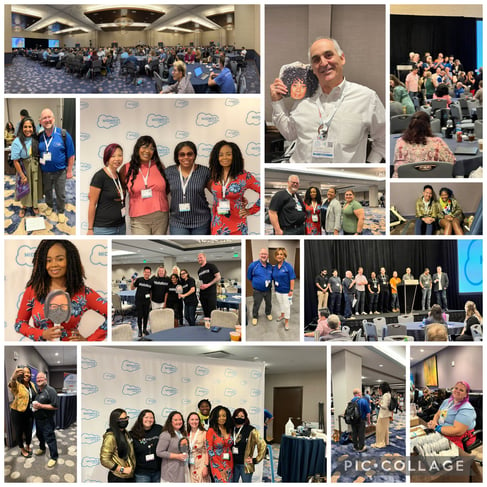 Photo used with permission from: Guilda Hilaire
What are Dreamin' Events?
A long time ago (in Salesforce time) a funny thing happened. A small handful of user group leaders in Florida thought it would be fun to bring all their groups together for a full day of Salesforce learning and community. They called it Dreamforce to You Florida (DF2UFL) and it happened in 2010 - 2012. I already had an idea that I wanted to launch a regional community event when I first heard about DF2UFL, so I had a great conversation with Jackie Traveiso, Jennifer Phillips & Joshua Hoskins (DF2UFL organizers) to learn what I could about what it takes to run a large event. And in a matter of minutes, Midwest Dreamin' was born. May 2011 saw 100 Trailblazers attending the very first Midwest Dreamin' at the Galt House in Louisville, KY. Over the next few years, Midwest Dreamin' moved to Chicago, and grew to nearly 900 people attending in 2019. But what's even more noteworthy is that Community Conferences, called "Dreamin' Events" by many people, started popping up all over the US and even the world! So what is a "Dreamin' Event"? Take the best of a Salesforce Community Group, the best of Dreamforce, and bring it all together at the local level, and there you have it. Peter Coffee once described these Community Conferences as "Just like a Salesforce World Tour, only we (Salesforce) didn't have to do anything." That's close...I like to think it's a little better than a Salesforce World Tour because the entire focus is on Community. The events are organized and run by volunteers from the Community. Nearly all the sessions are presented by members of the Community too, and who knows what the Community really needs and wants to learn more than the Community itself, right?
Southeast Dreamin' Recap
Start with a fresh developer org - you don't want to learn and experiment in your production instance. Why a new developer org? Sometimes we try things in developer orgs that just don't work well. If you start fresh, you'll have the best flow-learning experience possible.
Understand the differences between flow types & when specific types should be used versus others, & get to know the free-form flow builder - it will become your best flow friend.
Be sure to understand the various resources, variables and elements you can reference in a flow, and how they can be used.
The Five T's of Documentation - presented by Amber Boaz
Timing: There's no time like now. All documentation started off by someone staring at a blank screen with a blinking cursor.
Technical Level: Consider your audience, not everyone is a technical architect. Documentation should be written so that everyone can understand it.
Tools: There are a lot of tools out there to create and maintain documentation. Which one is best for you and your organization? One that will actually get used!
Types of Docs: Do you need to create a data dictionary? Are you documenting an automation? Do you need to create a details set of instructions on how to carry out a certain task?
Tracking: How old is your documentation? Are users finding it useful? Are they ACTUALLY using it? Can you track viewing statistics? When was it last modified? Is it up-to-date? And is it easily searchable?
Amber actually provided the audience with a few more "Ts" - Tips & Tricks:
Some people are visual learners - be sure to use images, animation and screenshots as much as possible.
Crosslink to related documentation, where it makes sense.
Be sure to include the "why" - users need to know the context.
Amber also provided some links to Trailhead and a few other Things she wanted to share.
Crazy Hair? Don't Care! Owning Your Personal Brand - Presented by Stacey Whitaker and Yancy Whitaker
#Stancy, as the two of them combined are better known as, set a pretty high bar on personal branding. They even branded their wedding. They figured out how to create and grow a strong personal brand...but they had some help from others who have been doing the personal branding thing well for a long time.

First, a definition of Personal Branding: Personal branding is the intentional effort to create and influence public perception of an individual by positioning them as an authority in their industry, elevating their credibility, and differentiating themselves from the competition, to ultimately advance their career, increase their circle of influence and have a larger impact.

In preparation for this session, Stacey asked Twitter: Trailblazers - Who do you feel has established a strong personal brand? Some of the responses she got included: David Giller, Engin "Andy" Utkan, Steve Molis, David Liu, Andrea Tarrell, Melissa Hill Dees, Toni Martin, Brian Owens, Cece Adams and Eric Dreshfield (What? ME?!?!)

Stacey and Yancy discussed 4 individuals with strong brands in detail.

Melinda Smith:

Known for: Polka Dots
Was it intentional? Yes and she iterates on it often
What attributed to her brand? Polka dots make her happy
What else? She's known for lifting up women.
Known for: potty mouth, formulas and an utter hatred for multi-select picklists
Was it intentional? Not initially, but he leaned in and embraced it
What attributed to his brand? It was fueled by his passion for the Community
Additional thoughts: Jump in! And he quotes Erica Kuhl, "Find your channel, find your voice, and what you're passionate about."
Known for: his love of bacon and for being the "Kevin Bacon" of the Salesforce Ecosystem, his unwavering support of Project Night Night, for being the Founder of Midwest Dreamin', mentorship, equality and integrity
Was it intentional: Not initially, but as it started happening more, he became very intentional
What attributed to his brand: He's the same no matter where you find him. 100% genuine, all the time.
Additional thoughts: Eric often says "Don't be afraid to put yourself out there. A strong personal brand can do amazing things for your career." And he also tells people to find him on Twitter and LinkedIn.
In summary - what's involved in a strong personal brand? EVERYTHING. Image, actions, tone. Authenticity matters - be your whole self all the time.
How I Manage Relationships with Bipolar Disorder - presented by Katie Villanueva
Katie started off by informing her audience that 10 million people are impacted by Bipolar Disorder. Chances are you know someone who is - but more than likely you don't know they are affected by it, because people don't talk about it. Katie's on a mission to change that and end the stigma around mental illness.
She describes her bipolar as feeling like her head and her heart are in a pinball machine. Wow. I played a lot of pinball in my youth - that sure puts Bipolar Disorder into perspective for me.
There are 3 types of Bipolar Disorder:
Bipolar I - primarily displays as being in a manic state
Bipolar II - primarily displays as being in a state of depression, feeling overly excited and highly irritable
Cyclothymia - causes emotional ups and downs, but not as extreme as bipolar I or II.
But wait! Katie tells us that there's more:
PTSD - Post Traumatic Stress Disorder
Anxiety - feeling worried all the time
Hypomania - feeling fantastic
Anger - always mad
For her, overwhelming wasn't even a big enough word to describe things. She started cutting herself, was drinking to excess and found herself in the hospital. She had considered suicide, but decided she had to start respecting herself, that she was worth saving. She made a conscious choice to build her life up - clean eating, yoga, proper breathing.
Going beyond how living with bipolar affects Katie, her manager, Kristie Moss shared her thoughts on how knowing Katie has bipolar disorder helps them work together more effectively. Kristie had this to say: "Not everything we pick up on is an indication of what's at someone's core." She continued on, sharing her views as Katie's supervisor: "She's no more needy or prone to mood swings as others. She's simply more in-tune with herself because she has a diagnosis." After digging in deep with Kristie, a couple other things became very clear: Knowing of someone's conditions helps to isolate some of the reactions and behaviors, providing a better means for teams to understand when someone can take on more, and when they need a little extra grace. Kristie shared two key definitions: True Strength - It's not just something you're good at, it's also something you love doing too. Weakness - It may be something you're not that good at, but it can also include things you loathe doing, even if you are great at doing them. She concluded by stating that it takes a lot to always be present, and that Katies doesn't put on a mask or hide things.
Katie described this perfectly - there's no right way to handle mental health, but if we talk about it, we can all work with a new kind of CRM: Courage, Respect and Mindfulness.
More From Mogli
Come back to the Mogli blog soon to read Part 2 of this series where I'll discuss Dreamin' in Color, Midwest Dreamin', and Witness Success. Interested in learning more about Mogli? Schedule a strategy session with one of our messaging specialists today!