Five action items for higher ed admin during and after Covid-19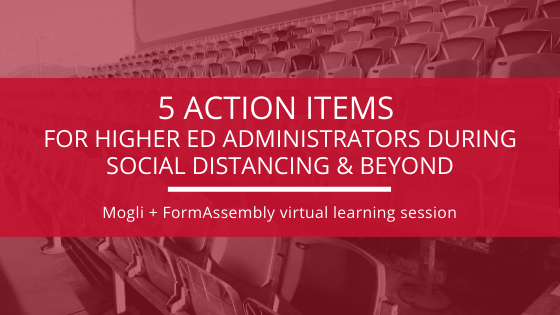 Updated August, 2020
Salesforce's Higher Ed Summit 2020 went virtual this year due to the COVID-19 pandemic, so Mogli and FormAssembly reimagined their Salesforce ISV partner happy hour into a virtual learning session. We're committed to bringing tactical resources to the higher education community, so we co-hosted a webinar, now on-demand, in which we share five actions for your digital communications strategies your college or university can take to remotely manage administrative tasks.
The following is a preview of what's in store for you during the webinar:
How our apps work together
Mogli is a native Salesforce SMS and WhatsApp application that helps you effectively expand your reach, and build and strengthen key relationships. Through personalized one-to-many or one-to-one text messages, surveys, and automated reminders, updates, and conversations, Mogli enhances FormAssembly to deliver forms and surveys via text, making Salesforce data capture quick and easy for insight and reporting.
What's in store for you
Mogli's higher education clients are facing an unprecedented set of challenges in the wake of social distancing. Mogli and FormAssembly are sharing five actionable strategies to streamline remote administrative processes that help help you remotely recruit new students and nurture current students.
Walk away with these five insights:
How to remotely recruit and usher incoming students through the admissions processes
How to use text messaging for efficient internal communication
How SMS, WhatsApp and data collection can enhance online and in-person classroom management
How to track and proactively address student success via text-message surveys and feedback forms
How to optimize donor relations with regular touchpoint over SMS or WhatsApp, making it easy for them to engage and donate.
Our biggest hope in this webinar is to provide higher education institutions with some concrete action items for a strong digital communications strategy.
Here's Mogli's in-depth white paper on creative recruitment and optimized communications:
Recruit students, anywhere! | Capture students' attention and data with text messaging for Salesforce