User Guide | How to send MMS in Salesforce with Mogli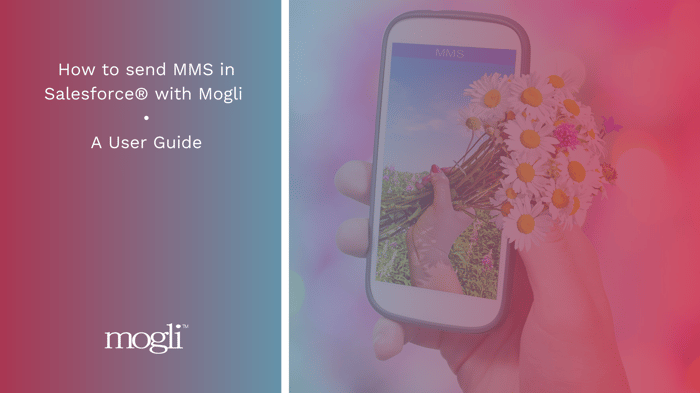 Mogli's MMS capabilities in Salesforce provide an entirely new frontier of possibilities to add value to your professional communications. This article shows you how to attach a multimedia message to your Mogli communications, and the parameters around your send over MMS and WhatsApp. The information below serves as your technical user guide to Mogli's current MMS capabilities, and if you're curious about how to leverage this kind of mobile messaging in your industry, read more here.
"How to add value to professional conversations" provides ample MMS use-case examples for a variety of industry applications.
How to attach MMS to your Mogli Message(s) in Salesforce
You may send up to 5MB of mixed MMS ( like jpeg, gif, png, pdf, mp4) over non-WhatsApp Gateways from Conversation View. WhatsApp Gateways support singular attachments of up to 16MB.
Find the full list of supported files at the bottom of this article.
Click "Upload Files," select a file, and click "Done" when the file has finished loading.
Click the "Send" icon.

Admin tip:
Inbound and Outbound MMS is not supported when sent via a toll-free number. Either switch to a different Mogli number or, if you only have a toll-free number configured, reach out to Mogli's Client Success team to get a regular long-code.
Considerations for MMS
MMS is currently supported when sent within the US and Canada. International MMS outside of the US and Canada is not yet supported. However, MMS sent internationally will be converted to SMS with a URL link to the media.
PDF and CSV files may not display properly on Android devices.
Here are some alternative options:
Export the file to another format as a failsafe.
In line with the MMS, include copy that lets the recipient know the file may be accessed on a computer if received on an Android.
If you are just beginning to use Mogli for Salesforce and are collecting text message opt-in, you may choose to use Mogli's form functionality to ask recipients about communication preferences, including what kind of device they use.
Learn more about opt-in in the following resources:
Receiving MMS
Incoming MMS will appear in real-time within Conversation View. MMS may be downloaded by clicking the icon in the lower right corner of the file.
Alternatively, you may click on the text beneath the MMS, where you'll find the MMS stored within Files and Notes & Attachments.
If you'd like to learn more about why it may be important for your business or organization to receive MMS for streamlined communications and data collection, read more here.
While inbound MMS has been a longtime staple of Mogli's work with nonprofit impact organization clients like Proyecto Mirador, outbound MMS is a feature of our latest release. Read about Mogli's Summer-Fall 2020 release here.
Please reach out to your dedicated Client Success Manager or visit Mogli on the AppExchange.
Have questions?
Supported MMS file types
Supported MIME Types
Formatted for delivery on destination devices.
image/jpeg
image/gif
image/png
Accepted MIME Types
Content will not be modified for device compatibility.
Audio
audio/basic
audio/L24
audio/mp4
audio/mpeg
audio/ogg
audio/vorbis
audio/vnd.rn-realaudio
audio/vnd.wave
audio/3gpp
audio/3gpp2
audio/ac3
audio/vnd.wave
audio/webm
audio/amr-nb
audio/amr
Video
video/mpeg
video/mp4
video/quicktime
video/webm
video/3gpp
video/3gpp2
video/3gpp-tt
video/H261
video/H263
video/H263-1998
video/H263-2000
video/H264
Image
image/jpeg
image/gif
image/png
image/bmp
Text
text/vcard
text/csv
text/rtf
text/richtext
text/calendar
text/directory
Application