Just Say Yes - Then Figure it Out!
Making What Seems Impossible, Possible.



Have you ever been asked a question that required some serious thought before you could realistically make sure what was being asked was even possible?

I recently had that experience - beginning precisely at 2:56pm CDT on April 19th. That's when I received a message from Jessica Langston, Senior Director, Trailblazer Community at Salesforce that said: "Long shot, but would you be open to a Chicago trip tomorrow to the office to meet with Bret?"
For context, Salesforce Tower in Chicago is 310 miles from my house...that's a 5.5 hour drive each way. And since there are no direct flights from Evansville, IN to Chicago, IL, it would take me between 5 and 6 hours to fly there with a connection somewhere like Charlotte, NC. Obviously, that makes driving to Chicago my best option. So what Jessica was really asking me, perhaps without realizing it was "Would you be willing to drive 11 hours to spend 2 hours with Bret Taylor, Co-CEO of Salesforce and a handful of other Salesforce Community members, mostly from the greater Chicago area?"
My immediate response was: "WOW...I could likely make that happen."
While in the back of my mind I was thinking, "What was it my wife needed me to do for her on Wednesday...and what's going on later this week & weekend?" Then another part of my mind said, "Oh...I need to see if there's a rental car available on such short notice." We are a one car family, and I won't take the family vehicle when I go out of town.
Oh yeah - and don't forget about your "day job", Eric. You do have responsibilities, deadlines, metrics to meet, etc., in your role as Mogli's Product Evangelist. So I suppose I should tell (or ask?) my manager about taking the day for the trip/meeting with Bret.
That was an interesting conversation.

Eric: I'm headed to Chicago tomorrow - got an invite to attend a lunchtime meeting with Bret Taylor.
Tina (Mogli's VP of Marketing): Um...can I come?
Eric: Do you want to? I can get you an invite. It starts at 11:30am CDT.
Tina: Ha! I wish. If I could get a cheap flight I would. (Tina lives in the Washington DC area.)
Tina: GO! GO! GO!

Yep - I really love my job at Mogli. Attending Salesforce Community events and Salesforce sponsored events & meetings are literally (and I do mean that literally, not figuratively) part of my job! (And I've got metrics and goals on those too, otherwise, how would we know if I'm successful in my role.)

I did manage to work it all out, very quickly, and at 5:15am on Wednesday, April 20th, I was on the road, driving a rented car to Chicago for a lunchtime meeting with Bret Taylor. Wow. A little background on my relationship with Bret - I first met him in late 2017 when he was Salesforce's Chief Product Officer. I had a conversation with him then about becoming a keynote speaker at Midwest Dreamin' 2018 (which is graciously did!)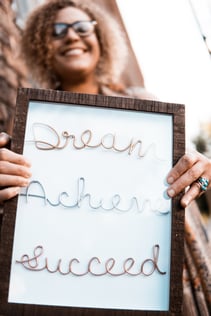 I managed to find parking not too far from Chicago's Salesforce office, and arrived at the meeting site at about 11:25am, five minutes before the meeting was scheduled to begin. When I walked into the room, I saw many familiar faces that I hadn't see in real life for over two years. For the first 15 to 20 minutes, we all simply walked the room, doing the meet and greet with Bret, Brian Milham, Christina Meitus, and the rest of the Trailblazers attending. We were then all asked to grab a boxed lunch and take our seats.
The Real Fun Begins.
Bret took charge of the conversation - he asked everyone to go around the room and introduce themselves. Tell us your name, who you work for and what you do, as well as how long you've been in the Salesforce ecosystem. Then Bret said something like this: "If you have only one wish for what Salesforce could do differently, better than we do it now, or a new feature, new product...whatever your pie-in-the-sky wish or grievance is...I want to hear it." What happened next, was nothing short of amazing.

Bret looked to his right and the conversation began. Each person in the room did exactly what Bret asked...and with each person who spoke, Bret then reformulated and repeated their ask, making sure the others in the room from Salesforce took down all the details. Over the next hour or so, we completed the circle in the room, giving everyone an opportunity to state their wish, their grievance, and their gratitude...or whatever they felt the need to say, given the nature of the audience. At the end, Bret looked around the room, pointed to one individual and said, "I think your issue will be the most difficult one to address." Then Bret looked at me and said, "Eric - I think yours should be the easiest to resolve." Only time will tell how quickly all the issues discussed can get properly addressed.

Bret then had the group gather for a photo, and he was off to his next meeting - I think he mentioned he was headed to a meeting with the Governor of Illinois. The day before, Bret was in Indianapolis, meeting with other Trailblazers and Eric Holcomb, Governor of Indiana.
Why Was This a Big Deal?
What really impressed me about the meeting & lunch with Bret was the genuine level of interest shown for each and every person and the issues they discussed. How many CEO's really do that? Seriously...how many non-executives really do that too? I think many people today are so focused on one thing - their own success, that they often forget to consider how much more successful they could be, if they simply shifted their focus onto lifting others up, helping others succeed and doing more of what matters.

Want to learn more about what matters most here at Mogli? Schedule a call today with a Mobile Messaging Expert!