Mogli SMS & WhatsApp Version 4 Release Notes
Mogli is excited to announce the release of Mogli SMS & WhatsApp Version 4 on the AppExchange! This version of our app includes FOUR NEW FEATURES:

1. Custom Objects Support
2. Community Cloud Support
3. Person Accounts Support
4. WhatsApp

1. SMS FROM ALL SALESFORCE STANDARD & CUSTOM OBJECTS
Mogli SMS is now supporting SMS from all Standard and Custom Objects in Salesforce! Previous to Mogli SMS V4, we supported sending strictly from the Contact and Lead objects. Now, you'll be able to send from any other Standard or Custom Objects in Salesforce! This support includes 1:1 conversations, bulk messages, and surveys.
This feature is helpful to you if you work in:
Education Cloud for Higher Ed
If your school's or organization's recruiters don't use the out-of-the-box leads process, Mogli can now fit right into your current custom process.
Before V4
Rather than a prospective student being a "lead," many of our clients use a custom object and call these prospects "Candidates" or "Prospects." Only when that person becomes a student do they become a Contact in Salesforce Education Cloud.
Before Mogli 4, recruiters first gathered data from the Custom Object. Then, they toggled to Standard objects to text the Candidate before returning to the Custom Object to update Custom Records.
With Mogli SMS 4
This Mogli SMS support for Custom Objects reduces work for our Higher Ed clients by eliminating toggling and workflow redundancies. Rather than only being able to text a Contact or Lead, you can text with any Custom or Standard Object.
Mogli SMS 4 also eliminates toggling between Custom process and Standard Record to respectively gather prospect information and then text that Lead. As a result, Mogli now stores data within any Standard or Custom Object. You no more need to update Custom Records from Standard Object text threads.
Service Cloud
Work with Cases in Service Cloud via Mogli! Since Mogli now supports all Custom and Standard objects, you can drop in a Mogli component, associate a phone number with a case, and text directly with a Case Record.
Before V4
Just like our Higher Ed Clients, Customer Success teams would have a lot of toggling and closing out of windows as a part of their workflow. There wasn't a way to attach specific messages to a Case or Custom Object. You needed to filter all text-based conversations by Contact or Lead.
With Mogli SMS 4
Each Mogli SMS message is stored directly in Salesforce as an individual record, which we can now associate with whichever record is relevant to the conversation at hand. The result is better organization and transparency within and between teams. You can run a report that filters only based on messages that are specific to a particular support case or filter conversations based on the outbound message sender.
Furthermore, this level of organization is ideal for tracking conversations throughout the Customer Journey that you design. Review the sales qualifying SMS survey from Danny, bulk send schedule updates from Melissa, 1:1 conversations with Alex in Customer Support, and more. Each person's interactions with an Object are color-coded, as well.
Sales Cloud
Nurture your Opportunities in in Sales Cloud via SMS!
Before V4
While you could add people to a Campaign or bulk send directly from a list view, you couldn't associate outgoing SMS messages directly with an Opportunity Record. Text messages were only associated with a Contact or Lead. Nor could you converse with someone directly on their Opportunity Record. As a result, there's a limited insight into what's happening in that stage of the customer journey. Plus, just as in the case of Service and Education Clouds, the toggling between Opportunity and Contact Records to gather information and converse with someone isn't efficient.
With Mogli SMS 4
You're now familiar with how Mogli SMS support for all Objects streamlines your workflow. You can now see all pertinent Opportunity information directly within that window. The ability to access all SMS functionality directly from Opportunity enables your sales team to personalize the sales experience.
Filter down your Prospect list based on persona, location, or other details in the record. From there, add those Prospects to a campaign and conduct a bulk send (which could be a survey) so you may track the performance. Or bulk send directly from a list view that contains your parameters. Additionally, when analyzing your SMS sales process, see which text-based interactions convert opportunities into closed-won.
Nonprofit Cloud
Organizations using Nonprofit Cloud to manage volunteers, promote events, or campaign to donors can now text with specific personas in specific locations dependent on the situation.
Before Mogli SMS 4, you'd be in a similar position as the other Salesforce Clouds: needing to find a workaround to engage the appropriate constituents via text.
Now, Mogli V4 leverages all of our Nonprofit Clients' Custom Objects to create segmented SMS campaigns associated with an event or a fundraising sprint. Or, at any point, onboard volunteers with survey functionality, provide bulk updates or chat with them 1:1.
The moral of this Custom Objects story is that no matter which Salesforce Cloud your team operates on, all Mogli SMS functionality is available on all Custom Objects.
2. SALESFORCE COMMUNITY CLOUD SUPPORT
Community Cloud users can now also utilize Mogli SMS!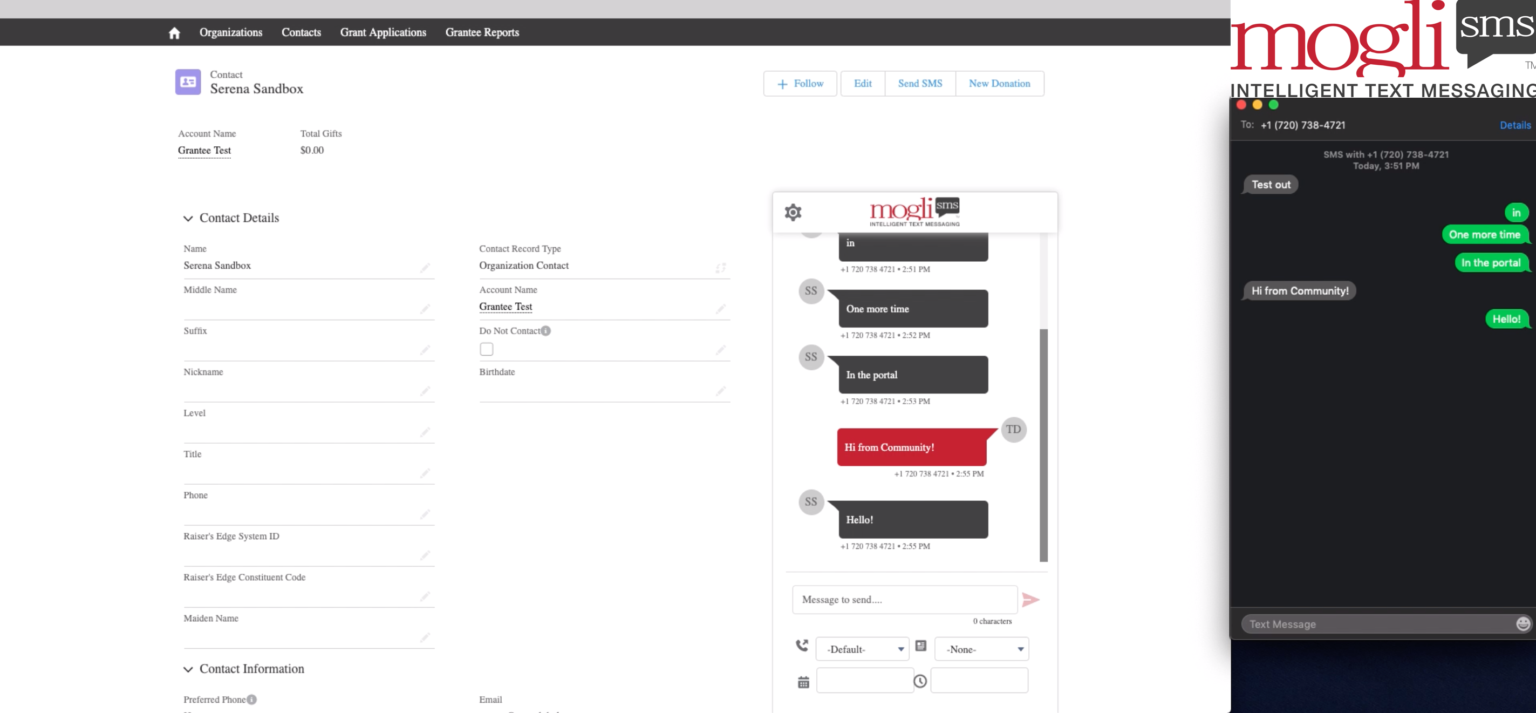 Branded Community spaces connect employees, customers, and partners. For example, if your Admin grants Mogli SMS permissions to a Community user, they can text other Community users using any Mogli functionality based on their permissions levels (1:1, bulk, forms/surveys). These users don't need to gather numbers external to SF nor have a full Salesforce license. Community licenses are much less expensive than Salesforce licenses.
Enterprise license Community users get chatter, email, or text notifications that someone responded in the community to your outbound text. Utilizing Communities for the appropriate company or organization-relevant conversations is a great way to stay in the loop and understand how people use the space.
3. PERSON ACCOUNTS
Connect with text on Person Accounts with Mogli SMS! Available with 1:1, bulk messages, and surveys.
Financial Service Institutions and other similar Mogli SMS use cases need to structure their Salesforce to reflect a person as both a Contact Object and Person Account. Mogli SMS allows you to send texts to the Contact Object and tied those conversations and data points to Person Account.
4. WHATSAPP FUNCTIONALITY
(a. Mogli knows the rules of WhatsApp, so it won't allow you to send a message outside of the 24 hour time period.)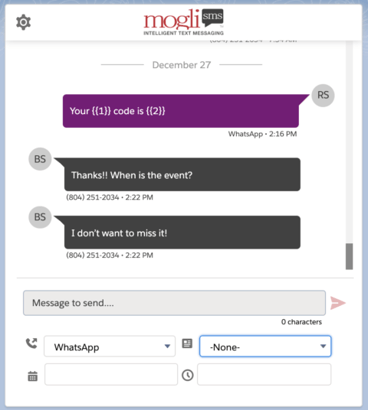 (b. Once a client responds to a template, Mogli allows you to carry out the conversation.)
Internationally, WhatsApp is a popular alternative to texting. Mogli SMS V4 empowers you with an option to send texts globally with both SMS and WhatsApp.
Depending on your use case, WhatsApp can solve for obstacles to getting an international phone number and receiving inbound texts from international phone numbers.
WhatsApp is a highly regulated and clean communication channel , so open and response rates are high. Therefore, admissions departments recruiting international students, international sales, and service teams will see great value in being able to reach constituents more affordably and effectively.
ADDITIONAL MOGLI SMS IMPROVEMENTS
New Permission Sets – Easily permission access to Mogli users with your choice of two permission sets supporting our newest functionality: Full Access and System Admin.
Refactored Code – Our code has been completely refactored to improve speed and better your experience with Mogli SMS & WhatsApp.
New Bulk SMS UI – We've put a new spin on our bulk send interface, including a completely new UI, seamless recipient search, character counter, merge fields, and more. You'll also be able to send bulk messages in association with all Standard and Custom Objects.

We are rolling out Mogli SMS Version 4 to new and existing clients. If you're interested in being an early adopter of Mogli SMS Version 4, please let us know!
Otherwise, we will be reaching out on an individual basis to get you upgraded.
Already a Mogli 4 User? Please leave us your feed back in our Survey. We'd love to hear from you!