5 Kinds of Salesforce Apps for Remote Teams during COVID-19
Travel bans and canceled plans: COVID-19 is front and center on the world stage. Google, Adobe, Cisco, Facebook, Microsoft, Oracle, Gartner, Dell, Salesforce, and SXSW are making headlines with their cancellations. These announcements only reinforce the necessity for companies to prepare for remote work and virtual events. COVID-19 is scaring the world into hiding, but it doesn't affect productivity in many industries where functions can be performed offsite.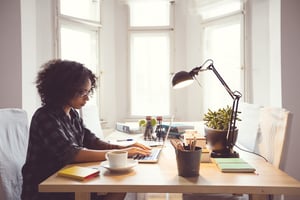 Remote workers often outperform office workers, and fostering a culture through face-to-face connection isn't limited to being in the flesh. So if you're worried about not being able to rub elbows with your employees or team, don't be. Stay healthy while responding to what COVID-19 is teaching industries about preparedness and the future of work.
Here are our favorite apps for Salesforce by category that will keep your beehive humming:
Document Creation and Collaboration
Paper trails, paperwork, signatures, agreements, memos, and more have gone paperless. Not only are you saving trees, digitally creating and editing multiple drafts with multiple stakeholders faster and more organized.
Project and Task Management
Project management tools only work if you have buy-in from the team. Still, they increase work efficiency due to the transparency, organization, and accountability they bring forth from employees. Coworkers can't see each other's handwritten or MacBook notepad list of tasks. Consequently, teams have no sense of timelines to reach milestones or the necessary steps to achieve goals or complete projects.
Email strings and Slack are a great place for things to get lost. Sure, ask a question or have a chat over those platforms, but put it in your project management tool if there's a task. Plus, most of these tools have features to chat about assignments directly within those tasks, so all of your conversations, attachments, and dependencies stay in one accessible place.
Click-Up with Zapier for Salesforce
Client and Internal Communications
Provide timely updates and notifications (weather or travel updates, school closures, etc.), or generate and qualify leads to keep business churning. Gather feedback, poll, and collect payments or donations. Provide self-service via chatbots and connect with employees, clients, or students worldwide in bulk or one-on-one chats. Tie text-based communication to any Standard or Custom Salesforce Object, and even use it in Communities for staff conversations.
From college recruiters to consumers, you'll want to have SMS and WhatsApp at your fingertips in Salesforce. Current and new clients are already responding to COVID-19 by using Mogli SMS & WhatsApp functionality to stay in contact with staff and clients.
Mogli: SMS & WhatsApp for Salesforce
Slack
Video Conferencing
Skype has a free version, while GoToMeeting subscription-based. Either app can host your team meetings. As a Salesforce.org Partner, Mogli knows that GoToMeeting is the choice for all of Salesforce webinars, internal meetings, customer support, virtual meet-ups, and conferences.
Video Collaboration
You know that feeling when a meeting could have been half the time? Or when a meeting could have been an email? These apps efficiently allow the presenter to disperse and track who's watched vital information. How does this help productivity? Employees can absorb information in a timeframe appropriate to their schedule, to-dos, and deadlines. If they're in the middle of lifting a large workload, they can save the "meeting" for tomorrow.
Related Resources
Mogli enables effective remote marketing and communications with SMS & WhatsApp on Salesforce. Learn more: