Salesforce Partner Kickoff 2020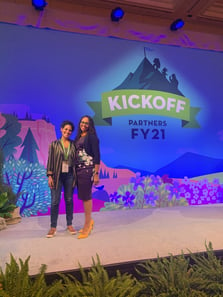 When Latrice Barnett, Director of AMER ISV Solution Management at Salesforce, invited me as her interviewee at the 2020 Salesforce Partner Kickoff in Las Vegas, I was thrilled and flattered because the interview theme was, "How to Exceed Customers' Expectations on AppExchange." I'm the Senior Customer Success Manager here at Mogli SMS & WhatsApp, and I devote my professional life to helping our clients succeed with our product. I view this as valuable work because many of our clients are in the Higher Ed, K12, and nonprofit space, but I'll get to that later.
I was also somewhat apprehensive about Vegas because I'm more of a bath person than a Vegas person, but my time with Latrice and Mogli Partners made the Kickoff more than worthwhile.
How to Exceed Customers' Expectations on the Salesforce AppExchange
Latrice put the spotlight on how my role and experience at Mogli reflects strategies to improve Salesforce ISV customer experience on AppExchange. The following is a three-step circular process of improving client experience, and Mogli does it very well. We didn't get this formula from anywhere specific but through the organic experience of following feedback and opportunity.
Customer Success can only help our clients be as successful as the app allows. The application must stand on its own two feet, so to speak. We care for our clients through onboarding, support, and customizing solutions to help clients do really cool things with our product!
So, what are the steps to exceeding customers' expectations?
Team
Partnerships
Focus
Creativity
Build a Dream Team
Mogli is a small team doing great things with Enterprise and startup clients alike because we're continuously improving upon functionality and UI/UX design on our application within Salesforce.
In the beginning, Mogli was Mogli SMS, and the team built the app for Sales and Service Clouds, performing 1:1 convos, bulk messages, surveys, forms, and chatbot conversations. Alongside our Implementation Services team, some of our earliest clients even applied Einstein AI for inbound multimedia texts to prompt sophisticated automated processes and flows.
Having platform experts in-house has immensely influenced our product. They aren't typically selling Mogli, so they're exposed to a wider variety of use cases and instances allowing that them to envision Mogli's compatibility with other apps. Their ideas and architectural planning are invaluable to our product development, just as the CSM team's eyes and ears to the ground give the product team much-needed feedback and insight. It's interesting to have more than one branch of business within Mogli because the two sides feed each others' learning processes
As a result of this cross-team support, we've expanded. We are Mogli SMS and WhatsApp. We also support (incoming and outgoing texts) to and from all Salesforce Custom or Standard Objects, which means we're seamlessly cloud-agnostic. We even support Salesforce Communities.
From Partnerships to Product Focus
Mogli's strong relationships have allowed us to partner closely with Salesforce product teams like the K-12 Education team to offer a Communications bundle, including Mogli SMS & WhatsApp for text messaging and Pardot for emails. The opportunities that arose from Salesforce partnerships gave our team focus.
Mogli began with a focus on nonprofits, but also had (and still have!) a delightful peppering of financial services, real estate, insurance, and so on. We always love to work with clients across the board, but Mogli's success has skyrocketed over the past two years because of our intentional focus on Nonprofit and Education solutions.
Our partnership helped us understand the natural fit with Education because we support the entire student lifecycle, working perfectly for EDA (Education Data Architecture) and NPSP (Nonprofit Success Pack). Furthermore, Mogli can handle the communications hand-off between recruiting, admissions, student success, and alumni/donor relations. This cyclical feedback loop of product development in conjunction with collaborative partnerships has allowed Mogli to shine in the Nonprofit and Education spaces.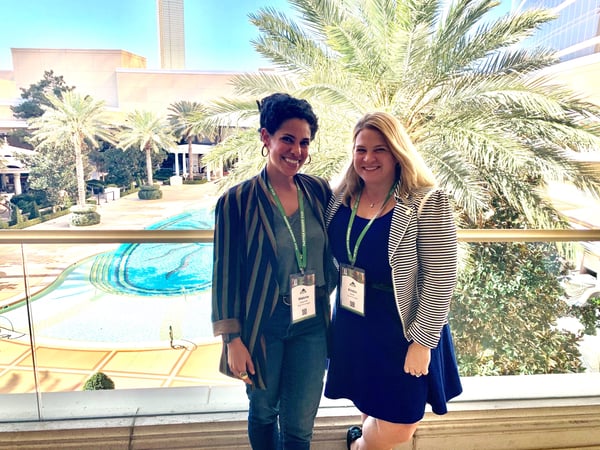 (To that end, at the Partner Summit Kickoff, I got to sit down and meet with Kristin Kiester and Tal Frankfort of Cloud For Good, a Salesforce implementation team dedicated to nonprofit and Education work. Earlier this year, they released two State of Salesforce reports, one for Higher Ed, and one for Nonprofits. Make sure to download them if you're looking to get the most out of your investment in Salesforce in 2020.)
Client Success & Creativity
Once we identified our focus, Mogli's client success team has collaboratively built creative solutions for compelling use cases in both the Education and the Nonprofit sectors. We implement Mogli for University recruiters texting from an Applications Object or Events, or Volunteer Coordinators texting from a Volunteer Object, and the list goes on.
Trinity Western University, for example, encountered some substantial recruiting roadblocks that they were looking to solve in 2017. Before onboarding with Mogli SMS & WhatsApp, they asked prospective students to fill out paper inquiry forms. Students would rarely fill out the form in its entirety if at all, and the information was often illegible. A TWU Salesforce user would manually create a Contact Record for each prospective student, populating fields with what little information was provided available.
The university reached out to Mogli SMS & WhatsApp to streamline this process via text. We helped them build out a lead-generating text messaging form that asked for First Name, Last Name, Email, etc. They watched their completion rate go from zero% to 95%! Let me say that again, "zero to 95% completion rate using Mogli." TWU continues to utilize Mogli SMS for their prospective student intake forms, and have become one of our most prominent evangelists in the Higher Ed space.
This creative problem solving on the part of the Customer Success team adds a third ingredient to our product feedback process. When the team cares enough to develop unique solutions that are scalable and in-demand, you've hit the nail on the head. Trinity Western was the first, but certainly not the last. We've repeated similar instances dozens of times and are highly-regarded in the Education space thanks to the CSM team.
Again, while this process is an organic collaboration across teams and Salesforce partners, our self-sustaining values are repeatable and intentional. Also, they ultimately have allowed Mogli to exceed success customer's expectations on AppExchange. Just check out all of our Five-Star Reviews!