Engaging K-12 school families with text messaging in Salesforce Pardot
Going beyond email and website communications with Mogli text messaging + Pardot Communication Bundle
Is your school using Salesforce Pardot like a fancier version of Mailchimp? We like Mailchimp, don't get us wrong, but Pardot offers so much more than email and website intelligence.
Here's what you can do to remotely engage parents and students, without relying on email.
2020 presents education institutions with some big unknowns surrounding student retention in an online or remote learning atmosphere. One thing's for certain, though: keeping students and their families engaged, regardless of learning circumstances, is the best way to ensure student success.
Salesforce Pardot provides insight into families' engagement history with your content. By viewing the key performance metrics from channels like website, emails, SMS, and WhatsApp™, Pardot users can see which communication campaigns resonate with audiences. Users can also create dynamic content to tailor messages to these various audiences segmented based on location, grade level, relationship to the student, or language preferences. Then, they can automate corresponding journeys with rules, triggers, and actions.
We've found that some schools use Pardot like a fancier version of Mailchimp, never before taking the opportunity to go beyond its email capabilities. Schools onboard into Pardot, a digitally dexterous application, yet don't implement what Jacqueline calls "advanced tactics" that capitalize Pardot's full functional power.
Therefore, clients are excited to hear, "Look at all you can do, and you don't have to rely on email to do it!" Her team shows clients how to pull in a full host of Salesforce fields into their school's work and data points in Pardot, and teaches them how to automate workflows like sending tasks to correct Salesforce users.
Mogli brings text messaging, both SMS and WhatsApp™, into the digital communications and metrics mix that previously revolved around email and web page views. As a fresh, ultra-convenient, and fast-paced communication channel, text messaging outperforms other communication channels.
The Mogli & Pardot Communications bundle takes the inherent benefits of SMS and WhatsApp and opens up a world of functionality within Pardot for Salesforce. In fact, Mogli built its text messaging app for NPSP and EDA (it's the only SMS app available on AppExchange to be Education Data Architecture Certified). To get the best results in Pardot through text messaging, we created a list of best practices and unique considerations for your digital communications.
engage students and families

reengage or reach those who are unengaged

execute critical communications (meeting state and local government requirements)

delight stakeholders by continuous
K-12 education trailblazers use Mogli in Pardot to:
engage students and families

reengage or reach those who are unengaged

execute critical communications (meeting state and local government requirements)

delight stakeholders by continuous



If you're curious to learn about why text messaging is the most effective digital communications tool for K-12 schools to leverage in engaging student families, read: Seven obstacles and text messaging solutions for K-12 school communications. That article unpacks the challenges of school communications with parents and family members, and what you can do about by using Mogli in Salesforce.
In this article, we're diving right into the advanced tactics your school can implement to achieve positive communications results in your Salesforce Pardot org.
How to more effectively communicate with students and families through personalized message journeys:
Early childhood education family involvement
Outcomes for early learners are best when educators involve parents and family members. Schools can foster family engagement like Mogli nonprofit client, Family Connection of South Carolina. Among other programs, FCSC bolsters their reading program with parents by sending text message reminders, encouragement, and links to at-home learning resources. In Pardot, you can automate and manage these text-based communications with granular audiences based on a wide range of parameters, from zip codes to the child's age to the amount of engagement with learning resources.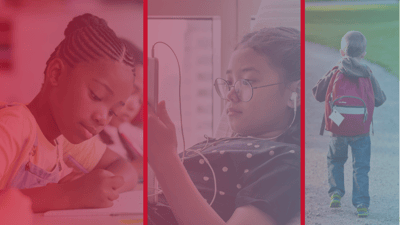 Proactive digital communications through SMS & WhatsApp™
Proactive text messages value-adding text messages extend beyond early childhood education. Help families and students get the most out of the district's resources and opportunities, as well as school events and activities, for advanced and gifted children or marginalized demographics. If guardians aren't adept at navigating public and educational resources, it's the schools' responsibility to draw them into the school's enriching community.
Responsive text message communications
As schools continue their move toward optimized online learning in 2020 due to social distancing, you can monitor student and family engagement with your district or school website and other digital assets. Respond to these online interactions by creating automated, tailored triggers for text messages campaigns tied to deadlines, unfinished assignments, and more.

Parental or familial engagement automation triggers might use conditional logic to work back from the date of the last parent-teacher conference, sending a text message encouraging the guardian to sign up for a time-slot on the teacher's calendar. You can even send these reminders to specific audiences if you're aware that individual family members might not be able to participate in conferences in the middle of the day during your school's allotted conference week.

Your school can also create Pardot-Mogli automations based on email opens or webpage views to trigger registration reminders, day-of-event updates, or follow-ups to reviewed communications and resources. For example, 48 hours after sending an email, follow up with an SMS or WhatsApp message containing a URL link to the appropriate information. Alternatively, if a student hasn't logged into a student portal or interacted with assignments, trigger a text message to remind them of deadlines.

Prevent students from slipping through the cracks

Similarly, if a student's grades are suffering or the student has low attendance, automatically let parents know! These unpleasant messages are where you want to make sure that your texts are direct yet inclusive and ethical. Word your messages in a way that is non-accusatory, understanding, and open further discussion. There might be circumstances that lie hidden beyond first glance to which staff is not privy. This challenge is an opportunity to foster a supportive environment and help students overcome challenges in academic life.

When students and families exhibit indications of needing more support, empower school counselors to reach out via one-to-one conversations. These conversations can be between school counselors and students or parents. If your school wants to enable many staff members such as teachers, administrators, and counselors to be Mogli text messaging users in Salesforce, consider utilizing Mogli in Salesforce Communities. This way, your institution doesn't need to purchase full Salesforce licenses for each user to benefit from convenient, conversational, effective, and measurable text message communications.
Affirmation and encouragement through SMS and WhatsApp™
Balance unfavorable messages in your texts with positive reinforcement and encouraging news. Congratulate students and parents on improved or exceptional student performance and attendance. Nothing keeps people going in the right direction, like affirmation and complimentary feedback!
Text message compliance
Make sure to comply with your state's laws regarding text message interactions with minor students. While opt-in is easier for nonprofit and educational institutions, cover your bases. If there are age-based laws in your region, set Salesforce date-based parameters to reach out and ask for opt-in with older students; otherwise, consider asking for parent permission.
If you're able to connect with your older students over SMS or WhatsApp, make your college counseling program an integral part of text message campaigns. Alert students to college fairs and scholarship or grant opportunities, as well as appointment reminders and deadlines.
Mogli client The Richmond Promise brilliantly leverages text messaging automation in Salesforce for higher education enablement. Read the case study on RP's custom object automations.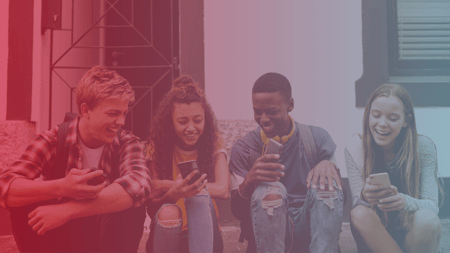 Emergency SMS communications
Text messaging is the quickest way to reach people, as over 90% of recipients read messages within the first 90 seconds, so make it a part of your school's emergency communication plan. We always encourage Salesforce users to use a few channels to relay critical information, however.
Using advanced tactics in Pardot Engagement Studio
Salesforce Pardot is a sophisticated and powerful tool that remains user-friendly with an intuitively navigable user interface. Make sure you're leveraging it to its fullest potential by going beyond email and web page views in the app's engagement studio. Mogli enables data collection through SMS and WhatsApp surveys and forms, create connections through one-to-one text message conversations, foster engagement through personalized and segmented bulk message journeys, automate elegant multi-channel workflows that build trust with parents and students without burdening administrators with manual tasks. And, finally, easily report on all the data you capture over text messages, as each reply from recipients maps to Salesforce fields to create or update records that give you the accurate up-to-date data you need to examine what helps your students thrive.