Higher ed communication strategies that literally rock!
What do rock'n'roll, virtual experiences and text messaging have in common?
They're all strategies that solve higher ed recruitment & retention challenges.

Free Case Study | Learn how Trinity Western University seamlessly navigated an abrupt transition to remote learning during COVID19 without furloughs, using text messaging as a pillar of their digital transformation.
Who is Amy Alexander, and why should higher education be looking to her to guide it into a post-COVID-19 world?
If anyone understands retention and engagement in the higher ed space, it's Amy. Amy Alexander earned her BA in Psychology (Honours) with an emphasis on student identity and retention, and has served the past 15 years as the Director of Enrollment Operations at Trinity Western University (TWU) in Canada. Recently, in light of COVID-19 and social distancing, she became the natural leader of her institution's reimagined digital engagement and communications strategy.
Amy and VP of Enrollment, Brian Kerr, have the blessing of the Executive Leadership Team and President to usher the university into a new reality of higher ed learning. Brian and Amy have the "relationship equity," and institution's trust as a result of their stellar enrollment track record. If you're not already familiar with the university, "Out of 57 universities across Canada, TWU is the only one to maintain its A+ ranking in Quality of Teaching and Learning (formerly Quality of Education) for seven years running," (TWU).
In 2019, Amy and her team retreated to set strategic goals for recruiting new students and re-recruiting existing students. She began implementing steps toward digital transformation that proved advantageous for retention once social distancing measures hit. For example, using Mogli, TWU brought their prospective student RFI response rate from zero to 95%! That was only the beginning.
Mogli's diverse text messaging functionality is now involved in a wide variety of digital communications, from virtual event reminders to academic support and various data collection points through feedback surveys.
Which digital communications strategies have helped Trinity Western through social distancing?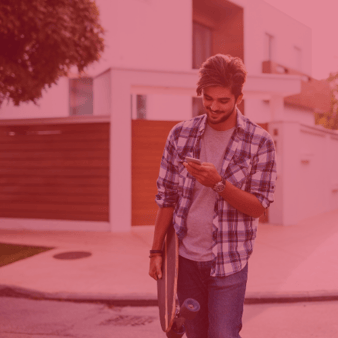 TWU's pre-COVID-19 strategies (that included but were not limited to rock concert tours for recruitment- yes, seriously!) have helped them weather this storm and quickly transition to remote learning as best as any college or university could hope for. In the past two months, Amy and her team have only added to this strong foundation. While social distancing nonetheless imparted unique challenges, TWU had already laid the groundwork of text messaging with students using a variety of different Mogli functionality: surveys and forms, one-on-one conversations, bulk messaging and automations. The team knew SMS and WhatsApp worked to effectively communicate with prospective and current students, so they designed future-strategies around texting, as well.
Amy generously allowed Mogli to take a deep dive into TWU's text messaging use case in their Salesforce org so that we could share with other higher ed institutions how to more fluidly navigate this new era full of uncertainty. Mogli put all the insights gained into a 12-page case study, a detailed how-to, brimming with illustrative visuals that will help your educational institution stay competitive.
Learn exactly how Trinity Western University continues to achieve enrollment and retention KPIs
Mogli put together an in-depth case study that delineates exactly how Amy and her administrative team remain successful in a time when other schools are closing their doors or furloughing large numbers of staff and faculty. This case study doesn't only focus on the Mogli text messaging app on Salesforce; it covers everything that is working well for the university during this pandemic.
In the TWU + Mogli case study, you'll learn:
The measurable improvements the school has experienced moving from dependence on paper and email to text message.

Which platforms Trinity Western uses for successful remote communications and experiences, both on and off the Salesforce platform.

How the university uses text messaging in a variety of ways to captures the information and interest of prospective students.

How TWU supports student success and retention through text messaging.

Which text messaging functionality (bulk sends,

branching surveys

, one-on-one conversations, and automations) helps them achieve which targets.

How they use SMS and WhatsApp similarly and differently to reach domestic and international students.
Regardless of the fall 2020 semester being on-campus or online, your college or university needs to prepare for how and when you communicate with your stakeholders. Text messaging not only makes other digital tools more effective, it provides one vital channel to perform a variety of functions across multiple departments, allowing your school's efforts to be cohesive and collaborative.

Trinity Western University Case Study |
Text messaging + Rock'n'roll, Virtual Experiences, and COVID19
It's all there.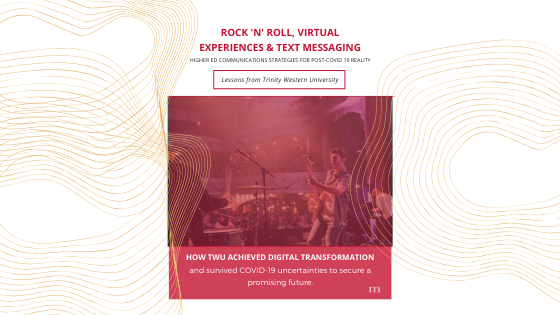 Want More?