This article is your knowledge-base covering the following components of sending one-to-one messages in Mogli Conversation View in Salesforce:
1. How to select a gateway (outbound phone number) when conducting one-to-one conversations
2. A high-level overview of how to send an SMS-template (see related resources below for in-depth articles)
3. How to schedule a message in Mogli Conversation View lightning component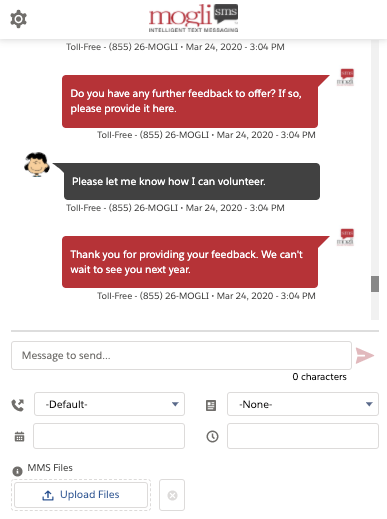 Selecting a Gateway
Select the drop-down in the field with this icon:

If the selected value is -Default-, the text will be sent from the phone number as listed within the Default Gateway field on the record.
If there is no value in the Default Gateway field, the message will send from the Global Default Gateway as specified in Application Settings.
Send as an SMS Template
Send a templated message or survey from the field with this icon:

Scheduling a Message
Enter the date and time your message is to be delivered in the fields with the

and

icons and send.
Additional Template Resources:
Get Free Template Ideas for Nonprofit Use Cases!