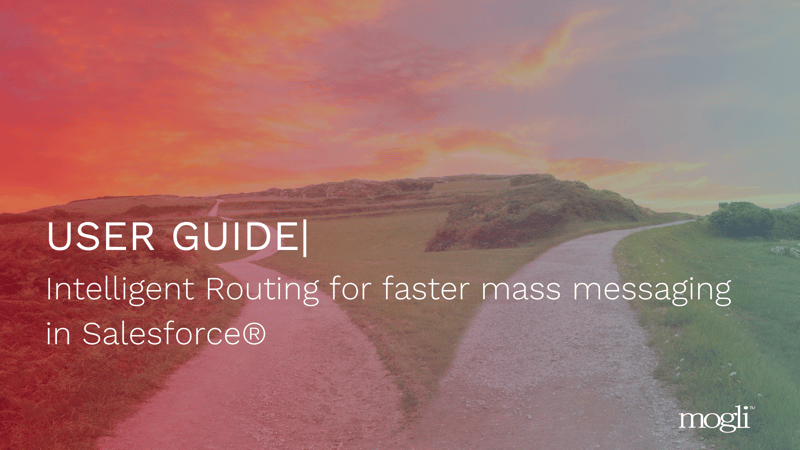 Do you plan to send bulk SMS, MMS, and WhatsApp messages to more than 100 people at once? Quickly (and economically) reach your entire target audience while keeping costs down with intelligent routing.
If you're looking for instructions on how to send bulk messages from a Salesforce report here. >>
Traditionally, organizations choose shortcodes for contacting a large number of recipients fast. However, they can be quite expensive. Intelligent routing is Mogli's workaround, maximizing efficiency without costly shortcodes.
Intelligent routing disperses bulk text traffic across several phone numbers, for significantly faster and more reliable delivery. Mogli does the work for you and chooses the best phone number to send the message, and remembers the number used for each recipient for future use.
Follow the steps below to get started:
Navigate to the Bulk SMS or Bulk SMS Lightning tabs
Attach a Campaign, Report, or manually add recipients from Mogli-supported records.
Attach an SMS Template, MMS, or type directly in the Message field
In the Form the dropdown, select "Intelligent Routing"
Click "Send"
Your bulk messages send over multiple long-code, toll-free phone, or shortcode numbers. Some organizations may prefer long-codes because they seem more personalized, and other organizations prefer simple-to-remember short codes that also withstand large mass sends. In our Summer-Fall 2020 release package, Mogli has successfully tested sends to at least 30,000 recipients. You will need to break up larger bulk sends into groups.
Keep in mind that intelligent routing is an entirely optional add-on feature. If you feel more comfortable using shortcodes, Mogli supports you!
Want to see the Mogli magic in action?
Are you a current client and have a question:
Please reach out to your dedicated Client Success Manager or connect with us here. >>
Related resources:
Summer-Fall 2020 release notes