User Guide | Manage and assign Mogli user permissions in Salesforce®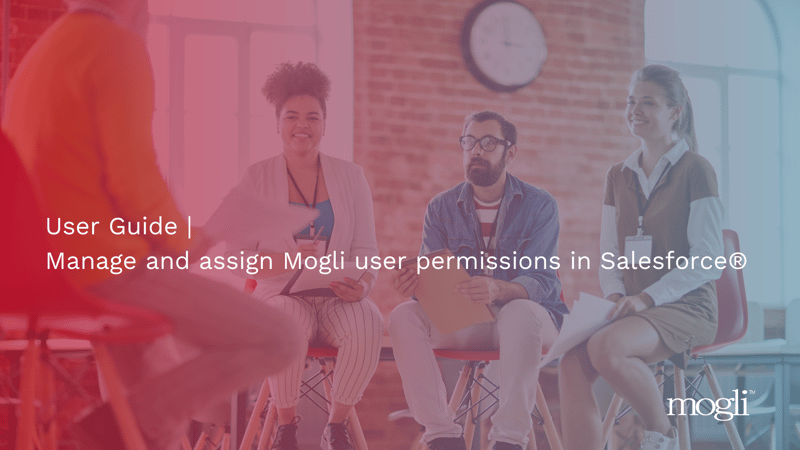 Why are various levels of permissions important to your digital communications in Salesforce? Read about why Mogli SMS and WhatsApp access assignments matter here. >>
This article covers the technical how-to's of managing and assigning Mogli user permissions in Salesforce. "Full Access" permissions allow your Mogli users to take advantage of all Mogli has to offer - 1:1 conversations, bulk messages, automated conversations, and more. "Read Only" allows your users to view SMS and MMS activity, but not send messages themselves. Here's how your admin can assign "Full Access" and "Read Only" permissions.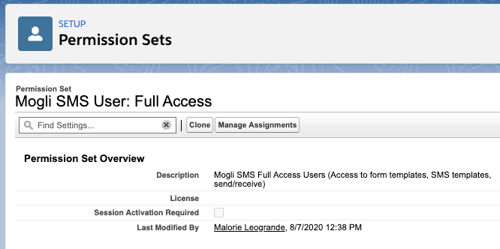 How to find and assign Mogli permissions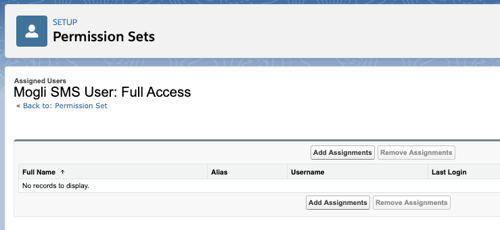 From Setup, type "Permission" into the QuickFind bar
Select "Permission Sets"
Select the appropriate Mogli SMS permission set you'd like to assign
Click "Manage Assignments"
Click "Add Assignments" to manually add users to the permission set
Once you've selected the users, click "Assign"

How to assign Conversation View Read-Only Mode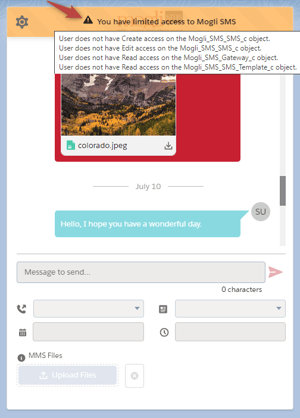 Alright, admins, let's get started! When a user who is not assigned one of Mogli permission sets views the conversation window, they might notice that some functionality is disabled. Not a problem! "Read-Only" access may be granted at the profile level.
From Setup, navigate to the user's profile
Under the object setting section, assign "Read" access to the SMS object and click "Save"
You can grant varying levels of access for users. For more information, hover your cursor over the caution/ help icon at the top of the Mogli conversation window to see which permissions a user is missing.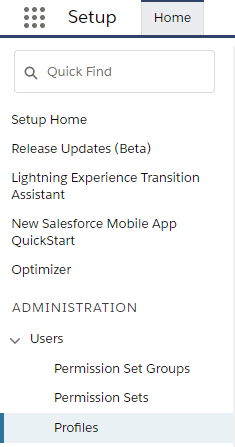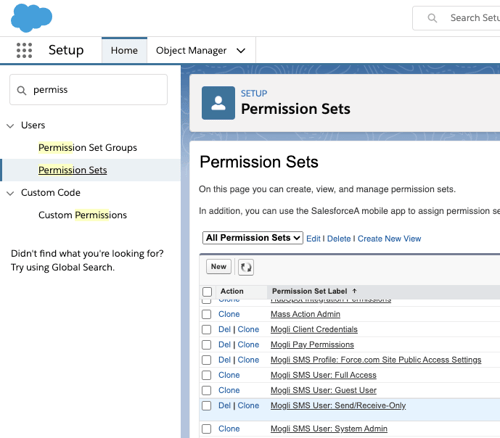 How to give access to Mogli for Community Users:
1. Access and clone our Mogli SMS User: Full Access permission set and modify the following permissions:

Remove all Assigned Apps
Remove "View All" on Async Tasks
Remove "View All" on Application Settings
Remove "View All" on Gateways
Remove "View All" on Registered Gateways
2. Rename the cloned permission set "Mogli SMS Community User: Full Access" and add your Community users to this permission set
3. Change External Sharing Settings by doing one of the following:
Change External Settings in the sharing menu to "Public Read Only" for Application Settings, Gateways, and Registered Gateways; and set "Public Read/Write" for Async Tasks
OR set up Sharing Rules for each of the above objects by granting "Public Read" or "Read/Write" to a role or group of specific Mogli users
Learn about how Mogli supports Salesforce Communities in our V4 release notes. >>
If you need assistance let's connect.
Related resources: