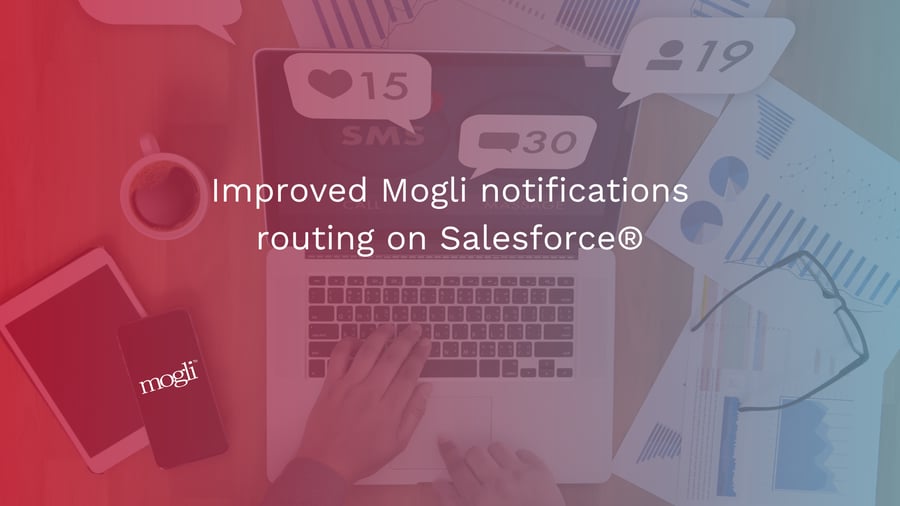 Notifications can be tenuous to navigate because you don't want to miss high priority incoming text messages. You also don't want to be pinged every few minutes (or more, depending on the volume you send from Salesforce). Increase your productivity by customizing your notifications to reflect who and what is important to you. Mogli's improved notification routing for SMS and WhatsApp messages provides a more streamlined approach to help you stay in close communication when it matters.
Salesforce desktop and mobile notifications
Instead of clicking on each notification that forwards you to to a contact or lead, each alert directs you to the exact Salesforce contact, lead, or record from which the message originated. All of the relevant information you need is displayed right next to the conversation record, saving you time digging around. You can reply immediately. Some things just can't wait.
Respond to an opportunity, prospective student, or volunteer as soon as they complete an inbound survey. Tailor your response to their feedback using the information available at your fingertips.
Thank a donor as soon as they send a generous donation with text-to-donate, helping you reach your fundraising goal. Or, provide application assistance to prospective students with one-on-one messaging without having to hunt down their application status.
One-Click "Clear All"
Sifting through notifications when you log on every morning can take more time than it's worth.
Instead, set yourself up for success by giving yourself a clean slate. After scanning for the vital activity that warrants your immediate attention, click "Clear All," and there you have it! Whether it's five or fifty incoming message notifications, get rid of them, stat, so you don't have to stare at that distracting notification icon all day.
Manage your incoming message notifications in Salesforce
Not all messages and activities are created equal, so adjust your notifications to reflect who and, now, what is important to you. Let's get started!
Once on the Mogli SMS Lightning Tab, click into the "Notifications" Tab located on the bottom left side of your screen.
Select the checkbox next to the gateways/object from which you would like to receive notifications.
Decide if you prefer a sound to accompany your notification.
Update and voila!
Happy texting!
Related resources
Knowledge base articles
Summer-Fall 2020 release notes
See all Mogli features
Have questions?
Current clients, contact your dedicated Client Success Manager or connect with us here.