Mogli makes it easy to personalize avatar, text bubble and text colors for your two-way one-to-one text messages in Salesforce so that control the look and feel of Conversation View. This option to customize your teams' visual representation of conversations creates transparency amongst Mogli users and builds trust by allowing multiple users to text recipients without causing confusion.
This knowledge base article walks you through customizing your Conversation View lightning component.
How to Assign a Mogli Avatar

By Default, incoming messages will display in Conversation View alongside a bubble containing their initials. You may replace the initials with an image. The Mogli Avatar URL is a custom field containing a URL of an image to be associated with a recipient within Conversation View.
Right-click your chosen image
Select the following option depending on your browser:

Chrome and Safari - Copy Image Address
Firefox - Copy Image Location
Microsoft Edge - Copy Link
Internet Explorer - Properties > select the URL to the right of the "address" heading and press Ctrl + C

Paste the URL in the Mogli Avatar URL field
Save and refresh the record
Steps to Personalize Bubble and Text Colors
Click the icon in the upper left corner of Conversation View
Select yourself as user in the user Filter drop-down menu
Choose your Text and Bubble colors or enter hex codes and Save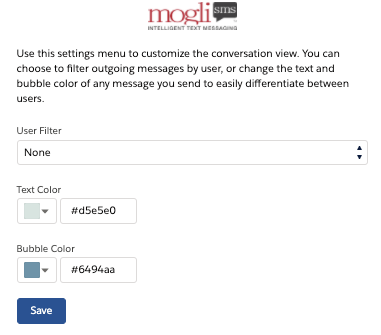 Admin Tip:
You may configure text and bubble colors on behalf of users in two ways:
Login as a user and select colors on their behalf
From Setup > Custom Settings > Choose "Manage" next to user Colors. From here, you can create new bubble and text color relationships for your users. (Utilize this helpful hex code finder

)
Related Resources
User Guide | How to send MMS in Salesforce with Mogli
User Guide | Getting Started with One-to-One Text Message Conversations
User Guide | Gateways, SMS Templates, Scheduling for One-to-One Conversations
Feature Overview | One-to-One Messaging