User Guide | SMS and WhatsApp™ Consent, Opt-In and Opt-Out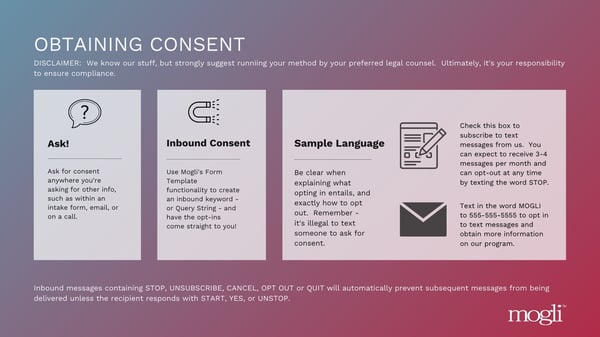 OBTAINING CONSENT
DISCLAIMER: We know our stuff, but strongly suggest running your method by your preferred legal counsel. Ultimately, it's your responsibility to ensure compliance.
Additional in-depth resources:
ASK
Ask for consent anywhere you're asking for other info, such as within an intake form, email, or on a call.
INBOUND CONSENT
Use Mogli's Form Template functionality to create an inbound keyword - or Query String - and have the opt-ins come straight to you!
EXAMPLE LANGUAGE
Be clear when explaining what opting in entails, and exactly how to opt out. Remember - it's illegal to text someone to ask for consent.
Check this box to subscribe to text messages from us. You can expect to receive 3-4 messages per month and can opt-out at any time by texting the word STOP.
Text in the word MOGLI to 555-555-5555 to opt in to text messages and obtain more information on our program.
Inbound messages containing STOP, UNSUBSCRIBE, CANCEL, OPT OUT or QUIT will automatically prevent subsequent messages from being delivered unless the recipient responds with START, YES, or UNSTOP.
WHAT ABOUT OPTING OUT?
If someone hasn't responded to your request, consider that an opt-out.
If someone initially opted-in and then wants to opt-out, they can do so by texting in the words STOP, QUIT, UNSUBSCRIBE, OPT OUT, or CANCEL.


They will receive an automated message from our messaging partner confirming they've been opted out, while giving them the option of opting back in by texting in the words START, YES or UNSTOP. This automated message is not visible inside of Salesforce.



Even if a user attempts to send another message to that person from the number they've opted out of, the message will be undelivered and the SMS record will error. Therefore, it's a good idea to build our

10-minute Process Builder

that checks and un-checks the Mogli Out checkbox automatically when someone opts out and in.
MORE ON OBTAINING CONSENT
Text messages are enforced by the TCPA (Telephone Consumer Protection Act). Please consult the latest in

TCPA Compliance

(provided by FDIC.gov)
Text messages sent to those who have not yet provided consent may result in a $500 fine per text message violation.
Check out

our blog

on US-based consent!
SAMPLE LANGUAGE FOR OPT-INS
(HELPFUL FOR ONLINE, EMAIL, OR PAPER FORMS)
"Would you like to opt-in to receiving text messages from Mogli Technologies? You can expect to receive 2-4 messages per month on tips and best practices. Standard messaging and data rates apply. Opt out at any time by texting in the word STOP."
"By providing a mobile phone number, I understand that Mogli University may occasionally send me text messages related to official business, such as recruitment, advising, registration deadlines, billing, financial aid, etc. I may always opt-out by texting in the word STOP if I no longer wish to receive text messages."
ADMIN TIP: To ensure compliance, run a mass upsert using Data Import Wizard or Data Loader that checks the Mogli Opt Out checkbox. This way, users will be unable to text your recipients until they've opted in. Further, you can spend about 10 minutes creating a Process Builder which will automatically uncheck the Mogli Opt Out checkbox when someone texts in the word START, SUBSCRIBE, OPT IN, or any other keywords you choose. Visit our AUTOMATIONS section for step-by-step instructions on how to build the Mogli Opt Out/In Process Builder automation.
Users may also manually check the Mogli Out Out checkbox when a recipient chooses to opt out.
When the Mogli Opt Out checkbox is checked, users will be unable to send messages and a yellow banner appears at the top of Conversation View.
Related resources:
USA text messaging regulations
EU GDPR text messaging regulations
Canadian CASL text messaging regulations