What Higher Ed on Salesforce should look for in a text message app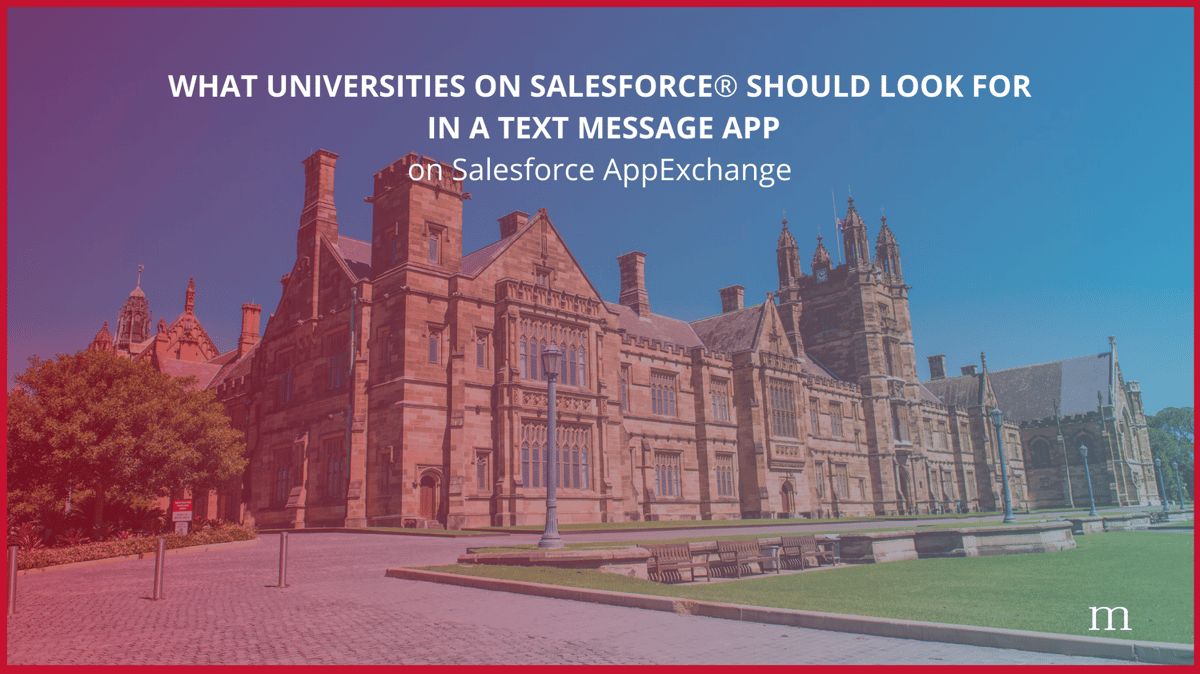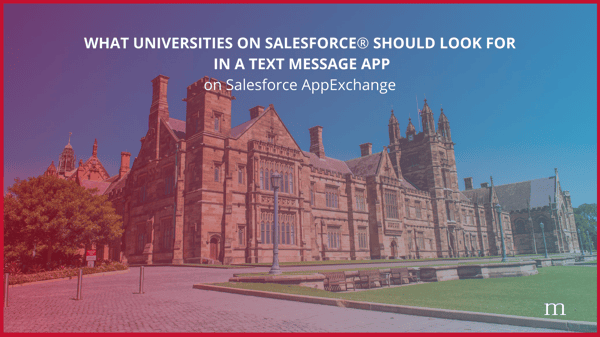 The ten most important qualities of a Salesforce AppExchange text messaging app
As of 2020, most college and university students are Generation Z babies (born between 1995 and 2015). Seventy-five percent of Generation Z claims texting as their preferred communication channel. Like Millennials, Gen Z prefers short copy, images, and emoji-rich messages, rather than lengthy prose more typical of an email.
If you still rely on email to connect with prospects, students, or alumni, you might be noticing there's a lot of room for improvement in this channel's performance. It's not your copywriter's fault. Gen Z just isn't checking their emails or taking the time to reply. Text messaging is your best avenue to connect with your school's ideal students.
When selecting a text messaging vendor on the Salesforce AppExchange for Higher Education institutions on the Salesforce platform, there's a list of considerations before deciding. We've outlined the essential qualities to look for in a text messaging application for your Education Salesforce instance. While we focused on Higher Ed nomenclature and administrative structure, these qualities apply for K-12 schools, as well.
If you're interested in more K12 school resources, learn how Mogli works with:
1. Native to Salesforce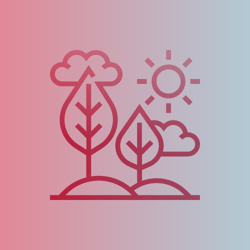 While Salesforce does not provide any standard feature that allows you to send SMS or WhatsApp messages, it's the perfect platform to leverage this clean and efficient communication channel. To avoid time-intensive data uploads, fussy integrations, or messy data collection in Salesforce, choose a text messaging application that's native to Salesforce. Native products ensure they work seamlessly on the platform, with no API security issues or limitations. Your data remains secure in Salesforce.
2. Multi-department: one app for your entire student lifecycle
When interdepartmental work is disjointed, everyone in your administration feels the pain. Process, performance, and, therefore, goals and objectives are unclear. You want your apps to be adaptable and useful for a variety of use-cases. You want one app to rule them all, or at least for your entire student lifecycle.
Every administrative department can improve communications response rates by keeping students and alumni engaged with text messages.
Text messaging is a perfect way for each department to fulfill its objectives:
Admissions
Student success, retention, and engagement
Alumni and donor engagement and fundraising
Staff communications
Plus, Mogli's features allow each department to collaborate cohesively with historical views, data reporting, and inter-department automations. Stop wrestling over the budget and get to work together!
Gain an in-depth understanding of how each administrative department can leverage SMS and WhatsApp™. Download the comprehensive ebook! Get it now.
3. Templates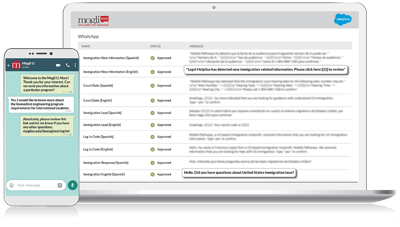 Templates allow your administrative teams to scale communications and stick to approved messaging. Form templates for prospective student data collection, current student feedback surveys, bulk messages, or various nurture campaigns should be available to every person who works with your college or university's digital communications. If everyone is writing their text message copy (aside from one-to-one conversations), it's harder to measure what influences outcomes and improve the copywriting. Empower each team member to be a Mogli SMS and WhatsApp powerhouse yet stick to the same tune with unified and consistent messaging.
4. Built for Universities on any Salesforce platform
Mogli is agnostic to what Salesforce's Cloud platform, data architectures, or apps your team may be using. Mogli sees a lot of variety in what schools choose. Administrative departments within one college or university might even operate their Salesforce instance with different applications on different clouds, depending on their workflow and process.
Mogli is not only the only text messaging application on Salesforce AppExchange to be EDA (Education Data Architecture) certified, the app supports all standard and custom Salesforce Objects, making it cloud and data architecture agnostic. Additionally, since Mogli is native, it works seamlessly with other native apps like Pardot.
Watch Mogli + Pardot demos here.
Salesforce EDA
Salesforce Education Cloud
Salesforce NPSP
Any custom data architecture
5. User-friendly with permissions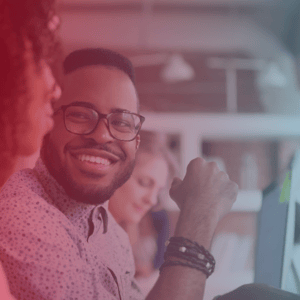 Choose an application that isn't too challenging for your team to implement and doesn't require you to purchase user licenses. When you must buy multiple licenses for one app, costs could go through the roof, or, in trying to keep costs low, you create a workflow bottleneck. Mogli allows you to decide how many Mogli users you'd like in your Salesforce org, at no additional charge. Plus, Mogli's CSM team complementarily onboards each client team so that each Mogli user doesn't need to be an admin or developer to take advantage of SMS and WhatsApp.
Mogli is an unlimited user license application, allowing all users in your Salesforce org to unlock the power of Mogli. Admin can choose from three permission sets of user assignments.
Mogli permission sets include:
Mogli SMS Admin: grants users permission to make adjustments to all Mogli users within the Salesforce org, plus template creation and Salesforce Process Builder automation.
Mogli SMS User Full Access: grants users permission to send messages.
Mogli SMS Read-Only: admin can grant users read-only access.
6. Transparent historical view and collaboration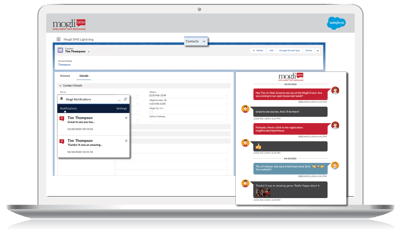 How many hours have you lost trying to figure out who said what to whom and when? Frequently, students need input from and conversations with more than one administrative team member. With Mogli, multiple team members can text message with a single student or stakeholder. The app organizes all Salesforce users' text message conversations with a Contact in Conversation View, chronologically ordered and coded by color and avatar. Additionally, Mogli logs historical SMS and WhatsApp messages, and your team can report on all inbound message data or values in a beautiful Salesforce dashboard.
7. Opt-in and opt-out management
Before you text a student, you must obtain consent. While the onus is on the Salesforce user to get the legal green light, choose an app on Salesforce that helps you manage text message opt-ins and opt-outs. Regulatory compliance might be one of the most critical factors of choosing a Salesforce application because failure to comply with SMS opt-in and opt-out regulations can result in a fine up to $500 per text. Mogli makes compliance management easy with automated double-opt-in and re-opt-in messages and workflows.
Further reading:
8. Segmentation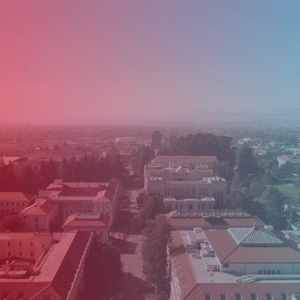 One size does not fit all, nor do your messages. Audience segmentation is a strong determinant of campaign performance. Segmentation can include location, graduation date, entry date, financial aid, major, and minor. Your apps should allow you to send segmented messages based on Salesforce objects and created lists, enabling you to reach micro-target audiences. Since Mogli supports any Salesforce objects, you create specific reports and lists that let you hone in how to provide value to each student and stakeholder sub-group.
9. Fully featured
Many of us have felt the frustration of needing a specific feature once in a while, but our software package plan doesn't include that feature unless we fork up the big bucks. We end up paying too much for a feature that rarely comes into play, or we forego some value because it's just too expensive. Mogli doesn't play that game. Regardless of your organization's size, you benefit from all Mogli's SMS features. WhatsApp functionality gets added to Enterprise plans.
Top five features universities love:
10. Reporting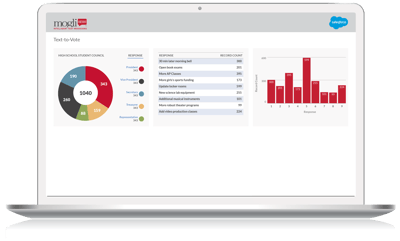 Salesforce is a platform for robust measurement. Measure admittance rates and enrollment rates, measure retention and graduation rates, and definitely measure your college or university's communications because your ability to connect determines so many other administrative school outcomes. Look for tools that make it easy to evaluate your digital communications performance. Ensure the tools allow you to mine data that you collect from incoming messages to give your administrative team actionable insights for the next semester. Since Mogli is a native Salesforce application, all of your data lives right in Salesforce, and you have full advantage of Salesforce's easy-to-understand dashboards.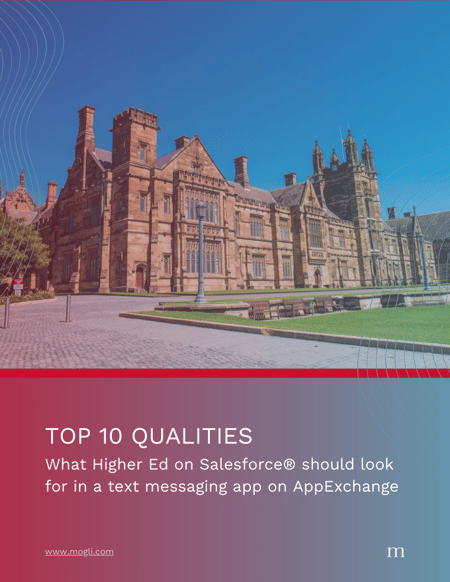 Download Mogli's eBook for Higher Ed!
Learn what you need to know about selecting the ideal AppExchange vendor for all of your SMS, WhatsApp and MMS needs on Salesforce!
Want to see everything we can do for Education?