How a nonprofit used Salesforce® Einstein to improve public health

This story is about how Proyecto Mirador combats deforestation & a public health crisis with inbound MMS, Einstein Vision artificial intelligence, and SMS to enable communication with remote, at-risk Hondurans.
As of 2018, the World Bank reports that 60.1% of Hondurans live in poverty in rural areas, on average incomes of less than $3.80 per day. One of the main obstacles to poverty reduction and sustainable development in Honduras is violence. As of 2020 data, Honduras is considered one of the most dangerous places to live globally, with 57 deaths per 100,000 inhabitants.
Proyecto Mirador serves the poorest of the poor in some of Honduras's most remote and violent areas. These families typically live in crude, one-room houses, and many do not have access to electricity, running water, or sewage infrastructure. Nonetheless, most families have at least one cell phone with text messaging services. When necessary, the families travel to nearby towns and villages to charge their phones. This milieu informs the alignment of appropriate technologies to combat other pressing public health and environmental issues.
The organization primarily finances cookstoves purchase and installation by selling carbon offsets in partnership with Salesforce.com on their mission to becoming a zero-emissions cloud provider. Each credit purchased represents removing or avoiding one metric tonne of carbon dioxide from the atmosphere due to Proyecto Mirador cookstove use. The nonprofit donates the custom, locally manufactured parts so that each beneficiary may co-invest their time and a few inexpensive materials to construct the stove. Proyecto Mirador finds that if a family co-finances this project, they will take pride in ownership and maintenance.
One widespread issue is the abundant use of wood. Wood is a necessity in Honduran families' everyday lives. Women and children spend their days collecting it for their cooking stoves, often walk long distances to accumulating wood from endangered rainforests. Not only is this practice detrimental to the environment, but open-fire cooking also produces high levels of dangerous indoor air pollution. Open fire cooking causes respiratory infections, cardiovascular disease, and cancer, prevalent among Honduran women and children. According to the World Health Organization, "4.3 million people a year die prematurely from illness attributable to the household air pollution caused by the inefficient use of solid fuels for cooking," yet over 3 billion people worldwide, roughly 40% of the world's population, still cook over an open fire.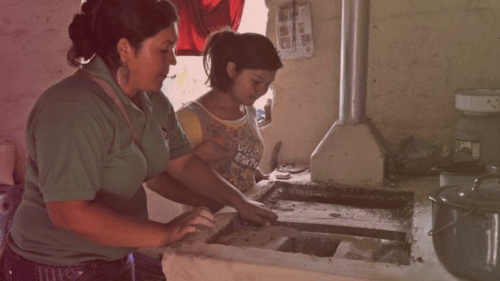 To alleviate these widespread health and environmental issues, Proyecto Mirador launched a program called "Dos por Tres," Honduran slang for "double-time," providing stoves that require half the amount of firewood for healthier smoke-free cooking. By installing fuel-efficient stoves into Honduran homes, Proyecto Mirador improves the locals' health while preserving endangered rainforests. Using the Dos por Tres stove saves a minimum of 60 pounds of wood per family each week, reducing carbon emissions by up to 15 tons per year.
Salesforce Implementation
Protector Mirador had to create an impact-focused program and supporting a technology system that would account for the complexities of operating in Honduras and allow them to reach more families immediately. In 2011, Proyecto Mirador partnered with Mogli Technologies to transition away from their paper-based system that tracked stove locations and other beneficiary information and measuring impact that employees manually entered into excel spreadsheets. Mogli's Salesforce Implementation Team architected a highly innovative, scalable Salesforce instance to solve some of Honduras' complex problems by orchestrating a mix of exciting and powerful tools:
Proyecto Mirador has installed more than 185,000 stoves (and there's an ongoing waitlist of families) throughout Honduras! Mogli's Salesforce implementation, as a result, needed to create an organized, centralized communication system that ensured all the stoves were functioning and performing correctly, as well as support staff's safety.
Nearly every Honduran family has a cell phone, so Proyecto Mirador made SMS their primary means of communication. The organization uses Mogli SMS to send automated drip campaigns, maintenance tips, and safety information to families. All of the beneficiaries' can text questions and feedback into Salesforce, quickly getting them the support they need in a trackable way.
Proyecto Mirador also uses Mogli internally to register and activate cookstoves, obtain feedback with SMS-based surveys, and auto-create support cases in Salesforce when maintenance is required. Mogli creates and updates Salesforce records, so it's simple for staff to create Salesforce reports on who owns a stove, when they built it, and how well it's working.
Essentially, SMS messages enable remote stove installation assistance, maintenance, and monitoring at scale without needing to send a field agent into a potentially unsafe situation. Regular maintenance extends the lifetime of the stove, subsequently reducing the costs associated with replacement.
Salesforce Einstein Vision AI
Every Proyecto Mirador field agent has access to stoves' condition information in Salesforce, enabling them to send and receive SMS with Dos por Tres program beneficiaries. As Proyecto Mirador grew, however, they found that deploying field staff, vehicles, and high tech equipment to communicate with clients and service cookstoves became increasingly expensive, inefficient, and dangerous. They began their search for a safer and more scalable solution to ease some of this burden.

As a part of this new strategy, the organization wanted to provide more real-time feedback to stove technicians before they left a construction area because technical input on stove and chimney installation before technicians depart saves time and money and increases personal safety. Additionally, Proyecto Mirador aimed to reduce the time spent on training new technicians by 50%.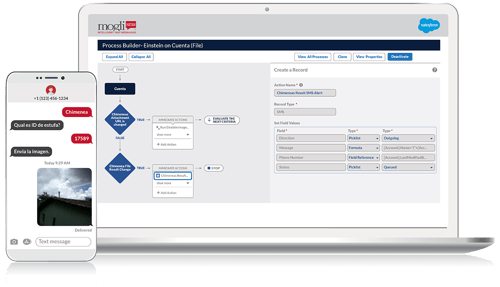 To achieve this end, in 2018, Proyecto Mirador began a pilot program using TaroWorks to capture offline images of completed chimneys and send these inbound MMS into Salesforce. The inbound image URL populated the Account record in Salesforce, which triggered a Process Builder to evaluate the image record. Next, Apex Class fired to call out to the Einstein Vision API, asking if the inbound image would classify as a "good chimney" or a "bad chimney." The organization employed a supervised AI approach, meaning that staff built the dataset from which Einstein sorted by specifying the correct answers. Essentially, the organization provided training data from which Einstein's algorithm learned.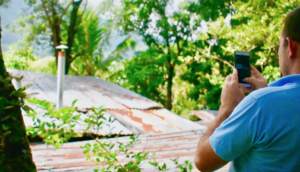 Einstein's response (i.e., "good chimney" or "bad chimney") then populated the Account results in Salesforce with the date and time stamp. Mogli SMS automatically sent a copy of the evaluation back to the user who submitted the image via SMS. This entire process happened in less than a minute. Proyecto Mirador achieved a significant reduction in supervision and training time by providing near real-time feedback for new construction technicians.
Connecting people, impacting outcomes
Each stove and chimney installation represents exceptional coordination, communication, and data collection achieved amidst challenging environments. The culmination of a spectacular system, each stove, also drastically reduces carbon emission and creates positive impacts on health outcomes for at least five years.
Mogli Technologies strives to unite clients and customers worldwide every day with strategy and technology to do more of what matters. The Salesforce Implementation Services Team understands the nonprofit impact sector and the unique operational and cultural challenges that each organization faces when driving, tracking, measuring, and verifying improvements. By joining the power of Salesforce with the intelligent versatility of Mogli SMS, we can reach and capture information from stakeholders and companies around the world in a matter of seconds.
Curious about how your impact organization can achieve more with mobile communications in Salesforce NPSP?
Related Resources
How nonprofits are using Mogli SMS and WhatsApp during COVID-19