Dreamforce 2019

Teamwork Makes the Dream Work
It's safe to say that Dreamforce leaves attendees feeling equally exhausted and inspired. The level of excitement and commitment to learning that persists through the long days speaks to the inspirational impact of this conference. Dreamforce 2019 was Mogli's third year as an exhibitor and presenter. And the third time was certainly the charm.
The Mogli team's experience at this year's Dreamforce reached new heights. Over the last year, our client and partner relationships helped us make valuable strides in developing our native Salesforce SMS product. As a result of Mogli's growth, we enjoyed a wonderful culmination of events at Dreamforce, and we are ending 2019 with a roadmap to excite the trailblazing masses!
Let's take a look at how Mogli clients, partners, and teammates contributed to an outstanding Dreamforce 2019, and what this means for our stakeholders.
Focusing on Salesforce.org
This year, Mogli focused our presence within Salesforce.org, as this space best reflects our company's beginnings and our ethics. We live and breathe our slogan, "do more of what matters," to help our clients achieve a wide range of organizational goals through SMS. We pursue tactful ways to enhance other Salesforce applications in support of nonprofits, K-12 & higher ed organizations.
Salesforce.org feels like an intimate and caring community that serves the greater good through technical acumen. Mogli certainly aligns well with this approach to business. Connecting with old and new kindred trailblazers at the .Org Lodge is an invaluable aspect of Dreamforce that is certainly not lost on us.
Salesforce.Org Jam & AppExchange Mega Jam Winners, Dreamforce 2019!
We left Dreamforce with both the Salesforce.org Demo Jam and the AppExchange Mega Jam trophies in hand. These wins affirm the value our team places on a creative and accessible approach to technical solutions. Mal rocked the mic with a hip-hop song, shedding light on Mogli's ease of use and versatility. Meanwhile, Rob took the audience through a smooth yet detailed Mogli SMS workflow.
The duo's interview with TechRepublic was spot on: if you build a product that you're passionate about, mining for features that connect with your audience, that worth translates to your users and partners. Yet, it's not just about the SaaS. We find that the Salesforce community evangelizes the CRM ecosystem because of the community itself. Trailblazers are supportive, forward-thinking and great at what they do. Mogli's Demo Jam and Mega Jam represents the community, and they evidently feels that.
Supercharging Donor Engagement with SMS & WhatsApp Text-to-Pay or Donate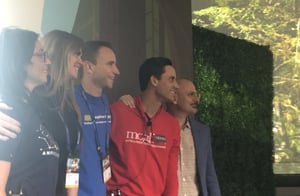 MogliPay also raised funds for Amplify, Big Green, Pi-TaP, and Eco-Life Conservation. Our text-to-pay or text-to-donate functionality was a highly collaborative achievement with our partner, iATS Payments. Going-live with MogliPay was a hot item on our 2019 roadmap, so we were proud to release it at Dreamforce in support of good causes!
Try it or yourself!

Text "MONARCH" or "AMPLIFY" to 94069 to engage or donate

!
Amplify hosted a breakfast to thank and bring together their community. As a part of the breakfast, their Executive Director asked if Mogli could use the text-to-donate app with little expectation. However, the room responded well and, in less than 5 minutes, generated an additional $1,100 in donations!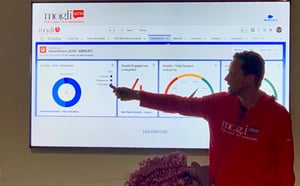 Later in the week, Idealist Consulting, iATS, Mogli SMS, Soapbox Engage, and Form Assembly co-sponsored Amplify's Party. Hundreds of party attendees had contributed to fundraising efforts by way of ticket purchases, and then MogliPay successfully spurred a second fundraising effort, reaching over $3k of text donations by the end of the evening.
Nonprofits and educational institutions no longer have to use an antiquated system to fill out forms and follow up with prospective donors after a benefit or gala. MogliPay seamlessly processes donations at the precious moments that inspire donors to give. SMS users can choose from multiple customizable paths, ranging from making a donation to learning more about an organization. MogliPay eliminates the challenges nonprofits face when engaging donors because phones are readily available.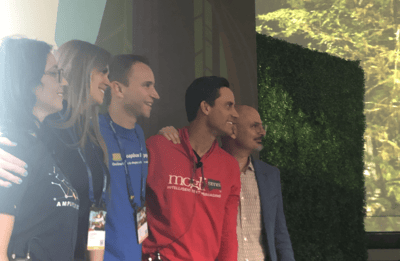 Strategic Salesforce Partnerships: AppExchange & Clients
In addition to using MogliPay, Big Green gathers poignant user stories from students and teachers. By creating a workflow using both Formstack and Mogli, Big Green captures use-cases that relay to donors the power of gardening for underserved kids. Beneficiaries can now easily share, via text that populates directly into Salesforce, positive outcomes from having access to natural space.
This example is one of many partnerships we showcased at Dreamforce. The diversity of Mogli collaborations and use cases exemplifies the versatility and efficacy of the product.
Dreamforce Breakout Sessions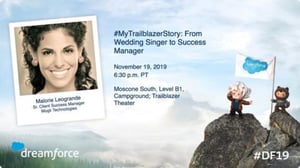 Three of the six team members attending Dreamforce had the opportunity to share-- on four different occasions-- parts of the Mogli story. Malorie Leogrande shared her Trailhead journey from an in-demand wedding singer to a Certified Salesforce Admin.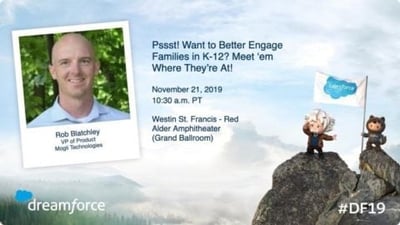 Rob Blatchley, COO, presented alongside German Friewald, K-12 Industry Solutions Director at Salesforce.org, and Elizabeth Cook, Solution Engineer. These three collaborators covered how K-12 educators can use Mogli SMS in Pardot to better engage families. Why does this matter? Research shows that family involvement is a major differentiator in a child's education, which includes reading and learning at home. Reaching families via SMS ensures that reminders, suggestions, and beneficial tools are always "on hand!"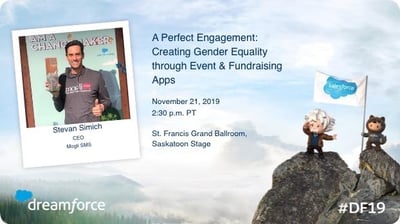 Additionally, our CEO, Stevan Simich, presented in two Breakout Sessions, one of which was with our friends at Big Green and Formstack. As mentioned above, they showcased the power of text to capture nonprofit user stories and donations.
The other session, "Funding Gender Equality through Event & Fundraising Apps," illustrated how Amplify empowers underrepresented groups through technology. By combining the capabilities of iATS and MogliPay, Amplify drives donor engagement with a "Choose Your Journey" texting sequence. These campaigns are easily managed and reported within Salesforce.
Trailblazers, Keep on Blazing!
Throughout Dreamforce, Mogli experienced the power of the Trailblazer community in each interaction at our booth. In receiving and reflecting the enthusiasm for Mogli as a team and a native app, we feel more aligned with our mission than ever. The entire conference reinforced that the quality of our relationships shows itself in quality of our solutions. We are thankful for all that 2019 brought our way, and we are excited to harness all of it in 2020.