Dreamforce 2022 - In a Word: Wow!
What does the Golden Gate Bridge, a Golden Hoodie, and rabbit ears all have in common? Dreamforce, of course!
Officially, Dreamforce kicked off on Tuesday, September 22, 2022. For some people, it has become an annual Dreamforce tradition to walk across the iconic Golden Gate Bridge. Mogli's own Product & Community Evangelist, Eric Dreshfield or "Dresh" as he's known to many, has been doing just that since 2014. This year, he lead a group of trailblazers across the bridge Monday afternoon and Friday morning.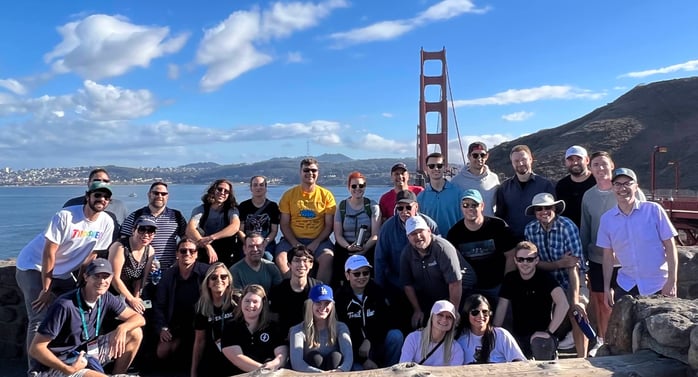 Keynotes, Keynote and More Keynotes
Dreamforce 2022 featured over 60 keynotes! Here's a brief recap from the Main Keynote, featuring Marc Benioff and Bret Taylor, Co-CEOs, Salesforce.
A New Day For Customer Magic - Announced at Dreamforce was Salesforce Genie. Some are calling it the greatest Salesforce innovation in company history. It opens the door for ultra-personalized customer experiences, delivered in real-time. By real-time, Salesforce means it is ultra-fast, as in milliseconds fast. And Salesforce Genie covers the whole Salesforce platform, Customer 360, with data being gathered from all data sources your organization has, and driving interactions across sales, service, marketing, commerce and more. Taking that even one step further, it's available now, and for any industry. And guess what? Genie has been powering the full Dreamforce experience! Want to learn more? SalesforceBen has a great writeup on Salesforce Genie here.

Slack Innovations - Also announced during the main keynote, more Slack innovation, all designed to power the future of work. Slack Canvas: enabling teams to create, organize and share information across teams. Canvas is way more than just another document. It's your digital headquarters where teams can capture information, find answers together, move forward and get more work done. Huddles: think quick audio conversations, from any channel or direct message. Think fast resolution to issues, and decisions made without having to schedule a meeting. Just launch a huddle, quickly get the right people in and get things done! And just like the traditional online meeting, you can screen share in Huddles, react with emojis and chat in threads that stay active even after the huddle has closed. There's also a new Slack Platform, with a new set of developer tools to make creation of reusable building blocks faster and easier, which drives more value to teams through customizable workflows and drive automation. In summary, Slack is innovating by making what was hard in the office easier, by bringing together what we all loved about being in the office, and by creating more unique value for the digital HQ.
True to the Core (TTTC) is back - and it's better than it's ever been. What started as a private session several years ago between Salesforce MVPs and Executives, has transformed and grown into one of the most attended sessions at Dreamforce. TTTC offers attendees the opportunity to grab a mic and ask the hard questions, directly to Salesforce Executives and Product Managers. TTTC typically provides an insider view of things on the Salesforce roadmap of forward-looking features coming in future releases. It's been proven over and over again that Salesforce customers value having a say in what new features are being developed, and what core functionality needs additional help. TTTC has been driving that message loud and clear for years.
Wow Your Students for Lifelong Success - The Education Keynote started off much the same way most Salesforce keynotes start - with the speaker thanking everyone for being there, and for supporting each other the way the Salesforce Community has becoming known to do. Next, Geshri Gunasekera, Salesforce Vice President, Education Industry and Solution Marketing, talked about Salesforce Genie and all the magical things Genie can do for Higher Education. And while she was feeling magical, Geshri awarded Mogli Super Fan & Salesforce MVP, Kathleen Lueckeman a Golden Hoodie! Geshri then continued to highlighted a some of the great colleges and universities, and how they keep students engaged throughout their education journey, and beyond, using Student 360.

There were so many magical moments shared at Dreamforce...The Salesforce for Admins Keynote was another one of those moments. Here we saw Mike Gerholdt, Senior Director, Admin Evangelism at Salesforce, talking about all the ways the Admin team at Salesforce is helping people across the world be more successful. Salesforce Admin Evangelist, Jennifer W. Lee showed off new features in Flow and DevOps Center. More magic! And another Golden Hoodie too! This time to #AwesomeAdmin Michelle Hansen!

Even though Dreamforce has come to a close, you can keep the Dreamforce feeling going all year long! Join your local Salesforce Community Group, and keep your customers & partners engaged using MogliSMS!
Mogli's Dreamforce was WOW too!
Mogli had a blast at Dreamforce 2022! Thanks to the hundreds of clients, partners and future clients who stopped by our booth for a "Watch and Win" demo. We had great fun around our own campfire showing off the power of MogliSMS while giving away iPads, AirPods, Nintendo Switches and more. Check out the awesome smile from one of our winners!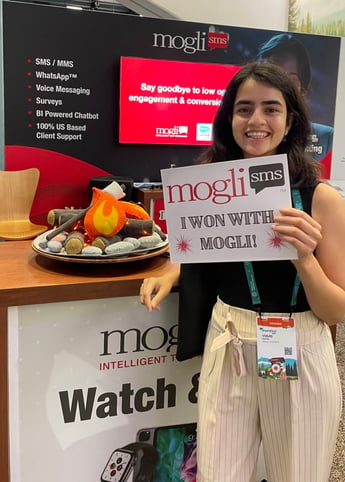 For those who joined us for our Happy Hour before the Red Hot Chili Peppers, it was great to relax and unwind with you. We can't wait to see your success grow!
Do you feel like you missed out because you're not a Mogli customer? Let's fix that! Schedule a demo with us now!