Dreamforce 2022 - What to Expect from the Keynotes
If you've never attended Dreamforce, or simply need a refresher, since it's been at least 3 years since we all had the opportunity to attend Dreamforce together, this article will preview some of the keynote sessions, who will be speaking and why they should be on your list to attend.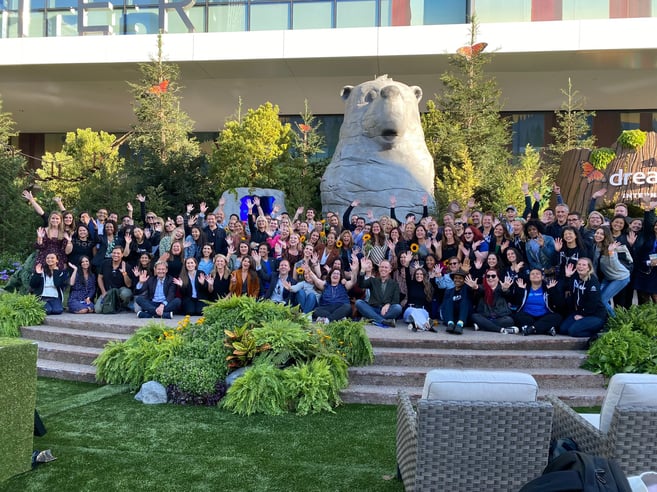 Featured image credit goes to Sarah Franklin. Thanks Sarah, for sharing such a great photo from Dreamforce 2021 for all of the Twittersphere to enjoy!
Dreamforce Main Keynote
Based on the description on the Dreamforce site - Join Co-CEOs Marc Benioff and Bret Taylor along with special guests! - is all the preview you get. What this really means is that Marc and Bret will have some great conversations with some high-profile Salesforce customers, talking about how they are using Salesforce to provide amazing experiences for their own customers. But wait, there's more. Often times, there are special musical guests worked into the main keynote. This year, the main keynote takes place on Tuesday, September 20th from 10am to Noon, in Moscone North, Hall F. It's safe to say you can expect the line to start forming about 8:30am. This keynote deserves a spot on your list, if, for no other reason than the surprises that usually happen during the main keynote.
The Future of Development
Salesforce Developers have their own keynote - that's nothing new. At Dreamforce this year, Christophe Coenraets, SVP of Developer Relations will share a behind the scenes look at the latest features and innovations for developers with Customer 360. And it wouldn't be a Salesforce presentation if there weren't some customers featured! Expect stage visits from the likes of Petco and IBM, and I would certainly expect to see Slack featured in this keynote too. The Developer keynote takes place on Tuesday, September 20th from 1pm to 1:40pm in Moscone West, level 3.


Scale Service Your Customers Love
Service Cloud, where I got my start in the Salesforce ecosystem back in 2009, has it's own keynote. It's not surprising to me that it will feature great long-time Salesforce customers like Viren Shah, Chief Digital Officer at GE and Aaron Miller, VP, CX & Strategy at ADT. I'm also excited to see that Uber is represented on stage for this keynote too. The Service Keynote takes place on Tuesday, September 20th from 2:45pm to 3:25pm in Moscone North, Hall F.
Drive Your Mission Forward
The Nonprofit keynote, Drive Your Mission Forward takes a fresh look at how nonprofits are scaling their missions by using data and automation. We've all been through a lot the past couple of years - a lot of uncertainty, a lot of concern for the future, and a lot of hope for things to get better. In uncertain times like these, communities often look to their own members for support and hope. This means that every experience becomes an opportunity to build trust. Learn more by attending this keynote featuring the William Penn Foundation, Year Up and KWF Dutch Cancer Society. This keynote takes place on Wednesday, September 21st from 9am to 9:40am in Moscone West, Level 2.
Wow Your Students for Lifelong Success
The Education keynote, Wow Your Students for Lifelong Success takes a forward looking approach to building lifelong relationships by creating personalized experiences using Student 360 and the Customer Data Platform (CDP.) This session brings together executives from USC Annenberg and Olivet Nazarene University to discuss why now is the time to build for the future of education, and why it's so critical for student success, at the university and beyond. This keynote takes place on Thursday, September 22nd, from 9am to 9:40am in Moscone West, Level 2.
There are many other keynotes during Dreamforce. Read about them all here.
If you're attending Dreamforce in-person, come join Mogli for a happy hour at Spark Social just before the Red Hot Chili Peppers show. And don't forget to schedule your 1-on-1 Dreamforce meeting with us now while there are still open time slots!