Dreamin' in Color: Four People You Need to Meet
When I first learned about the upcoming Salesforce Community Conference, Dreamin' in Color, a conference geared toward current or aspiring Black Salesforce professionals to share ways to grow thriving careers and businesses in the Salesforce ecosystem, I knew I wanted to be involved somehow.
You see, I came from a very privileged background - I grew up in a predominantly white, upper-middle class neighborhood. I don't recall there being a single person of color in my high school. And still, my parents raised me right...with the belief that every human life is valuable, regardless of their color, gender identity, sexual orientation, social status or any other "label" that society might put on a person. As a result, my progression through furthering my education and embarking on my own career journey has blessed me with meeting, befriending and working with a very diverse group of amazing individuals.
The four humans I'm about to describe as "must meet" people at Dreamin' in Color all have very differing and diverse backgrounds with two common threads: they are all men of color and they are all working in the Salesforce ecosystem. I've had the incredible honor of witnessing the growth of these four men over the years I've known them, and love how much they all give back to the Community to help others grow and succeed too! I had the incredible opportunity to sit down (virtually) and learn more about the members of Boyz2Force, who they are and how they got to where they are today.
So let's meet Boyz2Force - a.k.a.,Sibusiso "Siso" Ntuli; Shakil Kamran; Aaron McGriff and Justice Sikakane, Sr..
Sibusiso "Siso" Ntuli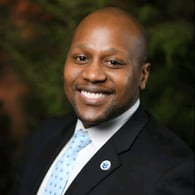 Siso describes himself as an Accidental Admin, a title that many people in the Ecosystem claim. He was working at a healthcare IT company as the product owner for their chat system, when their Salesforce program manager was leaving the organization. Siso was asked to take on that role, even though he really didn't even know what Salesforce was at the time. Siso dove head first into the Salesforce Community, embraced learning through Trailhead and helped that company migrate from Classic to Lightning. Siso attended a Salesforce Lightning Now event where he met Kelly (Walker) Vida who became an early mentor for Siso while he amped up his skills. Recently, Siso became a member of the Legends of Low Code on Team Adventure, and he is also a Principal Solutions Engineer at Delegate.
Shakil Kamran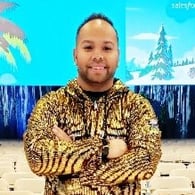 Shakil was a new father, a full-time college student while living the work-life of retail sales, which meant not working a consistent schedule and still working 50 to 60 hours per week. All this didn't give Shakil much of an opportunity to spend time with his family. He first heard about Salesforce from Selina Suarez, the Executive Director and Founder of PepUp Tech, People Empowering People Up Through Technology. It didn't take long for his curiosity to start going wild. He wanted to learn more and more about this thing called Salesforce. Selina had just started PepUp Tech and was about to launch the first cohort of students. Shakil became part of that cohort and was then immersed into a journey learning Salesforce over the next few weeks. During that cohort he was introduced to the annual Salesforce conference, Dreamforce, and he immediately knew he had to attend. That year, Dreamforce took place early November...prime time for someone working in retail sales. Shakil ended up quitting his job in retail in order to be able to attend Dreamforce. Quitting that job has turned out to be Shakil's "favorite mistake". At the New York City World Tour in 2018, Shakil was awarded the Golden Hoodie. See if you can spot Shakil in the Salesforce video, "PepUp Tech is a Trailblazer". Now Shakil is the Salesforce Growth Manager at Formstack.
Aaron McGriff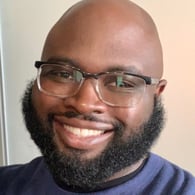 Like Shakil, Aaron was working in retail, coupled with his degree in Criminal Justice he wound up in Loss Prevention for two major retailers, over 12 years before he decided he wanted out of retail. He decided that Operational Management was his ticket out of retail. His decision turned out to be the worst choice of his life. Eight months into his new role, he got laid off without any warning. Then 88 days into his 2nd job in Operational Management he was laid off again. Aaron struggled with unemployment for about two years. His cousin, Nevea Van Wright, who works for Salesforce, had been telling Aaron that he needed to learn Salesforce for a while, but up until this point in his career, he didn't take her suggestion seriously. Aaron got on Trailhead, started studying, earning badges and learning Salesforce.Through his hard work, Aaron became certified and is featured in the Salesforce+ series "Trailblazer". Aaron was awarded a Golden Hoodie at Dreamforce 2018 and is now a Senior Salesforce Consultant at Slalom.
Justice Sikakane, Sr.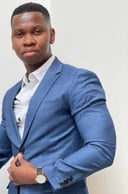 Similar to Shakil and Aaron, Justice got his start in retail - specifically personal computer sales at a major electronics retailer. His passion for the intersection of business and technology has guided his path for many years. even before Justice entered the Salesforce ecosystem. His career path included a help desk role where he spent his days providing password reset support, among other things. All the while, his curiosity about the systems grew. Justice was always asking questions, wanting to know more: What does this system do for end users, clients & customers? Eventually, he transitioned to a systems analyst role working on infrastructure support. And after a few years of consulting work with technology like Lotus Notes, and Active Directory, an opportunity to go to work as a systems analyst at Cargill presented itself to Justice. That's where he got his start in Salesforce, at the largest privately held company in the US, Cargill. His manager told him, "We have this platform that we are using and we need more experts on it. Get online, sign-up for a training class and go." This seemingly innocuous statement sent Justice on his first-ever business trip, across the country to San Francisco where he took an Intro to Object Oriented Programming With Apex course taught by Leah McGowen-Hare. When he returned to Cargill with his new-found knowledge, he discovered it didn't really help him. His first major project was the creation of a Center of Excellence, including developing a governance strategy and a release management strategy. Justice launched his speaking career by presenting on that topic at Midwest Dreamin'. You can find Justice in 2 episodes of the Salesforce+ series, "Small Business Revolution" - Gentlemen Cuts and Taste of Rondo. Justice is now the IT Director at Hennepin Theatre Trust.
Boyz2Force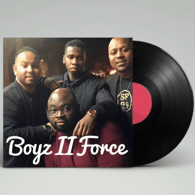 So now that you know all about Aaron, Justice, Siso and Shakil, let's dive into how Boyz2Force came about. Over the years, these 4 men got to know each other well, they would spend a lot of time together at events, both Salesforce related and not. They discovered that while all 4 of them had very unique backgrounds and life circumstances, that there was a common theme beyond the four of them being Black men, all relatively new to the Salesforce ecosystem. One evening at Dreamforce 2019, Shakil invited me to join him at a happy hour to simply relax and regroup after a long day. Aaron, Siso and Justice were at the same location as Shakil when I arrived. Conversations were taking place, people were getting to know one another on a more personal level, well beyond just the Salesforce connection. At one point, Justice grabbed me and said, "Come outside and take a photo for me, please." From there, Boyz2Force got a little nudge from Daniel Peter who took the image and photoshopped it onto the Boyz to Men logo...and the rest, as they say, is history.
Back to Dreamin' in Color
So, I'm sure some of you are now thinking, what's this got to do with Dreamin' in Color? I mean, I almost forgot that myself! These four awesome friends created a session that will be presented for the first time ever, at Dreamin' in Color. This session, "Boyz2Force: Black Men Finding Friends & Succeeding in Tech" gives you the opportunity to sit with the Boyz 2 Force while they discuss how they broke into their careers. They will also discuss how they navigated their careers as black professionals in a space where honestly there's not a lot of them. Hear how they show up to work, how they stay true to themselves, their culture, how they maintain their mental health, and more. The session will be presented at 2:45pm on June 30th, at Dreamin' in Color. It's most certainly one of my top, must-see sessions!


And while you're at Dreamin' in Color, be sure to come visit with me and the Mogli team to learn how your organization can get mind-blowing open and response rates with Mogli SMS, MMS and WhatsApp directly in Salesforce. If you're not going to be at Dreamin' in Color, schedule your own personalized strategy session with Mogli, and you'll be entered into a drawing where you might win an Apple Watch 7!