The Return of Community Events
A couple weeks ago, Mogli made a big splash as the Salesforce Community launched in-person events for the first time in nearly 18 months. We were both a Gold Sponsor at Florida Dreamin' and an onsite sponsor and Demo Jam participant at Tahoe Dreamin'.
It was so great to be meeting people face-to-face again! Giving fist-bumps, elbow-bumps, hand-shakes and even hugs!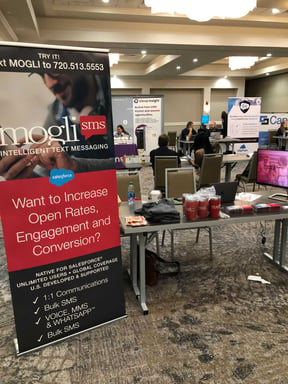 Above, our setup at Florida Dreamin', before the start of the event. And below, the Moglians at Tahoe Dreamin', getting the table ready for guests.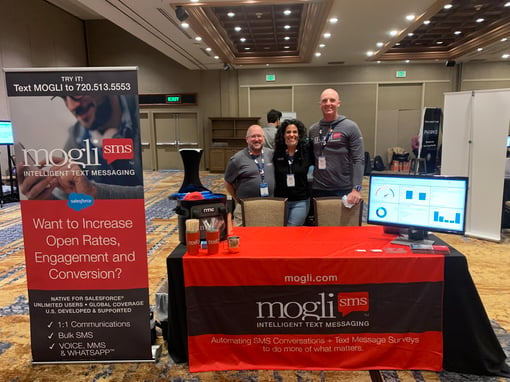 During both events we enjoyed meeting people from near and far, from commercial enterprises to higher education and non-profit organizations. While meeting people face-to-face was fantastic, most everyone hadn't been at an in-person event in nearly 2 years, and that wasn't even the best part of either event.
Demo Jam, Demo Jam, Demo Jam, What a Mighty Good Jam!
Mogli has a history of engaging demo jams with several Demo Jam trophies on the shelf in our office.
Check out our most recent Demo Jam win, from Tahoe Dreamin' 2021. And our proudest moment, winning the Mega Demo Jam at Dreamforce 2019!!
Great Conversations Lead to Great Customers
The best part of attending these events was most certainly the abundance of great conversations. We had the pleasure of learning about how many of you, and the organizations you work for, engage with your customers and constituents. What we found surprising was that many of these conversations were taking place over email, and oftentimes, those conversations led nowhere due to low open rates and even lower engagement rates. That's where Mogli really shines.
Whether you need to send a single message out, or the same message to dozens (or hundreds) of people, Mogli helps you keep your customers & constituents engaged. And if you're needing to collect information and want the ability to take action on that data, check out what Mogli can do with text surveys.
Want to see Mogli for yourself? Talk to a messaging specialist today!