7 Best SMS Marketing Apps in 2023: Salesforce Integrations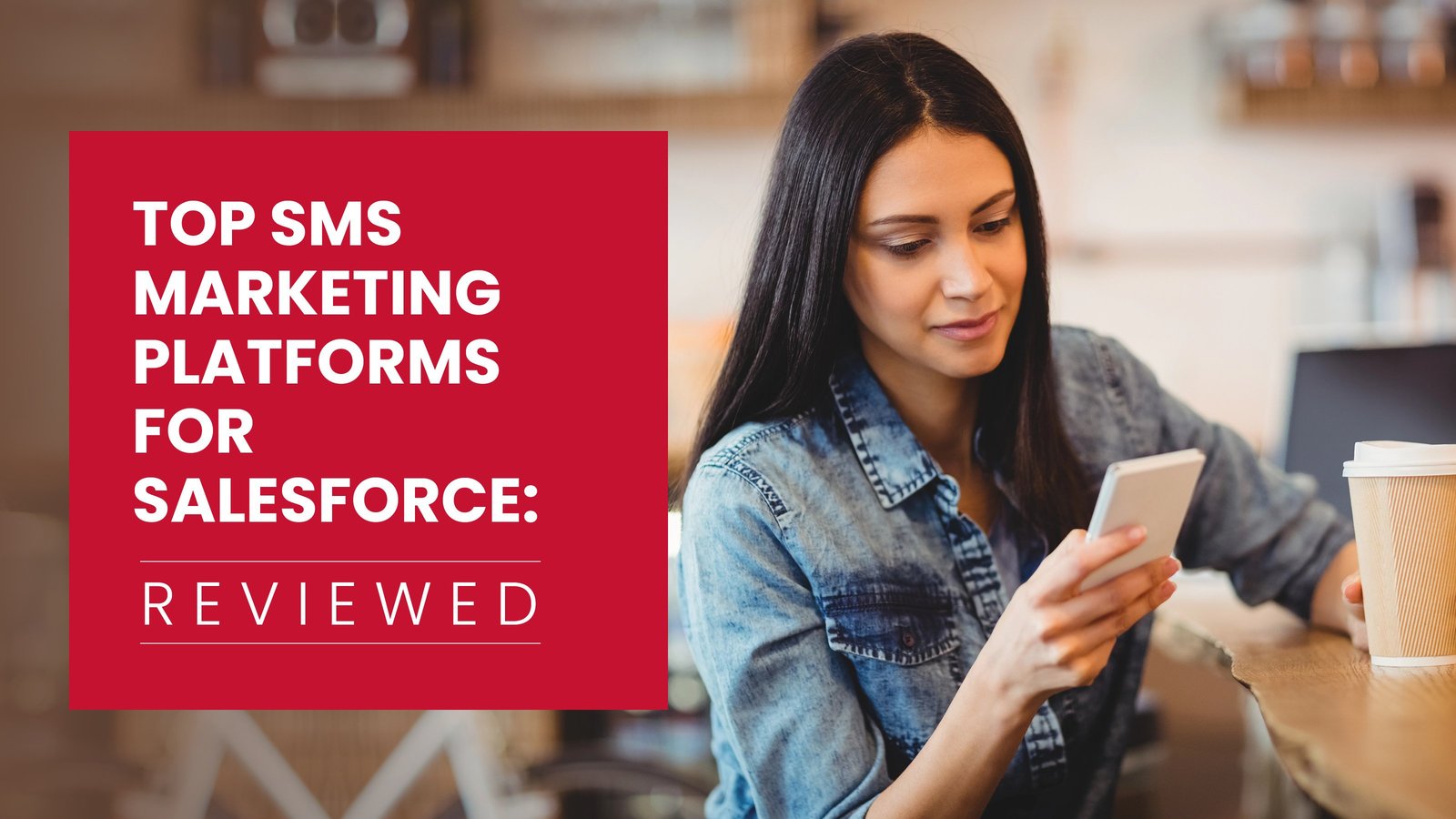 Connecting with customers and stakeholders is easier over text, and it just works better than email—plain and simple. SMS messages have an unparalleled 98% open rate, and 34% of recipients read texts less than five minutes after getting them. This means you get more eyes on your deals, reminders, and outreach, leading to more customer engagement.
But to tap into these benefits for your business, you need a system that consolidates every aspect of text marketing into one streamlined, capable app. And if you use Salesforce, integrating your SMS marketing app with your CRM is vital. To help you out, we've zeroed in on seven of this year's best SMS marketing app options that integrate with Salesforce:
We'll go into detail on each solution's features and pricing so you can make an informed decision on which to invest in. Before we dive into our top recommendations, let's get up to speed on what exactly makes an SMS marketing app one of the best.

What to Look For in SMS Marketing Apps
When comparing SMS marketing software, focus on finding a solution that meets your business's unique needs. This will look different for everyone, depending on factors like budget, technical expertise, and the size of your customer base.
However, we've compiled a list of top features that any business can benefit from: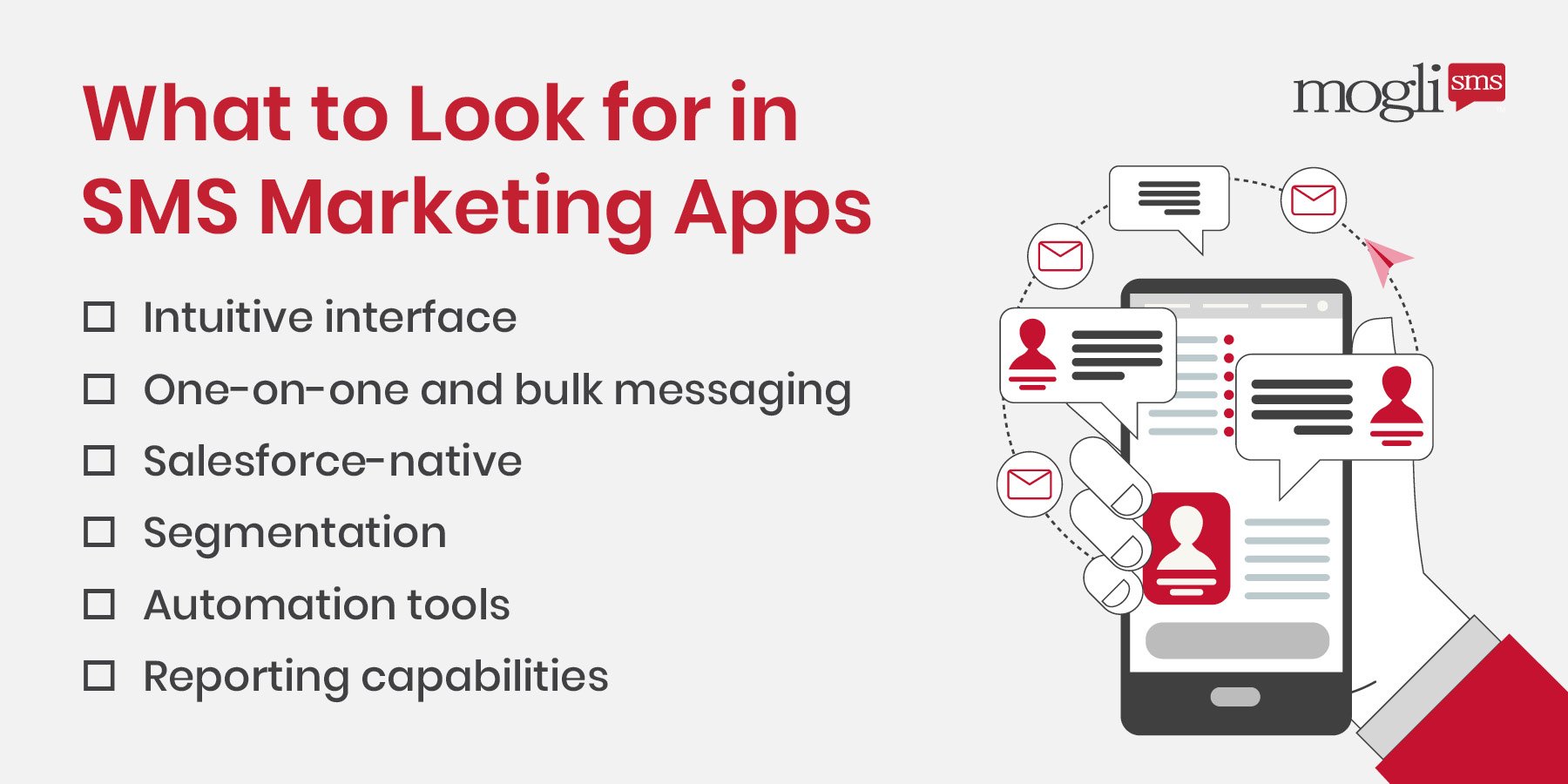 Intuitive interface:

Not every business has the personnel and resources to perform complex software implementations or spend months training the team on new software. You want an SMS app that's quick to set up and easy for everyone on your team to use.
One-on-one and bulk messaging:

You'll need both capabilities to carry out a well-rounded SMS marketing strategy. One-on-one messages allow you to build individual relationships with customers, while bulk sends let you get the word out about important updates and announcements.
Salesforce-native:

Plenty of

SMS marketing apps integrate with Salesforce, but not all of these are developed specifically for Salesforce users. When you choose a Salesforce-native app, you'll be guaranteed that the functionalities fit your needs and that the app's customer support team truly understands how to help you.
Segmentation:

Every marketer knows that tailoring messages to your audience is key, and segmentation makes this much easier. Look for an app that allows you to create custom lists and campaigns and easily send bulk messages to those specific segments.
Automation tools:

Save time and never miss an opportunity for connection with automation. Your app should be able to automate everything from individually triggered reminders to complex text conversations.
Reporting capabilities:

To help you tailor your SMS strategy, look for an SMS marketing app with built-in reporting features that give you the full picture of your messages' performance.
Along with these key features, you'll want to pay special attention to pricing models. Most apps charge on a monthly basis per user, but some platforms charge per message. Ensure that you understand all your pricing options before you dive deeper into a specific app.
Quick Breakdown of the Best SMS Marketing Software
| | | | |
| --- | --- | --- | --- |
| SMS Marketing App | Best for | Top Features | Pricing |
| Mogli | Overall best choice | Automation, text surveys, Text-to-pay, unlimited users | $350 per company per month |
| Twilio | Customization | Flexible APIs, multichannel capabilities | Starts at $0.0079 per message |
| Attentive | Audience targeting | Customer profiles, dynamic segmentation, generative AI | Custom |
| SlickText | Customer loyalty programs | Text to Win sweepstakes, customer rewards programs with SMS alerts | From $29 to $1,250 per month |
| Tatango | Advocacy | High-volume mass messages, text fundraising | Custom |
| Heymarket | Team collaboration | Privately message team members, multichannel conversations | With Salesforce integration, starts at $66.50 per user per month |
| Avochato | Live chat services | Integrate SMS and live chat, customizable chat widget | $175 per month + $35 per user per month |
1. Mogli: Overall Best SMS Marketing App
Mogli is our top SMS marketing app because of its extensive features, ease of use, and five-star, fully US-based support team. Plus, Mogli is Salesforce-native, meaning that setup is easy and its features work seamlessly with any custom or standard Salesforce object. Whether you use Sales Cloud, Service Cloud, or one of the education or nonprofit products, Mogli will fit right in.
With Mogli, you can send one-to-one and bulk messages globally via SMS or WhatsApp. Leverage automation to create complex text surveys that engage customers and collect important data. You can even branch out with features like voice messages, chat bot, and Text-to-Pay. And the best part is that Mogli scales with you—add new users at no additional cost any time you need to.
Features
Unlimited users:

Most SMS marketing apps charge by the user, meaning that each additional user you want to add increases your monthly fee. Even with those fees, some apps won't let you add more than a set amount of users. With Mogli, you can add as many users as you need for one set price.
SMS, MMS, and WhatsApp:

Beyond traditional text messages, you can send multimedia texts and WhatsApp messages, allowing you to reach international audiences with the most compelling text content you can create.
Automation:

Mogli's

automation features

directly leverage the Salesforce tools you know and love. Use process builder and flow to create complex automated journeys your customers can easily follow.
Text surveys:

Create robust surveys with automated branched messaging. Intelligent responses will guide customers through the survey based on their previous responses, all while seamlessly adding their answers to your database.
Pricing
For commercial businesses, pricing starts at $350 per company per month, while nonprofit pricing starts at $187 per company per month. Don't worry about paying an additional fee for each team member who needs access—every plan includes unlimited users, unlimited contacts, and unlimited keywords.
Explore pricing in more detail by filling out a quick form.

2. Twilio: Best SMS Marketing App for Customization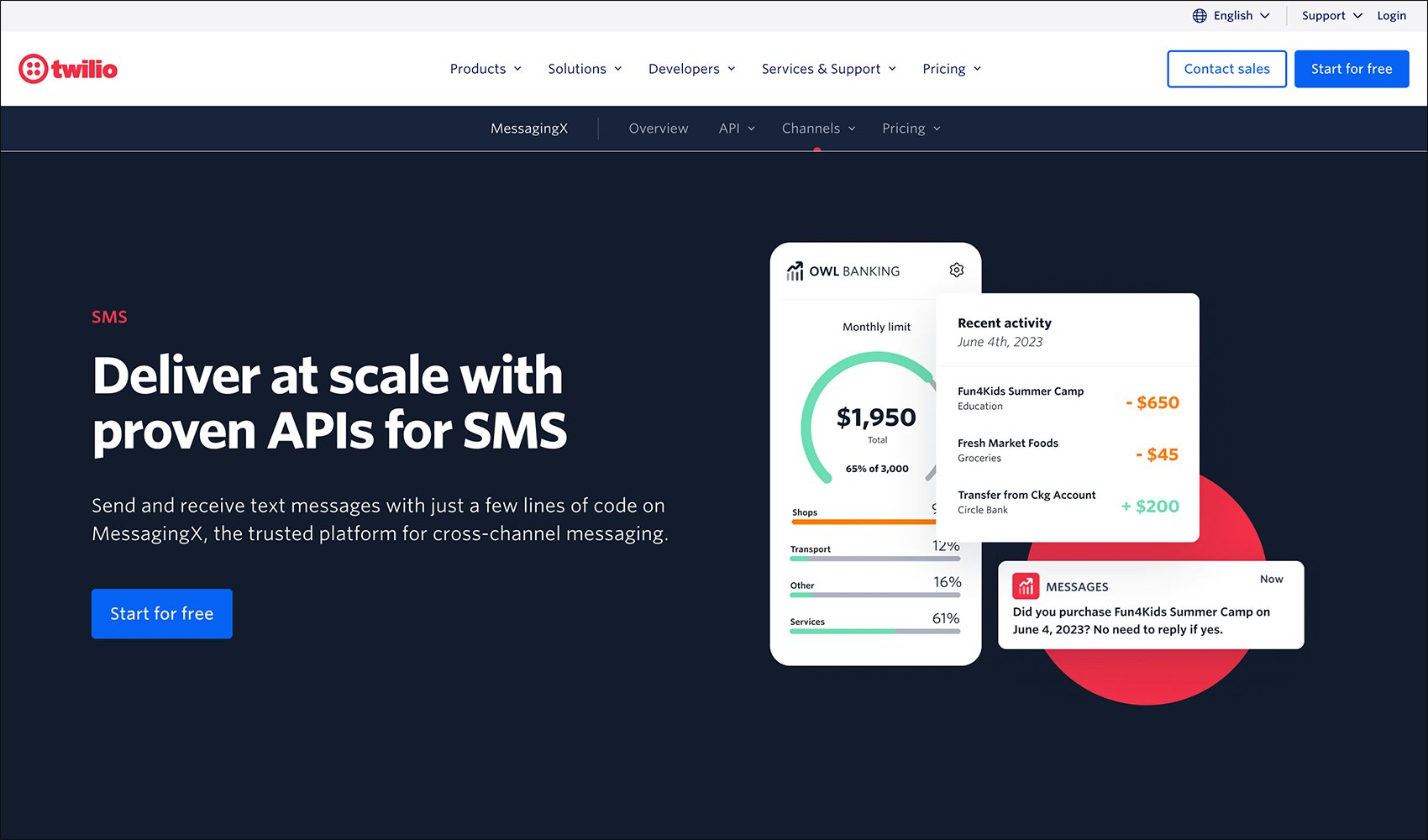 Twilio's core SMS offering is their "scalable, developer-friendly APIs," which act as a blank canvas your developers can build on. This option is extremely customizable, but it takes a lot of work on your developers' end to set up all the functionalities you need. Twilio also offers a less customizable, native Salesforce app with limited features if you need a solution with a faster setup.
Features
Flexible APIs to build your own SMS messaging features
Multi-channel capabilities including text, email, video, and livestreaming
Community

CodeExchange

library of code samples for different features
Pricing
The main Twilio platform operates on a pay-as-you-go model, with individual messages priced at $0.0079 per message sent and received. The Twilio Salesforce app starts at $15 per user per month.
3. Attentive: Best SMS Marketing Software for Audience Targeting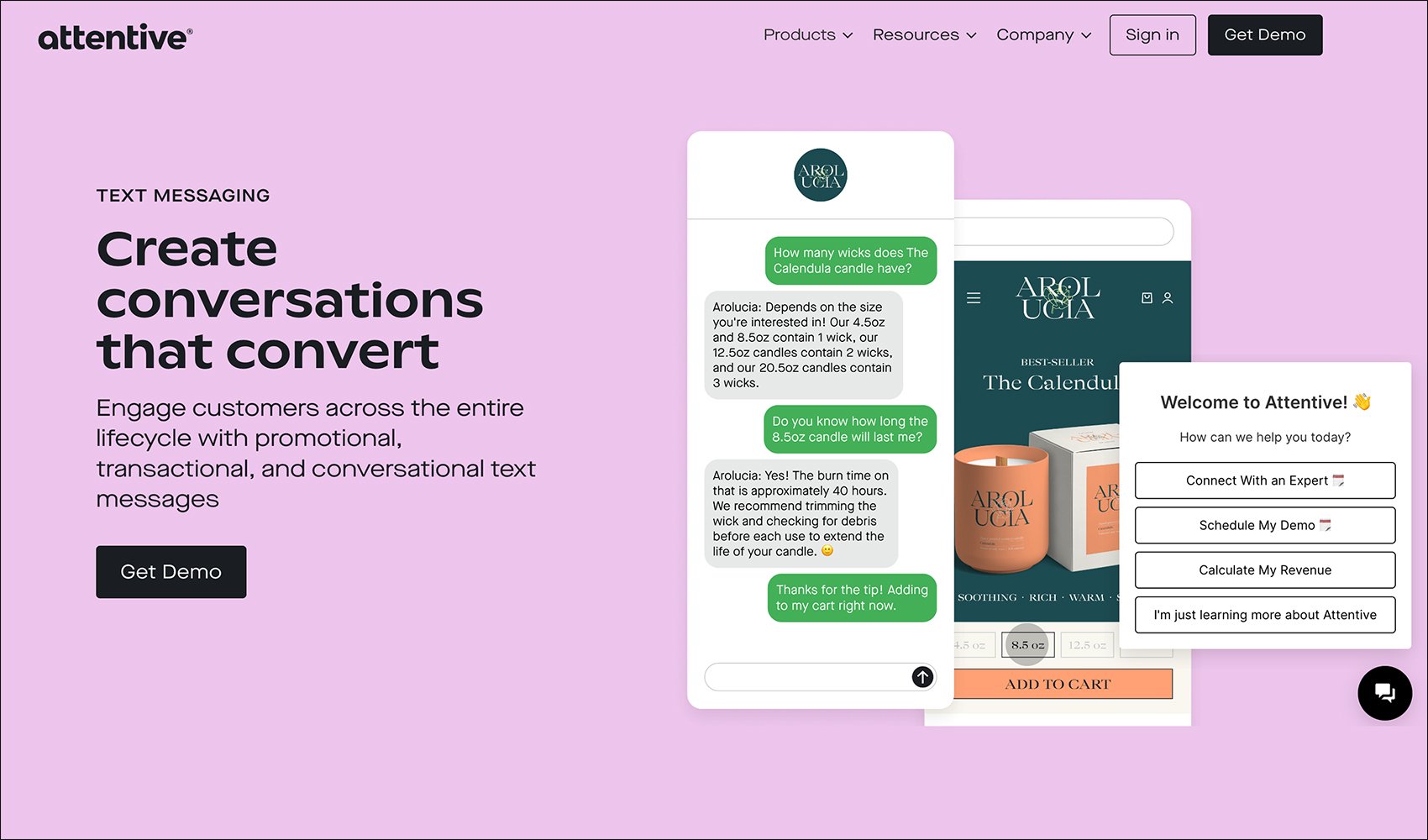 Attentive is a self-described leader in "conversational commerce," focusing on the value of customer text responses. This app's most distinctive features are aimed at improving audience targeting and using AI to give customers a more personalized SMS experience. Attentive is not Salesforce native, but it does integrate with Salesforce Service Cloud and Marketing Cloud.
Features
Automatically generated, comprehensive customer profiles that show customers' interests and purchase history
Dynamic, automated segmentation for audience targeting
Generative AI capable of predicting optimal send times and responding to customer messages
Pricing
Attentive's pricing is custom, so you'll need to reach out for a demo to receive pricing for your business.
4. SlickText: Best SMS Marketing App for Customer Loyalty Programs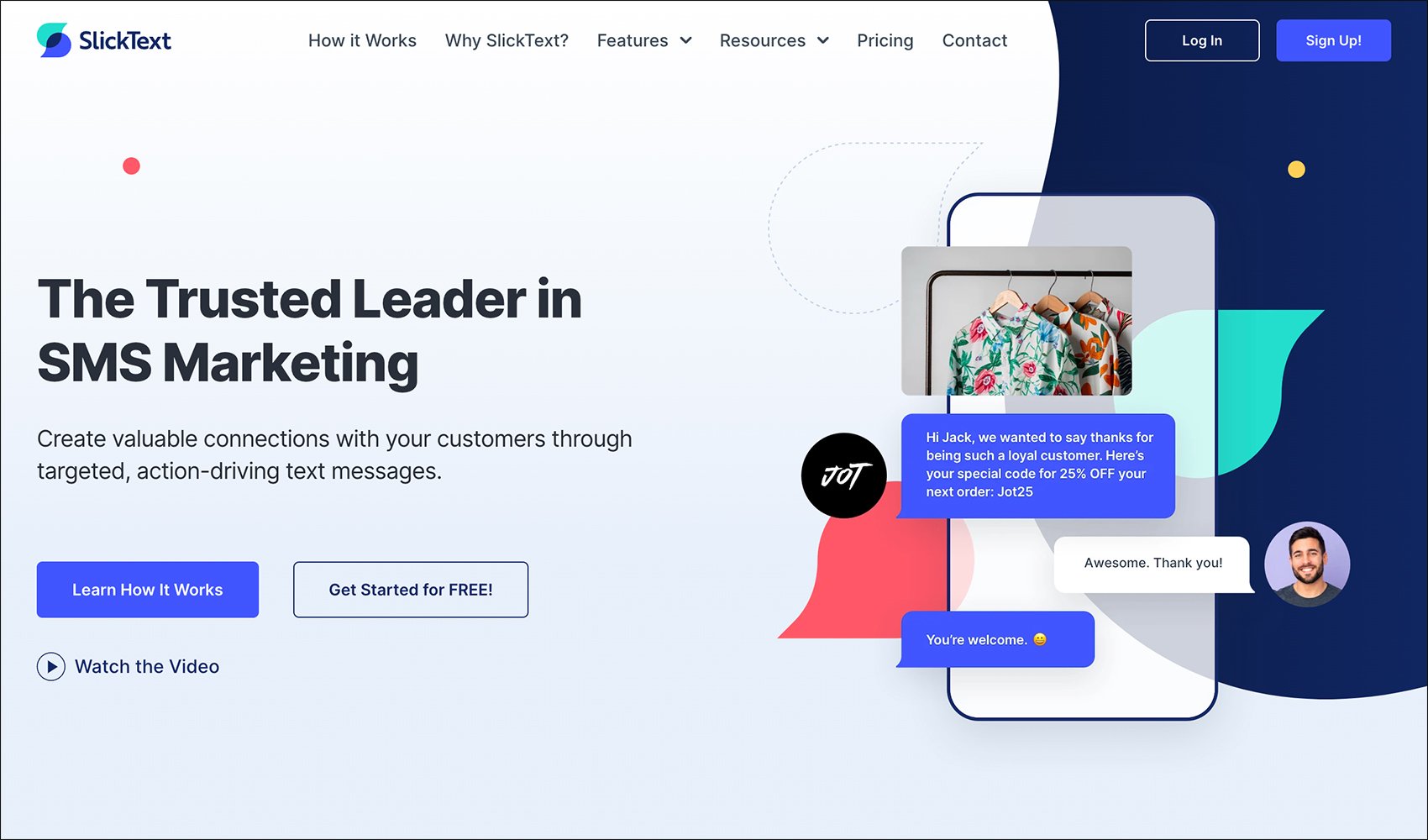 If you want to use SMS for unique customer engagement opportunities, SlickText offers a variety of text gamification features. From custom rewards programs to automated text contests, these features can quickly encourage your customers to opt-in and stay engaged. However, SlickText only offers a Salesforce integration through Zapier, and its pricing can quickly get steep if you want to access all of its best features.
Features
Customizable customer loyalty reward programs with SMS alerts
Promotional contest tools including automated

Text to Win

sweepstakes
Automated workflows and SMS drip campaigns
Pricing
After a two-week free trial, SlickText's pricing starts at $29 per month, but this plan is limited to only 500 texts per month and doesn't include automation features. They offer several tiers of pricing that increase in text capacity and features, going up to $1,250 a month for 50,000 texts.
5. Tatango: Best SMS Marketing App for Advocacy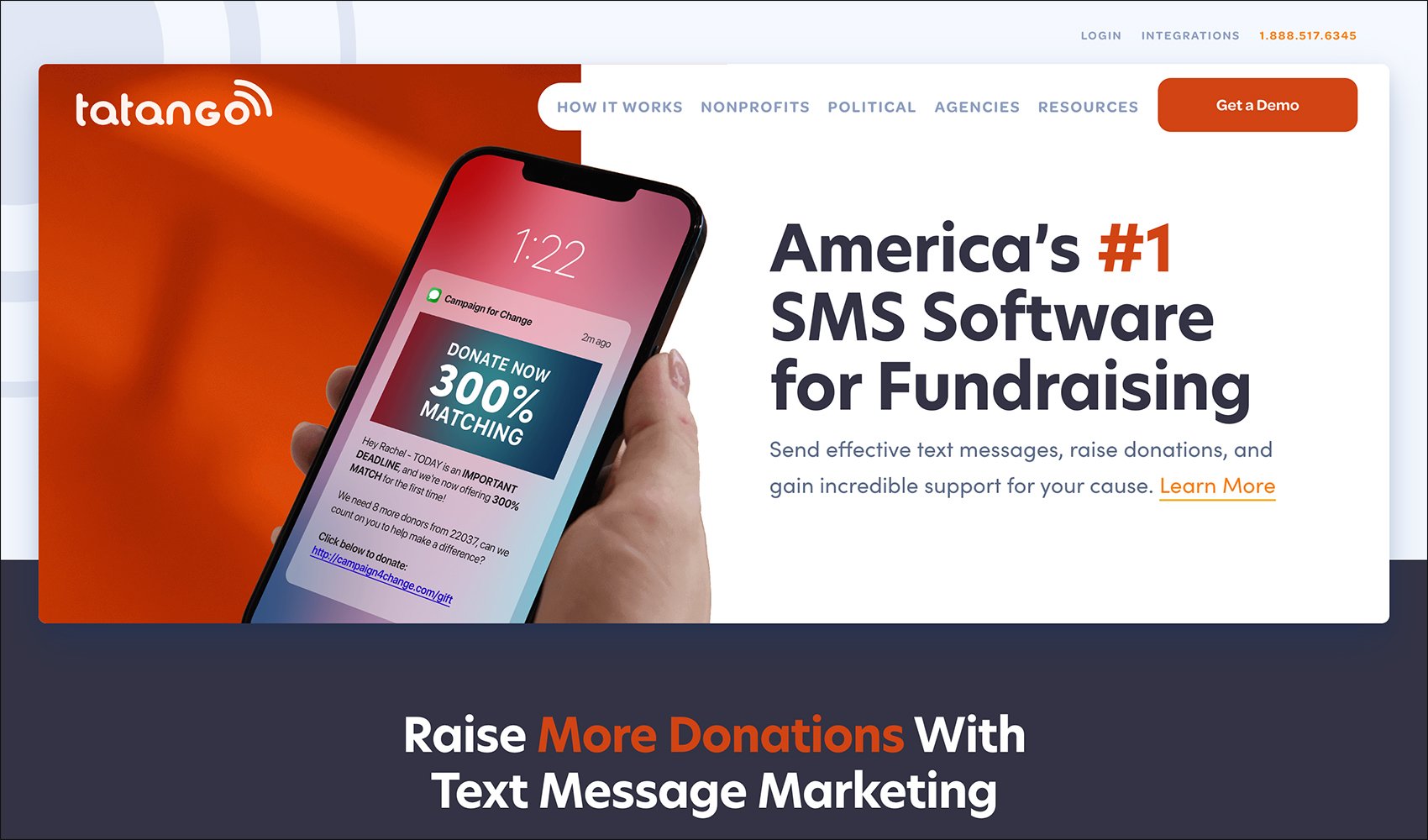 Tatango specializes in serving nonprofits, political advocacy organizations, and businesses in need of especially high-volume messaging capabilities. The app enables users to run text fundraising campaigns and send bulk messages to millions of supporters at once. Tatango offers a "no code" Salesforce integration to sync your subscriber information.
Features
Ability to send high-volume mass text messages to millions of recipients
Subscriber segmentation capabilities
Built-in engagement and fundraising reporting, including open rate, click-through rate, and bounce rate
Pricing
Tatango's pricing is custom, so you'll need to reach out to their team to get a pricing estimate for your organization.
6. Heymarket: Best SMS Marketing App for Team Collaboration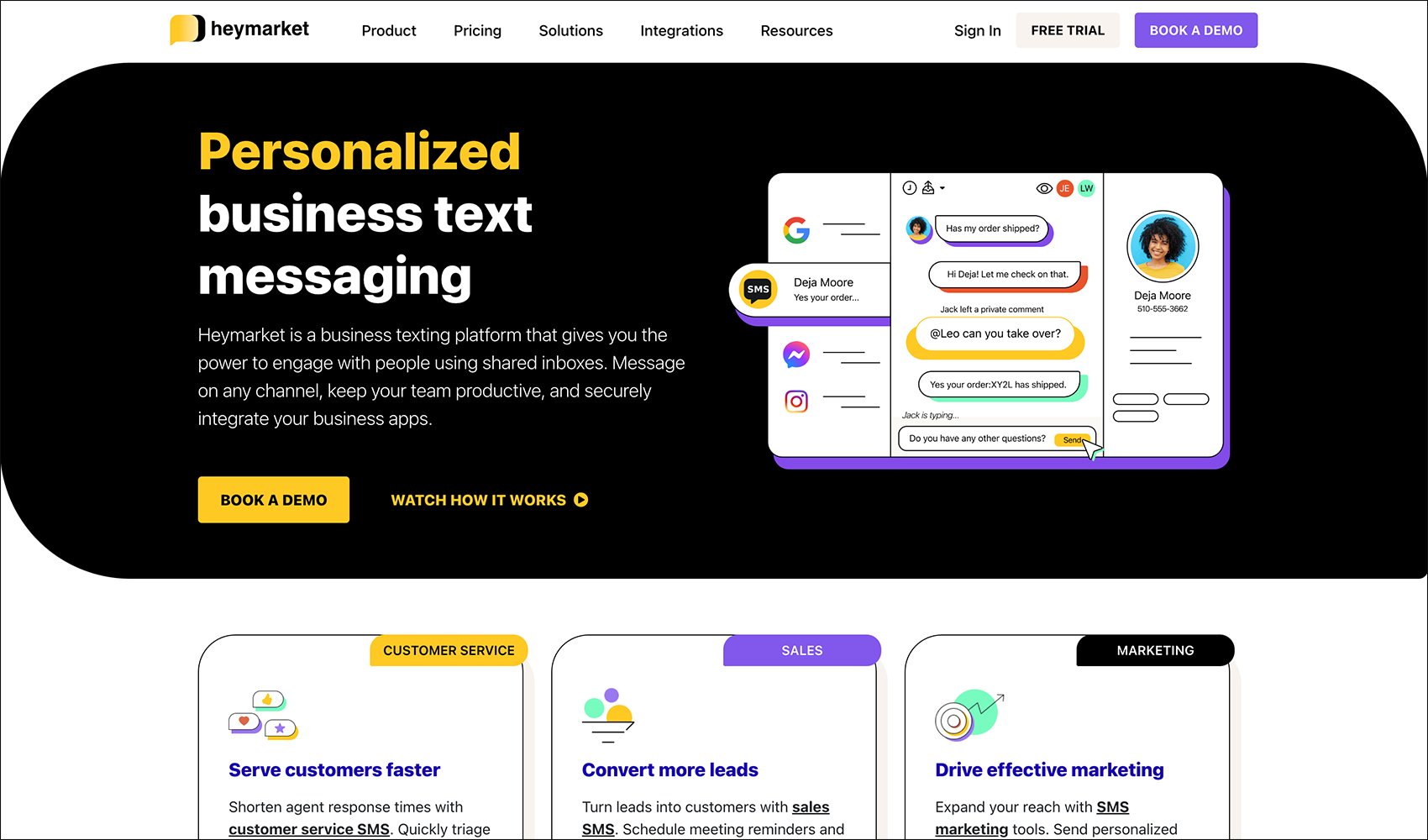 Heymarket's SMS marketing app aims to connect your business's marketing, sales, and customer support teams so team members can collaborate on customer connection. With a shared inbox, team members can quickly delegate messages and manage conversations across platforms. Heymarket integrates with all Salesforce objects.
Features
Assign customer conversations to individual team members
Privately message other team members within a customer conversation
Send messages from Facebook, Google, and SMS in the same conversation
Pricing
To use Heymarket with Salesforce, pricing starts at $59 per user per month. The Salesforce integration is an additional $7.50 per user per month and is only available with the two highest pricing plans.
7. Avochato: Best SMS Marketing Software for Live Chat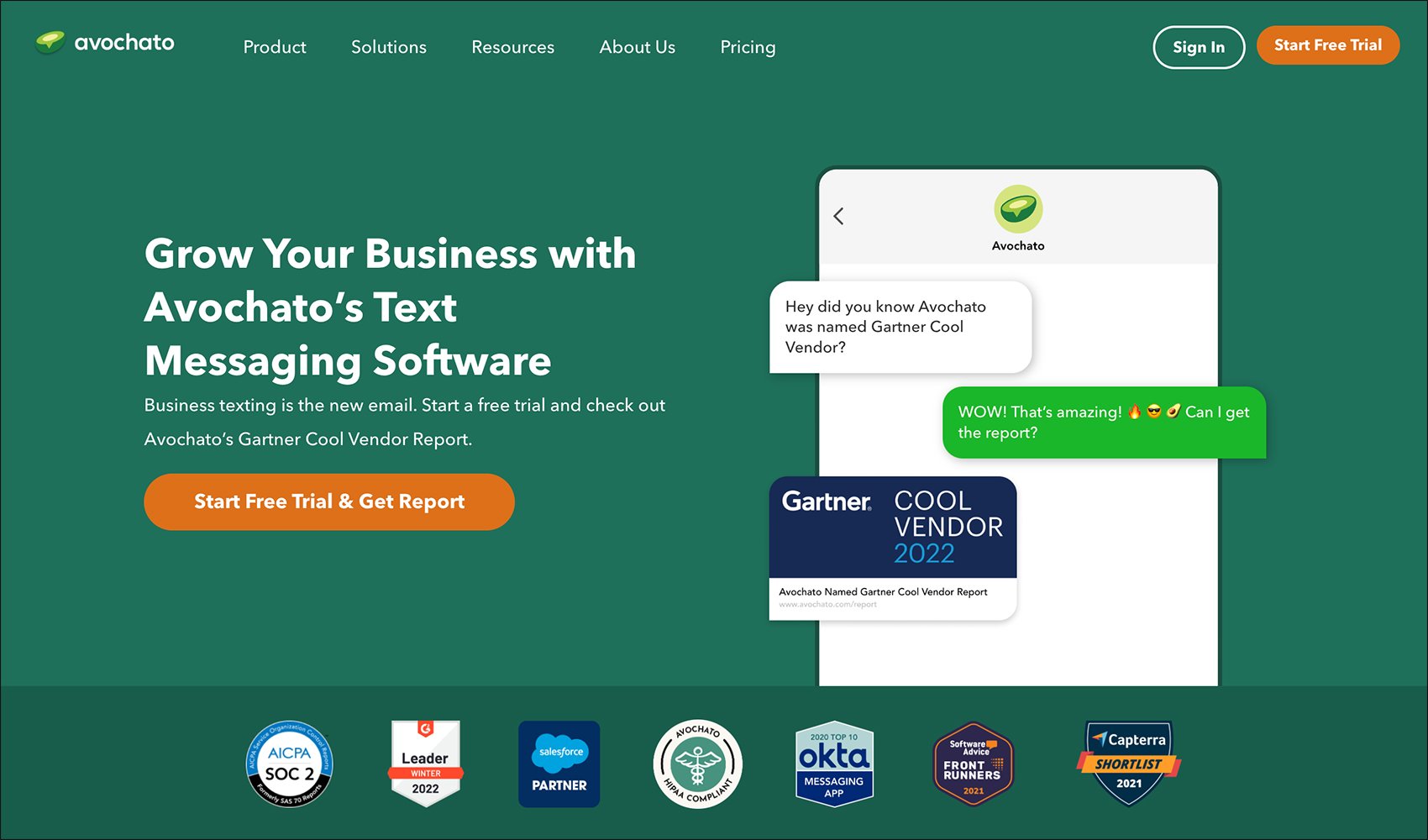 Avochato is an SMS marketing app that integrates SMS with live chat via your website. Their goal is to help you avoid abandoned live chats by easily following up with chat users through text. Avochato's Salesforce integration will automatically create leads in Salesforce and sync all live chat and text messages.
Features
Customizable live chat website widget that leverages automation features
Automated drip campaigns with customizable audience segments and time delays
Organize and segment customers with a tagging system
Pricing
To sync your Heymarket data with Salesforce, prices start at $35 per month per user plus a $175 per month platform fee. However, you can only add up to 10 users at this price. If you need more than 10 users, you'll need to request a custom pricing plan.
Benefits of SMS Marketing Services
No matter which SMS marketing app you choose, you'll be able to tap into plenty of benefits for your business. The best SMS marketing apps allow you to:
Streamline workflows:

You already love Salesforce for the centralized, comprehensive view it gives you of all your customers and tasks. By adding an SMS marketing app into the mix, you can see the same benefits for your SMS marketing efforts. Simplify work for your team and keep all of your records in one place.
Automate marketing:

Customer personalization is much easier when you have intelligent automation tools at your fingertips. These tools save your team valuable time while giving customers responsive, personalized texts that align with their preferences.
Meet a variety of SMS needs:

SMS marketing apps have a wide variety of use cases. Send reminders, survey your customers, give them personalized discounts or rewards, and more.
Plus, the best SMS marketing apps help you make the most of the benefits of SMS marketing itself, like high engagement levels with a low team time commitment. With effective tools powering your strategy, you'll be able to see even better customer engagement results.
SMS for Business FAQ
Still wondering why and how you should use these SMS marketing apps? We've answered a few frequently asked questions:
What is an SMS marketing app?
An SMS marketing app is a tool created to make text marketing easier and more streamlined for businesses and organizations.
Robust SMS marketing software solutions allow users to populate text messages with information from their CRM, connect with customers individually and in large groups, and create custom automations that simplify SMS outreach. In essence, an SMS marketing app serves as a central hub for all of your text communications.
Which industry is best for SMS marketing?
Many industries leverage SMS marketing to build relationships with stakeholders, from commercial businesses to nonprofits to universities. SMS marketing apps offer unique benefits for each sector, such as making it easy for nonprofits to collect donations over text or for businesses to send personalized discounts for products. Mogli's features can help organizations in any industry implement an influential SMS marketing strategy that converts.
Is SMS marketing effective?
SMS marketing is widely used for a reason. Texts have a 98% open rate and a 45% average response rate, much higher than email. Because of high open, response, and opt-in rates, SMS makes for a highly effective method of connecting with customers and stakeholders. Plus, customers often prefer texts to any other method of communication from businesses.
Get Started with the Best SMS Marketing Apps
Now that you've seen everything SMS marketing apps have to offer, it's time to gather your team and do more extensive research on your top choices. Schedule product demos to get an up-close look at the apps' functionalities, and request any necessary custom pricing plans. Once you've thoroughly evaluated your options, collaborate with your team to make the final decision of which SMS marketing software to invest in.
Not ready to dive into this research quite yet? Read up on SMS marketing app basics by checking out these additional resources: