Salesforce SMS: How to Text from Salesforce & Why You Should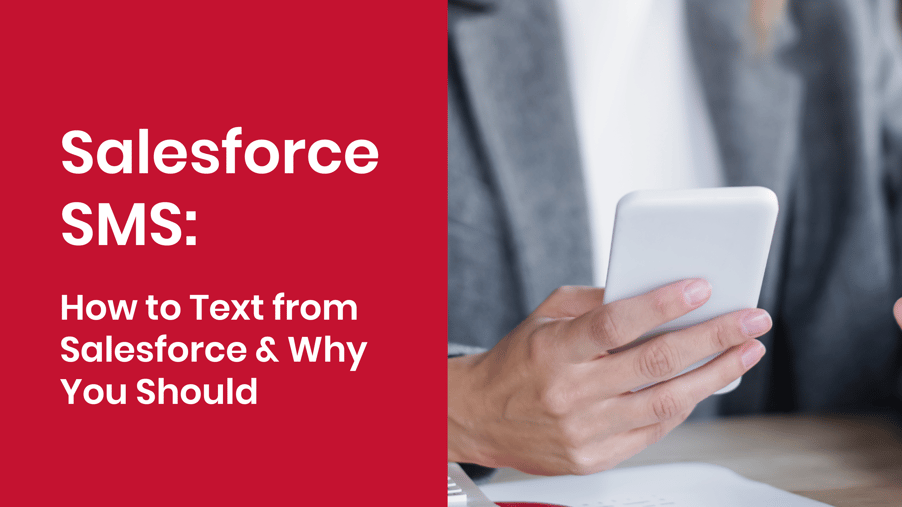 One of the biggest reasons 150,000 businesses use Salesforce is that it's wildly adaptable and can be used to meet a wide range of needs. It goes beyond data tracking—companies and organizations use Salesforce to handle sales, communications, technical support, marketing, and yes, even texting.
Using Salesforce to send SMS simplifies text personalization, allowing you to connect more easily with customers or constituents through text. However, navigating a new use for Salesforce on your own can be a challenge. We're here to help! To introduce you to all the capabilities of Salesforce SMS, we'll cover the following:
When you start texting from Salesforce, you'll be able to seamlessly pull stakeholder data to streamline the texting process and track all of your SMS conversations in one place. Let's explore how you can make it happen.

Can You Text from Salesforce?
The short answer is yes, you can send SMS from Salesforce. While you can't send texts using the base Salesforce platform or Service Cloud alone, there are plenty of ways to add text capabilities to your Salesforce org. We'll discuss your options for unlocking those capabilities in the next section, but first let's break down what sending SMS from Salesforce looks like.
Businesses can send a variety of texts from Salesforce, but some of the most common types across industries include: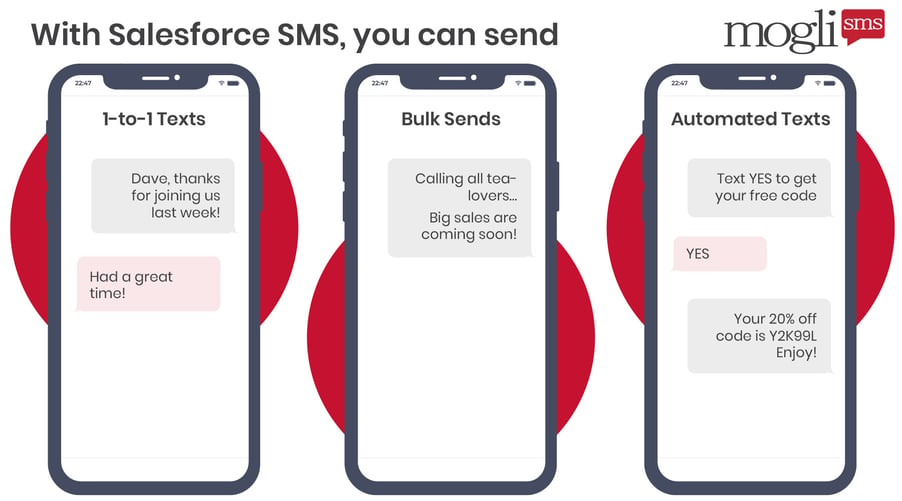 One-to-one texts:

Connecting on an individual level is the best way to build relationships. From Salesforce, you can send personalized messages from your company to a single customer or constituent.
Bulk sends:

Announce sales, upcoming events, or important news to select segments or your entire customer base.
Automated texts:

Leverage Salesforce automation tools like journeys and triggers to guide customers along a custom message pathway.
You can use Salesforce SMS for marketing, sales, customer support, or all of the above. You can also add images or videos with MMS (multimedia messaging service). Salesforce makes sending any of these messages simple and fast by automatically pulling contact and preference information from your Salesforce data.
How Do You Send SMS from Salesforce?
To be able to send texts from Salesforce, you will need to go beyond your standard Sales Cloud or Service Cloud purchase. Luckily, there are plenty of additional SMS tools and resources out there that you can add to your toolbox. We've grouped your options into three main categories: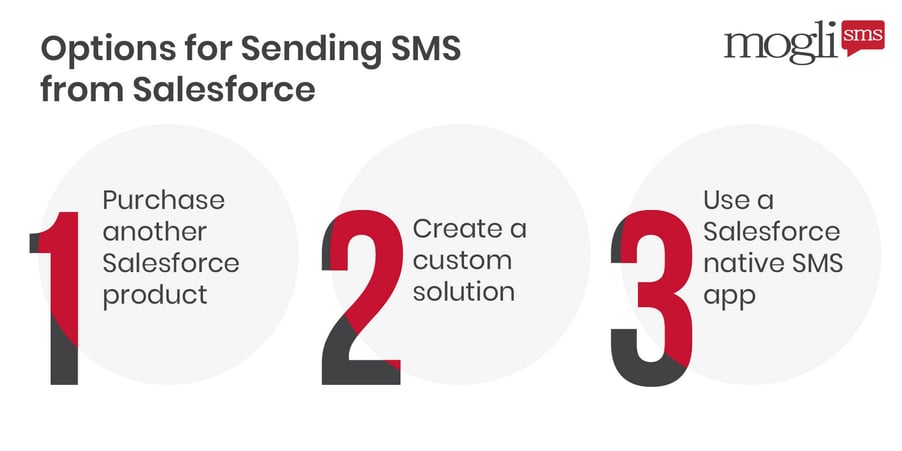 1. Use Salesforce's own SMS messaging products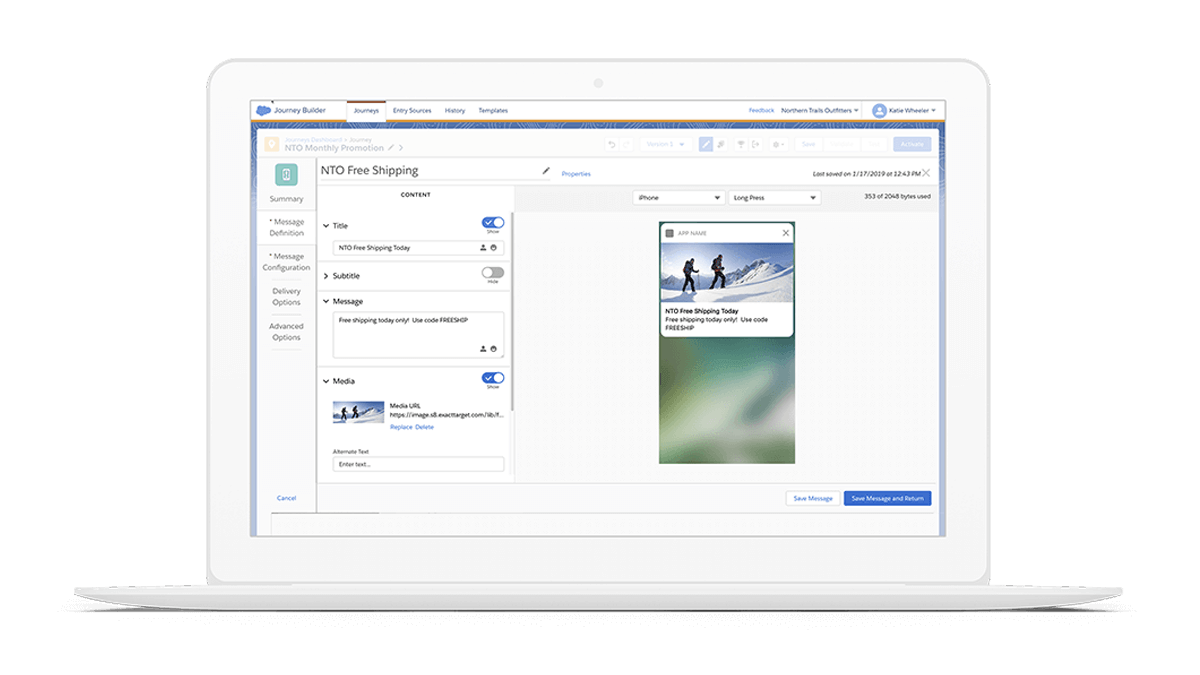 Source: Salesforce
Salesforce offers two add-on products with texting capabilities: Service Cloud's Digital Engagement and Marketing Cloud's Mobile Studio.
The main difference between the two is that Digital Engagement focuses on customer support conversations and Mobile Studio provides SMS marketing capabilities meant to fit in with the other marketing channels in your strategy. Here are a few more key differences between the two Salesforce products:
Digital Engagement:

Priced at $75 per user per month, Digital Engagement includes automated SMS, one-to-one conversations, and web chats. Users can send unlimited messages within a single conversation (as long as it lasts less than 24 hours), but you are limited to the number of conversations you can start each month.
Mobile Studio:

To access Mobile Studio, you need to invest in the entire Marketing Cloud Engagement solution. Once you do, you'll receive access to Mobile Studio's SMS, MMS, chat, and push notification features. Messages are template-based, and you can add SMS as a touchpoint in multichannel customer journeys via Journey Builder.
Both Salesforce products come with additional costs and are fairly limited in features. Setup can also be complicated, as it requires you to complete an authorization or new number request process that can take weeks to get approved.
2. Create a custom solution
If you want more flexibility, you have the option to create an entirely custom texting solution for your Salesforce org using Salesforce API or another API company. This process involves finding a third-party messaging service provider and building an integration from scratch that connects your Salesforce org to the provider.
By building a custom integration, your company or organization would be able to create any functionalities you need and avoid the subscription costs of an additional Salesforce SMS product. However, this option is complex and time-consuming with high implementation and development costs.
3. Invest in a Salesforce native SMS application
Finally, your best option is to use an application that was tailor-made for both Salesforce and SMS marketing. By visiting the Salesforce AppExchange, you can find a variety of apps built specifically for texting from Salesforce to meet the needs of businesses and organizations like yours.
Compared to add-on products and third-party integrations, these Salesforce native SMS applications:
Offer more features
Are simpler to set up and use
Don't come with development costs
Save you time on implementation
On top of these benefits, you'll have the help of the application's experienced customer support team at your fingertips. Overall, investing in a native application will save your team time, stress, and money.
Mogli: The Top Salesforce SMS Solution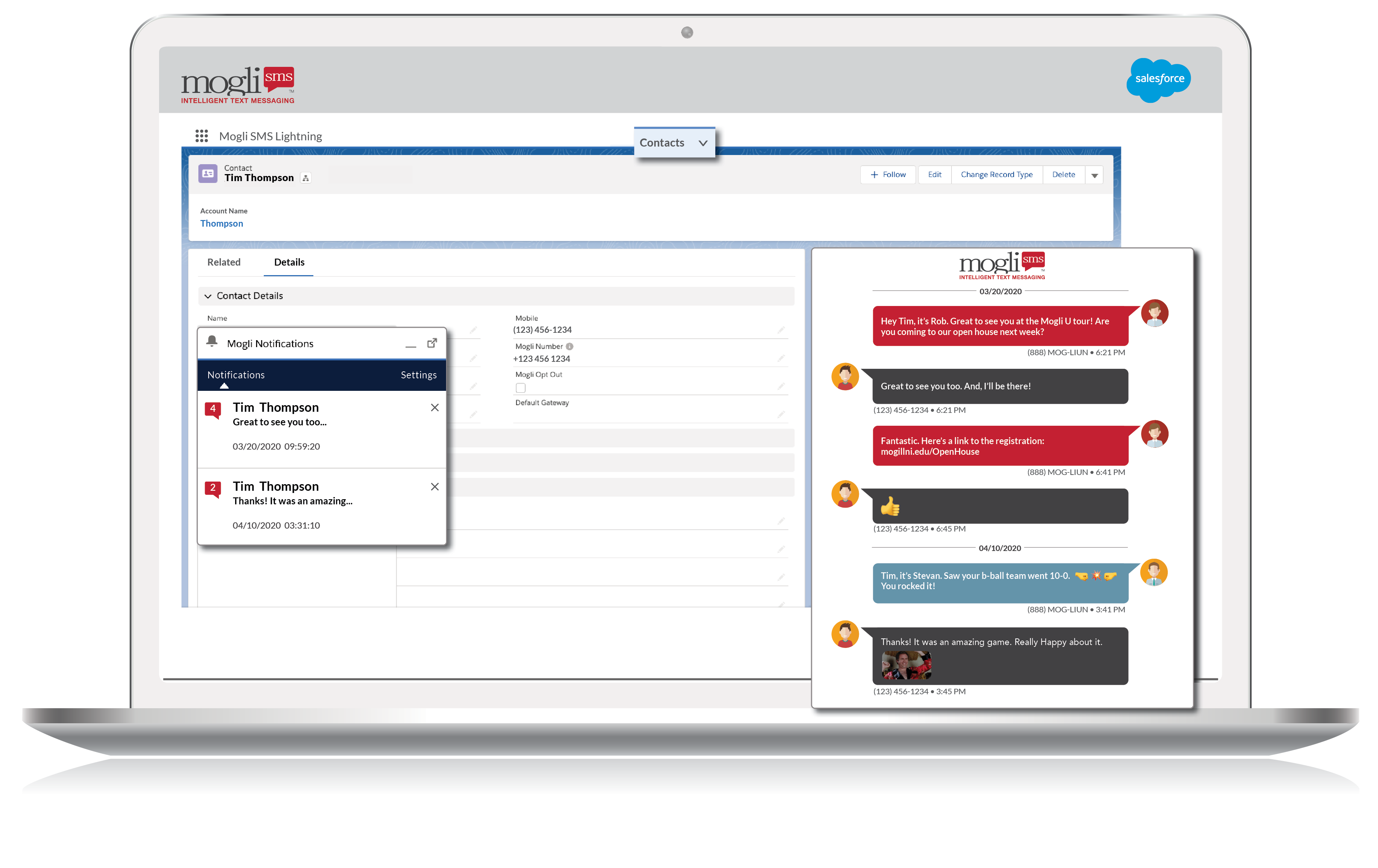 The easiest way to send SMS from Salesforce is by using Mogli, our highly robust, Salesforce native SMS application. Mogli works seamlessly with Sales Cloud, Service Cloud, Education Data Architecture, and the Nonprofit Success Pack. Its features offer limitless possibilities to meet the SMS needs of any company or organization.
Some of Mogli's standout features and benefits include:
Unlimited users:

With Mogli, you don't have to worry about paying a separate fee for every single person who needs to send a text. We offer unlimited users at a fixed price, meaning that

everyone

at your company or organization can access your Salesforce SMS capabilities. We don't place limitations on who you can text, either—unlimited contacts mean you can text any and every customer in your database.
Easy-to-use interface:

Mogli was designed with businesses and organizations like yours in mind. See a straightforward historical view of every incoming and outgoing text message in one place, and easily generate reports to guide your SMS strategy.
Automation:

Leverage a variety of

SMS automation

features that use the Salesforce functions you're already familiar with, like Process Builder, Flow, and Triggers. Customize user journeys and easily integrate text messages with touchpoints on other channels like email.
MogliPay:

Texting can work wonders for e-commerce, fundraising, and financial services. With Mogli, you can auto-populate bulk or one-to-one texts with contact information to streamline payments and donations.
These features are just the beginning of what you can accomplish with Mogli's Salesforce SMS solution. Plus, one of the top reasons our clients love Mogli is our five-star support team. Our fully US-based support team ensures you have all the technical support you need during setup, implementation, and beyond.

Best Practices for Salesforce Text Messaging
Knowing how to text from Salesforce is only half the battle—you also need to know how to use Salesforce SMS effectively to meet your goals.
First, define what SMS success would look like for your company, organization, or team. Do you want to build stronger relationships with prospects, or generate more leads for a new product or service? Discuss priorities with your team and create a set of clear goals and performance indicators. Then, follow these three best practices to get started.
Prioritize calls-to-action
You've got a limited number of characters to work with in a text, so you need to be strategic with what you include in your messages. Especially with SMS, it's crucial to give your recipients clear next actions to take. Whether that's texting a specific word to confirm an appointment or clicking a link to see your new collection of products, make sure your directions are straightforward and as easy as possible to follow.
Leverage automation
Save staff time and create more personalized messages with SMS automation. Go beyond simple one-word triggers by:
Using scheduled, record-triggered automations to send follow-up texts, requests for feedback, and reminders.
Building complex,

interactive text surveys

that automatically collect the customer data you need.
Setting up conversations to automatically flow from one team to another as needed.
You can even use automation to ensure your messages align with recipients' native languages. In the example below, a hospital set up a series of scheduled appointment reminder notifications using different branches for English and Spanish messages: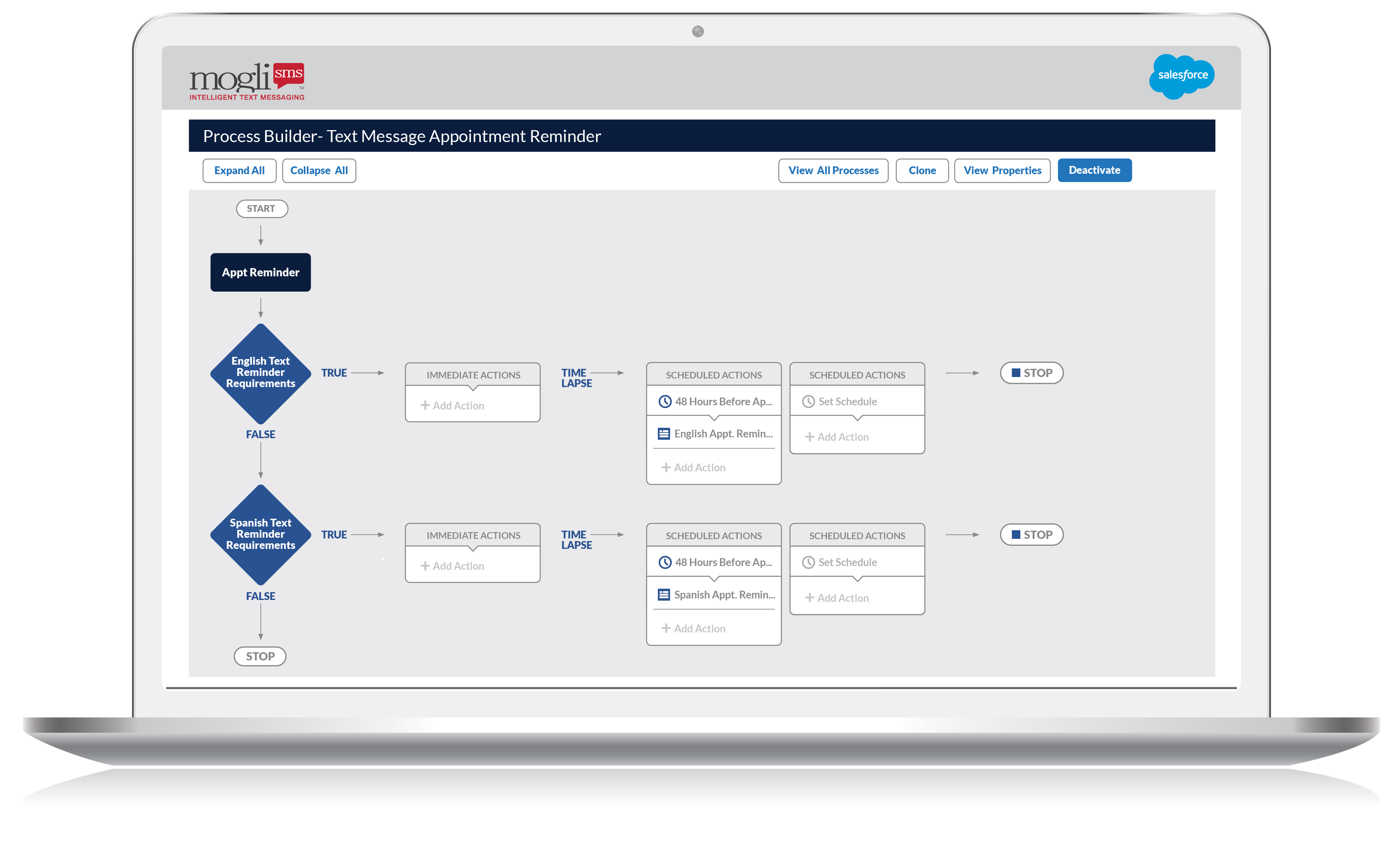 Integrate SMS into a multichannel marketing strategy
If your priority is to use Salesforce SMS for marketing, make sure it's just one part of an audience-informed multichannel strategy. Choose a combination of channels that align with your audience's preferences, like email, social media, and paid advertising.
Then, integrate your communication channels so that a customer can easily navigate from one to the other. For example, you might include an SMS signup form on your website's home page and include links to the form in your company's social media bio.
The Power of Salesforce SMS
With the right resources, Salesforce SMS can be a powerful tool for building relationships, promoting products, and utilizing your Salesforce data effectively. As you explore the best options for your company or organization, remember that trusted, robust solutions like Mogli are here to support your SMS strategy with all the functionalities and help you need.
To learn more about Salesforce SMS before getting started, check out these additional resources: