Case Study | Richmond Promise: A Nonprofit for Higher Ed Opportunities

This article was picked-up and republished by Salesforce AppExchange. Read here. >>
Supporting the Entire Lifecycle of Scholarship Students
Many of our Mogli clients are in the Higher Education space, and The Richmond Promise helps students get there, stay there, and continue to have opportunities after graduation. The Richmond, California, based organization supports students in multiple stages of their student journey. Their programs include early college awareness, FAFSA and other scholarship assistance, peer group and individual student scholar success programs, and, finally, career mentorship.
Just as universities nurture students from recruiting through the time they become alumni donors, Richmond Promise opens the door to higher education, as well as a career after graduation. Secondarily, the nonprofit organization also helps colleges and universities by providing them with students that may not have otherwise had the opportunity to attend. It's a win-win.
Tracking and Managing Student "Milestones" on Salesforce
Richmond Promise tracks and manages each step of a student's involvement with the organization through effective, organized communication across multiple channels. Richmond Promise adopted a Custom Salesforce Object first built by a Mogli partner, Copilot, called "Milestones." This Custom Object helps track their organizational objectives and has since become an integral part of their SMS automation built with Process Builder. We'll address their Mogli automation in the next section.
These Milestones are achievements or tasks that students complete, letting the organization know that both they and the students are successful. For example, when a student completes their FAFSA application, they achieve a Milestone in Richmond Promise's Salesforce org.
Before 2018, Jessica Rodriguez, Associate Director of Scholarships & Data, along with her hardworking but lean team of one, previously used Google Voice texts to communicate with 500-700 students at a time. After receiving text message responses from students, both team members would update Salesforce records to reflect the status of various tasks. Richmond Promise didn't track the time spent for manual record updating, but Jessica reports that each year, managing student FAFSA applications was a massive team lift. Furthermore, FAFSA applications are only one of the many ways in which the organization supports students. The team was administratively overburdened.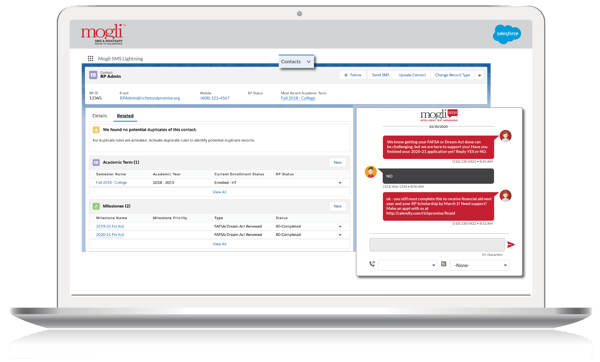 Small teams are often too in the trenches of work to measure time and resources used, yet they know that their current workload isn't sustainable. Consequently, they begin the search for a scalable, more efficient solution. Since Salesforce and Mogli are flexible technologies, Jessica found a better way to track and update records, alleviating her team's time investment in data entry, and allowing them to pursue other mission-critical efforts.
Automating the Process to Save Time and Reallocate Resources
Richmond Promise built their Mogli automation right when they onboarded in late 2018. In 2019, with Richmond Promise managed communication with over 1,000 students (they're growing quickly!). In order to handle rapid growth, Jessica configured Mogli's form template function along with Process Builder to send automated SMS reminders to students about FAFSA deadlines. This automation also gathers inbound messages regarding progress or completion.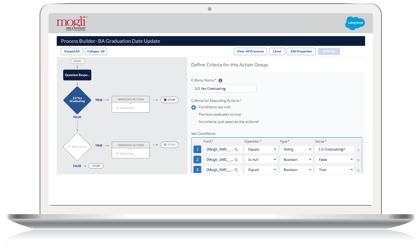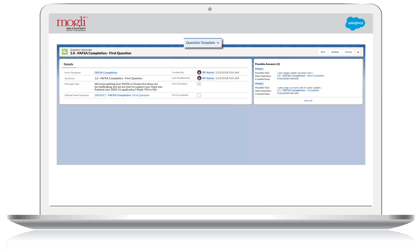 When the student replies via text message that they have completed the FAFSA application, their Milestone record is automatically updated from incomplete to complete. The Contact (student) Records for the FAFSA completion are then filtered by the automation, which then loops the "incomplete" Milestone records back into the automated text message campaign until the application deadline arrives.
In addition to FAFSA support, Richmond Promise also pays scholarships in-house through a bill-pay application. This scholarship is a Financial Transaction Record that reflects on the student's Contact Record. Any changes in the transaction history, like when Richmond Promise sends scholarship funds to the student's college or university, triggers a text to the student that their scholarship has been sent. No more manual check-ins, no more anxious students. Every step of the process is transparent to all parties.
Mogli's sophisticated automation and support for Custom Objects (in this case, Milestones) have "opened the capacity" of the team, as Jessica put it. Now that Jessica finally has Mogli performing vital functions that her team previously implemented manually, she plans to start tracking where her team's resources go. She also feels confident in implementing Mogli in a variety of other use cases within her org.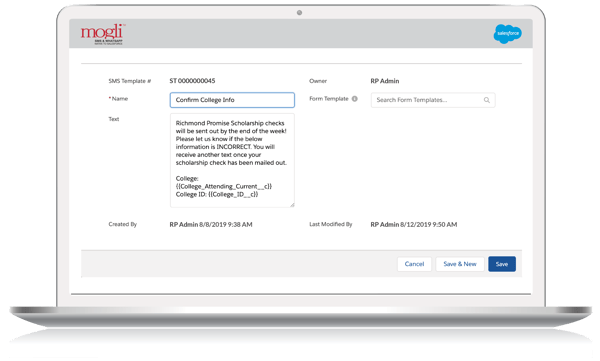 Student Case Management
Richmond Promise is scaling its in-house programs, like scholar (college) success and career mentorship. In fact, within the year, they plan to double the number of students and grads they serve! Expanding these offerings also means that they've needed to develop their case management strategies further using Mogli.
Each of these programs entails individual case management in which Richmond Promise employees and volunteers communicate with students. These conversations could take place over one-on-one conversations, bulk-text updates, Chatbot functionality, or a process that accounts for all these ways to communicate over text. For example (Richmond Promise hasn't yet implemented this feature), if a student's response to a text-based survey or Chatbot indicates they need live help, process builder or flow can both auto-create a case and notify an employee or volunteer that they need to jump into conversation view to talk with the student.
College Success
For Richmond Promise, college success is a representation of intersecting actions on Salesforce: employees checking in with students' grades to ensure the scholarship award, scheduling student-advisor meetings, and student ambassador communications with the Richmond Promise students at their particular school.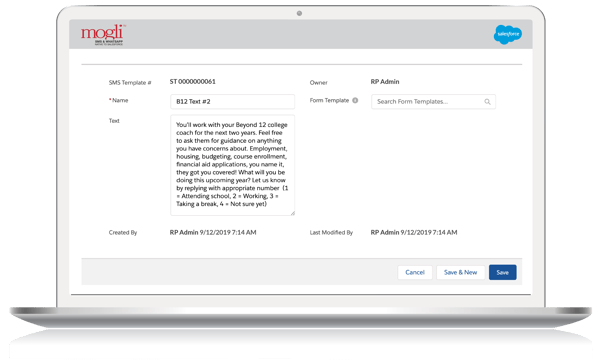 Scheduled bulk messages and surveys gather student-submitted grade reports and qualitative feedback, advisors hop into one-to-one conversations to schedule appointments or address students' needs. In the future, Richmond Promise might allow ambassadors to send group texts to orchestrate on-campus meetings, either as users or within a Community portal. No matter the student's lifecycle stage or the function of the communication, Mogli's functionality covers Richmond Promise's bases.
Future Forward with Mogli: Career Mentorship & More
Through regular and targeted communication, Richmond Promise ushers students through college graduation. To prepare students for post-graduation, the organization pairs enrolled students with volunteer mentors who can control their level of involvement. Some career mentors make themselves available for interviews, others for more in-depth guidance. Regardless, the opportunity that Richmond Promise provides is incredible because these mentors are professionals in the San Francisco Bay Area, the second-largest tech hub in the world.
It's been less than 12 months since Jessica and her team have implemented Mogli automation. In another 12 months, it will be fantastic to check back in with her next year to see how she's scaled her efforts and where else she's supercharged her SMS communications on Salesforce with sophisticated automation. Rebecca, Richmond Promise's Mogli Customer Success Manager, loves working on this implementation because it demonstrates Mogli's ability to support Custom Objects in Salesforce making it a flexible and powerful communications solution for potentially small teams doing big things.
Do you run a nonprofit? Does your university run on Salesforce?
Learn how to improve your digital communications.
Related Resources
• Education and Nonprofit articles