SMS and WhatsApp™ for Salesforce® Education Data Architecture (EDA)

SMS and WhatsApp for Salesforce Education Data Architecture
Mogli is not only a native Salesforce application for robust SMS and WhatsApp messaging functionality, as of this writing, it's also the only text messaging app on Salesforce AppExchange to be EDA certified!
What does this designation mean for your education institutions?
If you're a K-20 school (K-12 or Higher Education) on Salesforce, your teams can take advantage of the most compelling digital communications channel tailored to your use case. You may wish to automate or check-in over one-to-one texts with parents of absentee students, recruit internationally with WhatsApp, schedule appointments with academic counselors via text, or fundraise with text-to-pay. Regardless, you are easily able to send messages related to any Salesforce EDA object. You can rest assured that data is organized in Salesforce for reporting.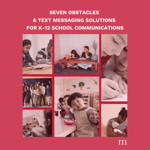 Salesforce Education Data Architecture also works perfectly with other Salesforce apps like Pardot and the K12 Kit.
Learn about Mogli and Salesforce K12 Kit here. >>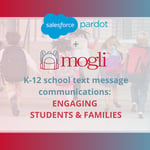 Learn about Mogli + Pardot Communications Bundle here. >>
Why schools need text messaging in 2020-2021 school year
With many aspects of the college experience in flux in 2020, your school will need ways to stay connected. For many students and families, the experience you provide may be as valuable as the education itself. The Fall 2020 semester carries with it unique stressors that you want to navigate with sensitivity. Text messages are accessible for recipients to read and reply to, as the concise nature of messages sent on the channel is unobtrusive.
How Mogli text messaging works with Salesforce EDA
Mogli seamlessly integrates with Salesforce's Education Data Architecture to connect with your school's stakeholders, manage cross-departmental relationships and data within Salesforce. EDA, like Mogli, accounts for the entire student journey and all the departments that influence it:
Recruiting and admissions
Marketing
Registrar and enrollment
Advising and student success
Faculty and staff
Alumni relations, donor relations, and advancement
Finance business enablement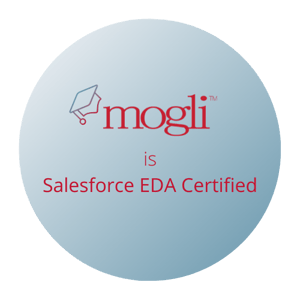 EDA provides faculty and staff with a "360-degree view of who students are, where they come from, what their interests are, and who they interact with" (Powerofus.force.com).
When you're text messaging students, parents, advisors, or teammates, you can access the various text message histories and, at a glance, understand the relationship between parties and which school affiliations they hold (major, academic program, sports teams, clubs, and more).
When interdepartmental work is disjointed, everyone in your administration feels the pain. Process, performance, and, therefore, goals and objectives are unclear. You want your apps to be adaptable and useful for a variety of use-cases. You want one app to rule them all, or at least for your entire student lifecycle.
Every department on campus can improve communications response rates by keeping students, alumni, staff, and other stakeholders engaged with text messages. Text messaging is a perfect way for each administrative department to fulfill its objective.
Plus, Mogli's features allow each department to collaborate cohesively with historical views, data reporting, and inter-department automation. You can finally stop wrestling over budget, communication strategy and copy, and get to work together!
Examples of how school administrative departments leverage text messaging with Salesforce EDA
Here's how multiple departments use text messaging to reach their segmented student and stakeholder audiences.
Recruitment
For recruiters, the combination of SMS and WhatsApp provides international reach to prospective students.
Survey

functionality allows quick touchpoints for inbound marketing data collection and RFI's. When a student opts in to texts from your school by sending an inbound keyword to your school's long code or shortcode number, you immediately capture their phone number (the essential point of contact).

Mogli's automation then collects other contact information like the first name, last name, email, auto-creating, or auto-updating records in Salesforce. Recruitment teams might choose to capture more details, like the intended area of study, in that first touchpoint.

WhatsApp templates allow recruiters to access remote outbound marketing. Mogli users can send outbound templates once every 24 hours to try to ignite interest and opt-in from the recipient. This approach allows schools to reach international students who might not attend college fair or campus tours.
One-to-one conversations allow personal touchpoints for recruits of high interest to the college or university. For example, if an athlete has a stellar game, let them know that you saw their outstanding performance. Anytime you show particular interest in a prospect or recruit, you nurture their connection to the school.
Bulk messaging personalized with merge fields and segmentation reach students based on location, graduation year, and intended area of study, to let them know about events and resources. In 2020, colleges and universities are holding fairs and open houses virtually. Even when high schools can't help you reach your ideal prospects in person, you can still fill your events.


Discover how to capture prospective students' attention and data here. >>
Admissions
After Mogli automation with Salesforce Process Builder or Flow creates a smooth handoff from recruitment to admissions, admissions officers use text messaging to usher prospective students through enrollment.
Bulk send

reminders

to students about events and important application or enrollment deadlines.
Admissions counselors touch base with individual students about intent to enroll or help with financial aid over a one-to-one conversation.
Automate application status updates so that your phones and inboxes aren't overflowing with eager student (and parent) inquiries.



Mogli client Trinity Western University took their campus events online, and they've seen even more success and interest from giving students virtual access to tours than they did in person.

Get an in-depth view of TWU Salesforce strategy here. >>
Advising and student success
Once students commit to attending your school, your student success teams have at least four years of constant nurturing over text message to retain them.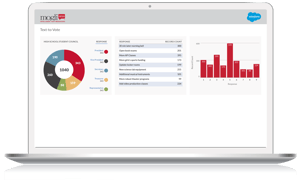 Short and clear surveys sent via text message collect valuable feedback from students. Mogli finds that clients often set a post-term cadence to understand how staff can prioritize funds and efforts for the next semester.
As a part of these feedback surveys, give students authorship wherever you can and have them text-to-vote. What kind of events would they like to see your school host? Where could you put some discretionary budget that aims to improve the quality of life on campus? Find out with simple-to-build text message question and answer paths in Salesforce.
Based on graduation date and the number of credits completed, bulk send reminders about class enrollment dates.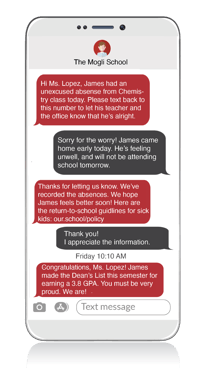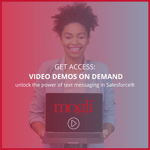 Watch how schools on Pardot use Mogli text messaging for engagement
here. >>
Alumni and donor relations
You kept your student body happy through graduation, and now, your alumni become your best publicity and donors. Stay in touch with them to share in and expand the school network and support your events and fundraising campaigns.
Student emails are no longer accessible or attended to, but their cell phone number remains the same. Students might frequently move in post-graduation years, as well, so make sure you're sending them un-intrusive texts to keep connected. Send out a text requesting their most recent mailing or email address. The responses will automatically update the corresponding Salesforce records.
Segmented

bulk texts

personalized with Salesforce merge fields proactively let alumni know how they can stay involved with your college or university.
Based on graduation date and location, send event reminders about upcoming reunions and other alumni events.

Text-to-donate

allows your team to capitalize on text messages' immediacy by providing a quick, frictionless way for donors to contribute.
Automate

survey

functionality to update contact information to send newsletters and pamphlets to their current email or physical address.
Use

surveys

and forms to track alumni success by automating yearly messages asking about current employment status.
One digital channel to engage them all, one Salesforce app for every stage
Your Salesforce text messaging application needs to work universally across all departments to avoid students slipping through the cracks. Mogli's automations allow departments to seamlessly transition text message conversations and workflows from one team or department to another as a student's life cycle stage changes over time. Historical text records in Conversation View provide at-a-glance color and avatar coded context when multiple staff communicates with one Mogli message recipient.
Mogli text messaging for Salesforce supercharges digital communications for educational institutions and unburdensome to the recipients because of the robust functionality and advantageous position amongst both students and parents.
Want to learn more?
Have questions or want to see Mogli in action?