The Power of the Trailblazer Community
Dreamforce Demo Jams
For anyone unfamiliar, at Dreamforce and other Salesforce events, MVPs host a game show styled competition between four to eight Salesforce apps available on the AppExchange. Each application company has just three minutes to show off a compelling live demo of their product. Demo Jam attendees vote on their favorite app, and the winner walks away with a pep in their step and a trophy for the top shelf at the office.
Dreamforce gives ISV Partners the opportunity to gather and share ideas with clients, friends, partners, and acquaintances. It can be magical to connect with both experts and novices about products, people, and tools that drive impact on the platform. Salesforce fosters an environment welcoming to those without tech backgrounds because we rally around causes and solutions. (I am case and point! Two years ago, I didn't even know what Salesforce was. If you're curious about my move from music to a certified Salesforce Administrator and Senior Client Success Manager at Mogli, check out my Trailblazer Story.) So, Dreamforce is the ideal environment for taking the pulse of your audience and see if your company moves the needle.
How Mogli SMS Won the Mega Jam
Having been a performer and music teacher, I knew the undeniable benefits of learning through music. We had already participated in a handful of Salesforce's community-orchestrated Dreamin' Demo Jams at over the past few years. Then Mogli SMS team decided to shake things up in 2019 by 'changing up our tune.' With CEO Stevan Simich and COO Rob Blatchley's encouragement and some sugary 90s hip-hop, I wrote four product and partner-focused raps. On the road to the Dreamforce Mega Demo Jam, Rob and I performed at a series of other Salesforce events. Our Partner Summit Rap was inspired by Fresh Prince and Biggie Smalls, and Northeast and other Dreamin' demos were set to Salt'n'Pepa.
Dreamforce 2019 capped off MogliSMS's year, and we walked away with wins for the Nonprofit and Education Demo Jam (see the 25-minute video runtime), and the Mega Demo Jam. Before we could cool our jets, Bill DeWitler of TechRepublic approached Rob and me for an interview on how we packed all the Mogli goodness into three short minutes. Afterward, I was overjoyed that Jam attendees exiting the theater were singing my hooks and Rob's signature line, 'That's how we roll with the Mogli SMS.'
The Mogli team felt immense gratitude for those who showed solidarity for us on stage. Umair Ilyas, a Salesforce MVP and NYC User Group leader inspired me on my journey to Salesforce from music. Umair brought with him the awesome PepUp Tech team to see what some emerging apps were all about. Among the many others who showed up for Mogli were our University of Colorado at Boulder clients, and Marisa Lopez, VP of Amplify, and our partners at CoPilot. Thank you all!
Mogli Values: Creativity & Inclusivity
Mogli was excited to our Demo Jam "competitors'" technology through their innovative approaches to the Dreamforce Demo Jams. For example, Fonteva, a currently Mogli partner, brought a light-hearted, humorous narrative to showcase their stellar Events platform. The Enrollment Rx team, also a partner, recited witty poetry showcasing their higher-ed platform on Salesforce. Our pride in working with these teams soared.
We also saw cutting-edge apps with complementary solutions to Mogli SMS, sparking interest in new AppExchange partnerships. DonorSearch, who wrote and performed an unforgettable rap over a Bruno Mars track (!), could engage and vet donors via Mogli SMS. Additionally, One Call Now has an elegant solution for our clients looking to create and manage their own telephone numbers. Mogli's technology is widely applicable, so we naturally see a wide array of partner products.
This versatility is why our demos hit the right note for large and numerous audiences. Instead of carving out a niche by getting granular, catchy songs and a simple sample of Mogli capabilities make it clear that SMS fits many use cases.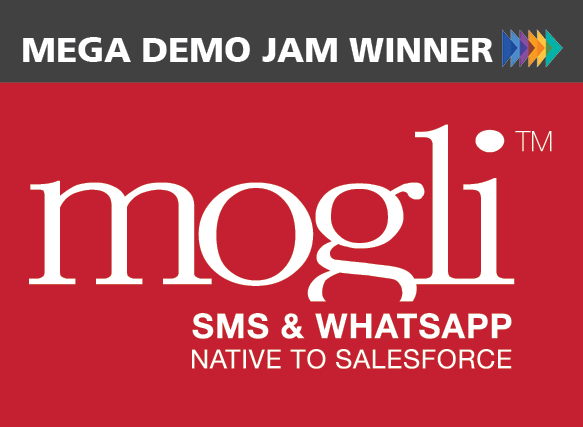 2020 Life Post-Dreamforce: Mogli Roadmap & Partner Program
So what's next for our team in the Demo Jam world? Well, we just launched Mogli 4, which includes:
A complete code refactor

WhatsApp capabilities

Custom Object

Person Account and Communities support

A brand new Bulk Send UI!
We already supported Contacts and Leads. Read more about this release here.
So, in addition to putting finishing touches on our 2019 roadmap, we are huddling up to solidify our 2020 quarterly roadmaps. Next generations of MogliPay high on our priorities. Stay tuned!
Speaking of which, we want to hear from you! Mogli 4.0 users will receive a small gift in exchange for your feedback!
I also mentioned how our current and potential partnerships are growing! We're solidifying a partner program that will be a pillar for Mogli in 2020. Our client base spans non-profits, K-12, higher education, for-profits, and financial industries. We haven't yet found a space where SMS doesn't fit perfectly because everyone on Salesforce needs text. Plus, we offer so much more than just 1:1 messaging and bulk messages. We coach clients so that they may focus on their constituent relationships. Our solution allows users to derive insight from SMS in ways that other solutions can't provide. Not to mention, our team is really fun.
Want to Learn More?
Interested in partnering?