Creative remote recruitment and data collection for higher education
If your college or university is looking to revamp its communications and data collection strategy for prospective students, there are tools that can help. Mogli, a native Salesforce app, enables your school to use a variety of communications and data collections features via text message. And when data collection becomes lengthy or increasingly complex, Mogli works perfectly with form-building data collection apps like FormAssembly to create multi-channel recruiting efforts.
Interacting with new and incoming students typically takes place in fast-paced, high-energy environments like college fairs and open houses. Now, these recruiting events are even going virtual! You can't afford to let data silos and communications pain points stand in the way of your school's recruitment efforts. Mogli can help.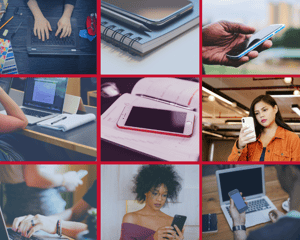 Recruiting ideal prospective students is a multifaceted process that deserves powerful tools to make your work more effective. If your current recruitment tactics are not helping your education institution achieve its enrollment benchmarks, take a look at the root causes.
Do you need a communication channel to broaden your reach and improve your KPI's?
Do you need to connect with more students than it is possible to at events (in person or virtual) and, thus, need faster data collection that's more convenient for students and staff?
Do your current tools and platforms sufficiently support other admissions and enrollment goals and workflows at your school, or is your inter-department communications process disjointed?
If any of these questions struck a chord, Mogli's tip sheet is for you.
Better communication and data collection with text messaging
Mogli partnered with the FormAssembly team to create Optimize Higher Ed Recruiting: Text Message Communications for Better Data Collection. From a discussion on data pain points to a look at solutions and best practices, this tip sheet informs your college or university recruitment strategy as you meet prospective students, equip your staff with technological tools, and prepare for next year's incoming student population.
Answers in this Mogli tip sheet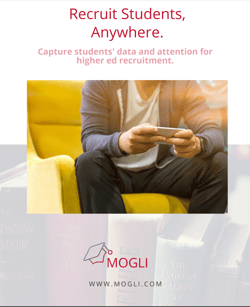 When you download "Recruit Students, Anywhere," you'll gain a better understanding of how to remedy the usual pain points faced by higher education recruiters. Even if recruitment isn't your area of expertise, you'll learn how the same tools that enable effective recruiting can also empower the rest of your education institution's departments.
Here's what the tip sheet includes:
How to handle quick touch-points with potential students without missing the opportunity to collect contact information.
Identification of pillars and best practices for an improved recruitment strategy and implementation.
How and why recruiters turn to text messaging, including:
How Mogli and FormAssembly work side-by-side to create a robust communications and data collection solution that all higher ed departments can implement quickly and easily.
Leaving lackluster recruitment tactics behind
This higher education resource is a practical tool for any school professional who wants to learn how to improve communication with prospective students and optimize data collection. College and university recruitment is an increasingly competitive space that requires innovation, agility, and organization. In this downloadable resource, you'll find creative technological solutions to solve some of your most frustrating recruitment challenges.
Visit Mogli on Appexchange >> View all education solutions >>