Southeast Dreamin' - Three Must See Sessions
I'm so excited for the return of Southeast Dreamin' as an in-person event! It's an event that I've attended before, both as an event sponsor and as a speaker. And there's just something special about Salesforce Community in the Southeastern United States.
I've been reviewing the sessions planned for Southeast Dreamin' this year, and wow...lots of great stuff. From a half day of nothing but hands-on training sessions to sessions for marketers, administrators, architects and more. If you're struggling to find just the right sessions to attend, let me offer up a few suggestions. Here's my three must see sessions, and why I feel that way.
1. Hands-on Training: Breaking the Ice with Flows: An Intro to Flow, presented from 1:30pm to 3pm, on Monday, June 20, 2022, by Michelle Bura & Miraz Aggarwal. Since Workflow and Process Builder will be deprecated soon, now is the perfect time to start learning Flow, and this session is the perfect place to learn the basic concepts of Flow including types, elements, resources and more.
2. The 5 T's of Documentation, presented from 10:35am to 11:20am, on June 21, 2022, by Amber Boaz. I'll admit it - the title of this session sparked my curiosity. When I spell the word "documentation" I only use 2 T's...so how is Amber coming up with 5? I think documentation is everyone's best Salesforce frenemy. We have a love-hate relationship with documentation. We all love it when we find an org with great documentation, and yet we all hate building out documentation ourselves. Amber breaks it down to 5 "T"hings that will help you implement the best documentation possible for your organization.
3. Crazy Hair? Don't Care! Owning Your Personal Brand, presented from 2:10pm to 2:35pm, on Tuesday, June 21, 2022, by Stacey Whitaker and Yancy Whitaker. Both Stacey and Yancy have experienced fantastic growth in their Salesforce careers over the past few years, and they have figured out the "why". It came from owning their personal brands. This session explores different personal brands in the ecosystem & why they are successful. In the end, you'll know what you can do to establish your own personal brand while remaining your true, authentic self.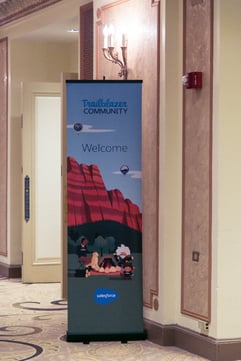 Ok, so I don't really know when to stop, especially since there's so many great sessions at Southeast Dreamin' this year. Here's a fourth "must attend" session. Call this one a bonus session that I think we all can benefit from.
4. How I Manage Relationships With Bipolar Disorder, presented from 1:35pm to 2pm, on Tuesday, June 21, 2022, by Katie Villanueva. This isn't your typical tech conference session. There's no product demo and no discussion of how CRM technology solved a business challenge. Instead, this session talks about a different CRM - Courage, Respect & Mindfulness. Katie shares her personal journey of navigating bipolar disorder and the various relationships around her. Mental illness affects us all, whether we personally suffer from it, or know someone who does. And in many cases, it's simply not talked about due to the stigma surrounding it. Katie wants to end the stigma, and with her help, we can all get out there and talk about mental illness.
Mogli is proud to be a Gold Sponsor of Southeast Dreamin'. Be sure visit with us during the event so you can learn how to be a NetZero Hero and offset your carbon footprint with Mogli SMS. Interested in learning more? Schedule your strategy session today for a chance to win an Apple Watch 7.