Text Message Templates for Financial Service Companies on Salesforce®

Why Businesses Using Salesforce® Financial Service Cloud Need Text Messaging
For financial institutions, earning and maintaining the trust of prospects and clients is a critical asset. What's your firm's strategy for establishing, building, and instilling confidence with your clients? How do you demonstrate your reliability when managing their money, life savings, and personal information? The first step in assuring a long-lasting client relationship is by keeping transparent, personalized, and regular communication.
SMS boasts a 98% open rate and is accessed more quickly other digital or traditional communication methods. SMS and WhatsApp™ functionality in Salesforce allow you to reach clients at home, away, or even abroad. No computer required.
As such, mobile messaging is one of the most effective communication methods to add value to your client relationships. With creative ways to leverage MMS, companies are no longer limited to 160 characters of text.
Use SMS to relay important information, including payment and appointment reminders, loan updates, and banking notifications while staying within compliance of SEC and other regulatory standards. Your business communications can no longer remain strictly transactional - wealth managers and representatives can observe significant returns when remembering to send happy birthday, anniversary, and holiday wishes.
Let's focus on some scalable messaging strategies that your entire team can leverage within the Financial Service (or any other) Cloud.
Text Message Templates to Scale Communication, Improve Client Satisfaction, and Drive Business Outcomes
If you're unfamiliar with Mogli's text message template capabilities for Salesforce, here are the three different kinds of prewritten messages you can start with. By having a variety of text message templates, your team will save time and increase impact. For example, help your clients avoid missed or late payments with friendly automated reminders! Studies have shown that SMS payment reminders increase on-time loan payments by 7-9%. The time-lag on delinquent payments is also reduced by two days per month after implementing SMS reminders.
When deploying automated templates, you'll have more time to focus on building rapport and increasing longevity in your client relationships. You'll also maintain consistent messaging across Salesforce users and teams, ensuring your firm's reputation, brand, and voice. Start improving your client relationships and increasing your communication strategy ROI with SMS, MMS, and WhatsApp.
Get Started With the Mogli Template Guide for Fin Serv!
We created text message templates to help you start communicating more effectively within Salesforce. Modify these templates to suit your business needs, brand, and use cases.
Opt-in
Payment reminders

Banking activity notifications
Loan updates
Customer service
Security

Reminders

to complete applications or paperwork
You can use these SMS templates in any one-on-one conversations and bulk messages.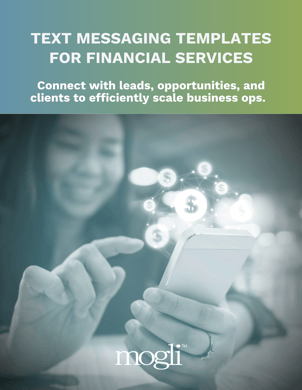 Already a Mogli User?
Follow our step-by-step user guide to start using SMS Templates here.>>
Want to See the Mogli Magic for Yourself?
Related Resources
What to Know About the Three Kinds of Text Message Templates in Salesforce®
User Guide | SMS Templates in Salesforce®
User Guide | Branching Form Templates in Salesforce®