34 Text Message Templates for Nonprofit Communications in Salesforce®

Why do nonprofits need text messaging?
Text messaging is a practical, relatively low-cost way to engage with your supporters and staff. Experience the convenience of reaching each people anywhere they go while fulfilling a variety of communication needs.
Having a robust communication strategy is fundamental for any nonprofit to accomplish its mission and sustain growth. Yet, maintaining close communication with supporters is nonprofits' second-biggest challenge, aside from allocating scarce resources. SMS and WhatsApp™ in Salesforce reach international audiences and help create a balanced communication strategy, strengthening your connection with your community, volunteers, and donors. Ultimately, you'll pave the way to fulfilling your mission.
The donor experience is vital to any nonprofit organization to accomplish its mission. Text messaging offers a more effective way to retain your donors, as well as those who serve you. Boost your donation quota by providing a seamless path to donate with text-to-donate. Through the power of text messaging, you can reach almost all of your supporters with one custom bulk message with no delay.
Successful nonprofit communications aim to do the following:
Engage the community
Build organization recognition
Reputation management
Raise awareness and educating people on your cause
All of this may be accomplished with the use of approved templates for all of your Mogli users.
Scaling your mobile communications strategy with text message templates in Salesforce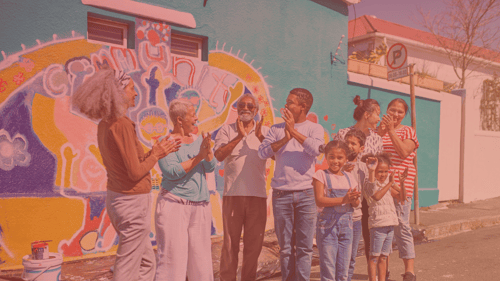 Lean and large teams alike need to plan for scale and brand voice cohesion, which is where templates come in. Text message templates are the perfect way to create consistent messaging without any hesitation. Ensure that everyone on your team is representing your organization's voice with three different kinds of prefabricated messages templates in Salesforce. Additionally, templates can save your team an ample amount of time by saving commonly shared information such as directions, reminders, FAQs.
To help you understand what mobile messaging might look like at scale for your organization, we created 34 text messaging templates for various nonprofit-oriented communications objectives.
Get started with the Mogli template guide!
Having a difficult time figuring out exactly what to say is completely normal! We have created a straightforward template guide for you to apply whether you are a Mogli use or not. The following template guide includes templates for:
Opt-in
Scheduling and confirming volunteers
Sending important information to volunteers
FAQs
Cause-related campaigns
Following-up and saying thank you
Pledge reminders
Alerts about events
Sharing progress towards your mission
Communicating with your staff
You can use these SMS templates in any one-on-one conversations and bulk messages.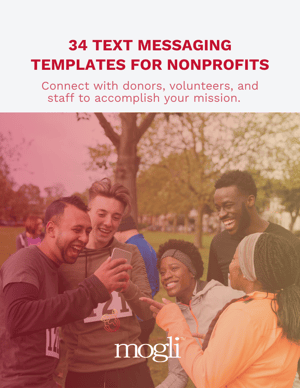 Already a Mogli user?
Follow our step-by-step user guide to start using SMS Templates here>>
Curious to learn more?
Related Resources
User Guide | Text message template quick start guide for Salesforce®
User Guide | Linear form templates in Salesforce®
User Guide | WhatsApp™ message templates with Mogli in Salesforce®