Dreamin', Dreamin', Dreamin'...what's all the Dreamin' About? - Part 2
If you read my earlier post, Southeast Dreamin' - Three Must See Sessions, you saw me discussing four (not three) sessions covering Flow; Documentation; Personal Branding; Mental Illness and a new version of CRM. Since then, I've been doing a lot of Dreamin', and by that I mean attending a few more Salesforce Community Conferences, known as "Dreamin' Events" by many in the ecosystem. In this article, Part 2, I'll recap Dreamin' in Color, and share learnings from both Midwest Dreamin' & WITness Success. If you missed Part 1, you can read it here, and learn all about Dreamin' events and Southeast Dreamin'. Then come back to the Mogli blog for Part 3, where I'll recap learnings from Big Sky Dreamin', and Tahoe Dreamin', as well as get you prepped for Dreamforce.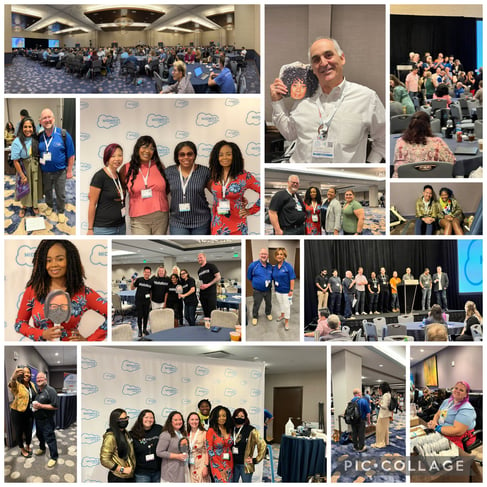 Photo used with permission from: Guilda Hilaire
Dreamin' in Color Recap
The quick summary of Dreamin' in Color: WOW! What an event. Filled with amazing people, laughter, inspiration and even tears. I know you didn't come here for that, so here's the longer version.
If you haven't met Tiffany Spencer, Stephen Spencer, Sasha Holmes, Asterisk Loftis, Nadina Lisbon, Brian Owens, Della Leahy or Jessica Murphy - do it now - just click on their names. You can thank me later. Better still, just start sharing all the goodness they are doing in the Salesforce community with others. Sharing is caring. That's how we all grow!
The leadership team of Dreamin' in Color isn't the only reason the event was awe-inspiring. They were catalysts, the ones who got it all started, organized and managed - all for the purpose of bringing together current or aspiring Black Salesforce Professionals to discuss how to succeed, overcome obstacles & grow thriving careers and businesses in the Salesforce ecosystem. Speakers and sessions were hand-picked, to make sure that they would further support the goals of the event. Even the date and location of the event have been carefully selected for historical significance. The event taking place in June, helping to further commemorate Juneteenth, celebrating the effective end to slavery in the United States. Dreamin' in Color taking place in Raleigh, North Carolina, helps commemorate the African American struggle for civil rights and equality, in a state with a very rich and diverse African American heritage, touching everywhere in North Carolina. From historical sites and museums, to Historically Black Colleges and Universities as well as cultural centers, North Carolina honors it all.
Midwest Dreamin' Recap
Midwest Dreamin' always holds a special place in my heart. As the event founder and co-chair of the leadership team, I know better than most people just what it takes to make an event like this come alive and be a success year after year. From the attendee perspective, success might mean learning something new that can be applied at their job the next week, or perhaps meeting someone in person who helped them overcome a challenge. From a speaker perspective, success might mean a standing-room only crowd in their session. And from a sponsor perspective, success might mean exceeding the goal for the number of leads scanned at the booth, and in the longer term, closing more deals than expected from the event.

From the event leadership perspective, all those metrics matter. And yet there are more metrics that are really important:
1 - Did any of the attendees or sponsors notice when there was an issue with the venue, audio/visual, etc.?
2 - Was the attendee / speaker / sponsor feedback positive?
3 - Will people and sponsors come back next year?
Midwest Dreamin' always has a wide variety of topics covered by its breakout sessions, and this year was no exception. You can access the content from Midwest Dreamin' here.
WITness Success Recap
WITness Success is a Salesforce Community Conference with a totally different focus. It really targets women in technology and provides content above and beyond the traditional, product & feature-focused sessions you typically find at tech conferences. WITness Success this year included a session on Consequence Scanning - how to determine potential good and bad, intended and unintended consequences of actions before taking those actions, presented by Melissa Hill Dees. WITness also included a session about mental health - specifically how to manage relationships with bipolar disorder, presented by Katie Villanueva. WITness Success also had sessions covering topics like salary negotiation, how to become your own best advocate and how to write meaningful user stories.
Both Midwest Dreamin' and WITness Success will be returning to Minneapolis in 2023, taking place back-to-back, at the Hyatt Regency, Minneapolis, on August 16 - 18, 2023 for Midwest Dreamin' and August 18 & 19, 2023, for WITness. Mark your calendars now, and plan to attend both!
More From Mogli
Come back to the Mogli blog soon to read Part 3 of this series where I'll discuss Big Sky Dreamin', Tahoe Dreamin' and get you ready for Dreamforce. Interested in learning more about Mogli? Schedule a strategy session with one of our messaging specialists today!