Summer-Fall '20 Release | Improved SMS, WhatsApp™ & MMS for Salesforce
Just as Salesforce is rolling out its own 2020 release, Mogli is doing the same for Summer-Fall 2020!
If you are a Salesforce user or admin, you are well aware of the power of the Salesforce platform and its extreme flexibility. Although we focus our internal efforts within industries that aim to " do more of what matters," Mogli's native development on Salesforce gives our SMS and WhatsApp text messaging application the same flexibility and a high level of use case agnosticism.
Furthermore, the Mogli team is continually iterating on the app's robust functionality to leverage an already powerful communication channel to increase response rates and other communications objectives. You might even hear us say that with Mogli, a text is not just a text because our clients leverage our SMS and WhatsApp functionality on Salesforce to fulfill a wide variety of business and communications needs.
With a Client Success team that continues to win over our clients worldwide (we recently reached our 50th (out of 50) five-star review on AppExchange—care to leave us one, too?), we've taken an excellent app and made a lot of Mogli magic.
Before we dive into the details of our newest release, let's recap the Mogli features and benefits on SMS and WhatsApp to which we are adding:
FEATURES
BENEFITS
Salesforce record auto-creation and auto-update
Support for any standard or other Salesforce object
Support for Salesforce Communities
Unlimited Mogli users, keywords, and Salesforce contacts
Intelligent routing and global coverage
Auto-opt-out
Auto-responses
Toll-free numbers
Merge fields
USA-based client support and dedicated client success managers for each client
Historical view
Easy reporting
We are excited to announce our newest wave of upgrades and updates, live, and ready to help you maximize and supercharge your Salesforce communications strategy.
Summer 2020 Mogli Release
Available now on Salesforce AppExchange.
Current clients: see install instructions here.
Outbound MMS
Some of Mogli's earliest and most revolutionary work involved inbound MMS and Einstein AI for Proyecto Mirador, and now you finally can send outbound MMS, too! A picture is worth a thousand words, and a video (could) literally speak for you, so enjoy leveling-up your engagement with eye-catching visuals.
Quickly send images or files from Conversation View or to up to 2,000 recipients at once via the Bulk SMS Lightning screen.
Multiple file formats supported including jpeg, gif, png, pdf, and mp4.
Send multiple files at once - supports up to 5MB of mixed attachments (or a singular 16MB attachment over WhatsApp gateways).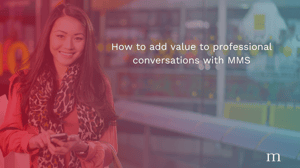 Each industry can leverage MMS in a variety of ways to achieve their unique objectives.
Send From Report
The ability to send from a report makes your workflow breezy by reducing the number of steps and toggles required to send bulk messages. Want to follow up with customers, reach out to clients who would be your ideal audience for a new product launch, or students who recently completed a survey or re-engage inactive leads? Pronto!
Send it to up to the first 2,000 rows of any report using a lookup field on the Bulk SMS screen.
The only requirements are that the report title starts with [Mogli], and the first column is the ID of the object you are looking to send from (e.g., Lead or Contact). User Guide instructions can be found here. >>
Supports standard and custom objects, so long as they have been configured to work with Mogli. See Mogli V4 Release notes. >>
Conversation View "Read Only" Permissions
Transparency is essential in any organization, but there's also such a thing as too many cooks in the kitchen. This new feature encourages cohesion amongst your team and enables both internal and external auditing or oversight. For example, the SEC requires that all text messaging apps disable anonymous mobile messaging and allow each organization to keep reportable text message records.
Assign granular Mogli permissions to users without giving them access to the 'Mogli Full Access' permission set.
Users with only Read access on the SMS object can now scroll through messages in the Conversation View component but won't be able to send.
A handy tooltip at the top of the Conversation View tells users which permissions they need for full Mogli access.
On records where the 'Mogli Opt-Out' checkbox is selected, users can now scroll through conversation history.
Improved Notifications Routing
Not all messages and activities are created equal, so adjust your notifications to reflect who and, now, what is important to you. Did a hot new lead with all the right indicators just text it's way into your Financial Service or Sales org by completing an inbound survey? Did a donor you've been working with just text-to-donate a generous sum that elevated you to your fundraising goal? There are numerous scenarios you want to know about STAT. We get it. So, voila!
If an inbound message is linked to an object other than Contact or Lead (e.g., Opportunity or Case), clicking on the associated notification will now take you directly to that record.
"Clear All" Notifications Button
Did you set up notifications before you knew how popular you'd become, but still want to scan the notifications for any activity that warrants your immediate attention? "Clear All"-- *click*!
Clear all of your notifications - whether you have one or fifty - with the click of a button.
Questions?
Read more about MMS >>