Dreamin', Dreamin', Dreamin'...what's all the Dreamin' About? - Part 3
If you read my earlier post, Southeast Dreamin' - Three Must See Sessions, you saw me discussing four (not three) sessions covering Flow; Documentation; Personal Branding; Mental Illness and a new version of CRM. Since then, I've been doing a lot of Dreamin', and by that I mean attending a few more Salesforce Community Conferences, known as "Dreamin' Events" by many in the ecosystem. In this article, Part 3, I recap Big Sky Dreamin' & Tahoe Dreamin', and get you ready for Dreamforce. If you missed Part 1, you can read it here, and learn all about Dreamin' events and Southeast Dreamin'. And if you missed Part 2, you can find it here, and learn all about Dreamin' in Color, Midwest Dreamin' & WITness Success..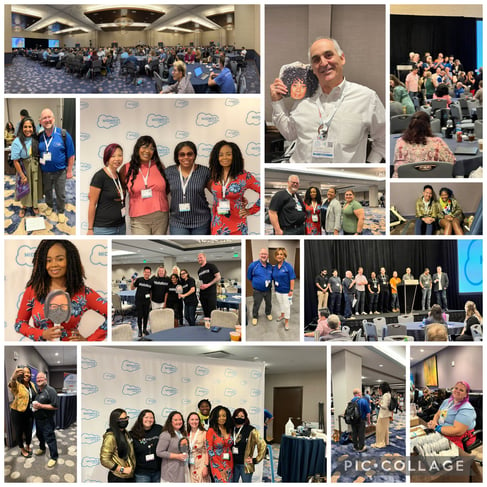 Photo used with permission from: Guilda Hilaire
Big Sky Dreamin' Recap
I was really excited to be attending Big Sky Dreamin' this year. I had never attended that event before, and in fact, had never even set foot on Montana soil. And now I can check off two things from my bucket list - one more Dreamin' event and one more State, in my quest to attend all the Dreamin' events at least once, and visit all 50 states!
Big Sky Dreamin' had a great session, Tableau - Live in 45 Minutes presented by Luke Stanke, one of the Tableau Visionaries. Luke showcased the power of Tableau with a live demo, using drop & drag functionality to create some amazing data visualizations.
Kim Katzenmeyer answered the question What the Heck is a V2MOM: Vision, Values, Methods, Obstacles, Measures. Kim reminded us that V2MOMs are living, breathing documents, that should be reviewed quarterly and adjusted as needed. The big takeaway for me was that they help keep you focused and prevent "shiny penny syndrome" as Kim put it.
Zayne Turner wrapped up the day at Big Sky Dreamin' with The Future CAN be Well-Architected. Zayne talked about what it means to be well-architected, from the Salesforce point of view. She stressed the difference between data and metadata, and talked about the notion of jobs to be done. Zayne discussed what it means to be a composable organization - where people talk to each other around various jobs to be done, all towards a common goal.
Tahoe Dreamin' Recap
Tahoe Dreamin' is another one of those events that's near and dear to me. I don't think I've missed one since it started. Winter or summer, South Lake Tahoe is a beautiful destination, and combine that with amazing content presented by the Salesforce Community, a fireside chat with Eric Stahl, EVP, Digital, Data and Marketing Operations at Salesforce and Paul Stoddart, CMO of Customer Success & Growth at Salesforce...that took the event to a whole new level. Eric and Paul took the hard-hitting questions from the audience, and vowed to help fix some of the what's broken at Salesforce.

Tahoe Dreamin' is different from some of the other Community Conferences in that there's a big focus on partners. This year there were an equal amount of sessions for partners as there were for end users and Salesforce administrators. There were also hands-on workshops including Aaron Crear's Advanced Reporting Tips for New Admins; Take Charge of Your Workflow Retirement by Tracie Hart and Kristi Brown; and Recession-Proof RevOps by Seamus Ruiz-Earle.
Tahoe Dreamin' 2023 is already scheduled and will take place July 20-21, 2023.